---
There is much biographical information about Ernst Kaltenbrunner published elsewhere,
so this article will only touch upon pertinent highlights of this infamous member of the Nazi hierarchy.
---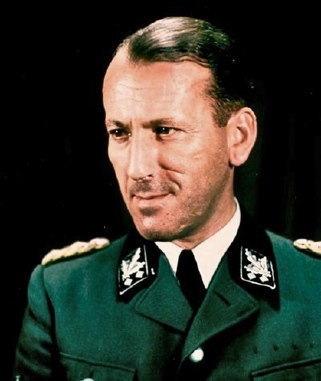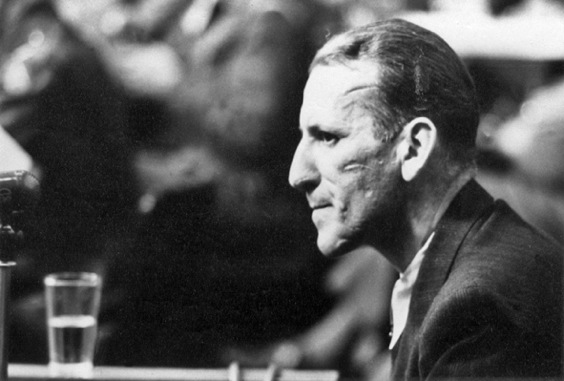 Above: SS-Obergruppenführer Ernst Kaltenbrunner, a rank equivalent to Lieutenant General. At right he is a defendant
before the International Military Tribunal at the Nurnberg Trials (57,109 bytes).
Kaltenbrunner's imposing height, stern and scarred face (he claimed cut while Fencing), and volatile temper at times intimidated even his superiors.
But as a firefighter/medical tech, to me this looks like a man scarred in an accident with broken glass, possibly plate glass as was in cars of his day;
or was he simply a persistently inept fencer?

Dr. Ernst Kaltenbrunner (b. 4 Oct. 1903, d. 16 Oct. 1946) was a fanatical Nazi who became the leader of the Schutzstaffel (Protection Squadron), or 'SS', in Austria prior to the Anschluss, and played a leading role in the betrayal of his native country to the Nazi conspiracy. Later he was promoted to hold positions high within the feared Nazi SS. Kaltenbrunner was born at Ried im Innkreis, near Braunau in Upper Austria. He was the son of a lawyer, educated in chemistry and then law at the State Realgymnasium in Linz and at Graz University. His uncle became head of a section in the Austrian Ministry of Commerce, but retired in 1925. The family were known to have been 'keen supporters' of the Pan-German Movement. He graduated in 1926 with a Dr. jur hence he was Dr. Kaltenbrunner. Kaltenbrunner worked as a lawyer-candidate (apprentice), first at Salzburg and after 1928 at Linz.

From Kaltenbrunner's own testimony at the International Military Tribunal at Nuremburg:

"I attended secondary school, high school, graduated, and in 1921 went to Graz University. First I studied chemical-technical sciences at the Institute of Technology and later on, when my father returned from the war seriously ill and when the possibility arose that I might have to take over his solicitor's practice, I studied law. I completed these studies with the degree of Doctor of Law and Political Science in 1926. I had a hard time. I had to earn my own living and the expenses for my studies. I had to work while I studied and for two years I worked as a coal miner during the night shift; and I have to thank my fate that thus I got to know the German workman much better than people usually do... After leaving the University I had to complete 7 or 8 years work as a candidate for the bar examination in accordance with the Austrian law, of which I spent one year in court as assistant and the rest of the time in lawyers' offices in Sandburg and Linz."

Kaltenbrunner joined the Austrian Nazi Party on 31 August 1931. He was admitted to the Bar in 1933. The intelligent, tall (6'7") and imposing Kaltenbrunner provided legal advice to, and gained prominence within the Nazi Party quickly, so that by mid 1935 he was appointed to head the Austrian SS. He assisted in the advance work for the Anschluss, and in recognition of his services on the day the Anschluss was secured Hitler, also Austrian born, promoted Kaltenbrunner to SS-Brigadefürhrer (equivalent to Brigadier General) and assigned him to head the SS Oberabschnitt Donau (SS Upper Danube section). He became a member of the Austrian Government taking over the position of State Secretary for Security in Austria, which was under the Ministry of the Interior. Among his first tasks was to assist the development of the new Mauthausen concentration camp. Construction commenced in August 1938 with prisoners brought in from the Dachau camp. Kaltenbrunner was promoted yet again on 11 September 1938 to SS-Gruppenfürhrer (Major General).

After Anschluss the prior Austrian national government was dissolved, and Austria's provinces were reorganized into Alps and Danube Districts. Kaltenbrunner was appointed the Higher SS and Police Leader of the Governors of Vienna, Lower Danube, and Upper Danube, and of Wehrkreis XVII (Corps Area). In April 1941 was promoted to Major General of the Police; he supervised and had knowledge of the activities of the Geheime Staatspolizei (Gestapo) and of the Sicherheitsdienst (Security Service) in Austria. Kaltenbrunner was also helpful in aiding those efforts of industry including Steyr-Daimler-Puch to obtain prison labor. Fellow Austrian Georg Meindl, Generaldirektor of Steyr-Daimler-Puch, nurtured his access to those in the Nazi hierarchy and made it a point to ingratiate himself with Kaltenbrunner and Himmler.

Kaltenbrunner promoted to SS-Obergruppenführer, a rank equivalent to Lieutenant General and just below that of Himmler's special rank of Reichsführer SS.

Left: SS-Brigadefürhrer Ernst Kaltenbrunner. Photo taken between 12 March and 10 September 1938 (44,917 bytes).

The Reichssicherheitshauptamt (Reich Main Security Office), or RSHA, was an organization within the SS created by Reichsführer-SS Himmler on 27 September 1939. The organization incorporated the SS intelligence services: Sicherheitsdienst (SD) or Security Service, the Sicherheitspolizei (SiPo) or Security Police which were nominally under the Interior Ministry. SiPo was composed of the Geheime Staatspolizei (Gestapo, Secret State Police) and the Kriminalpolizei (Kripo, Criminal Police). The mission of the RSHA was to identify and eliminate all "enemies of the Reich" inside and outside the borders of Nazi Germany. The acronym for its director was 'CSSD': Chef der Sicherheitspolizei und des SD (Chief of the Security Police and of the Sicherheitsdienst). The CSSD reported directly to Heinrich Himmler in his dual capacities as Chef der Deutschen Polizei (Chief of German Police) and Reichsführer-SS. The first CSSD was SS-Obergruppenführer and General of Police Reinhard Heydrich (b. 7 March 1904). Heydrich was so ruthless and competent that he was widely regarded as the most feared man in Nazi Germany.

In April 1941 Kaltenbrunner was appointed Lieutenant-General of Police. In May 1942 Kaltenbrunner was appointed head of the SD (Sicherheitsdienst). In this position he not only controlled the Gestapo but also the concentration camp system and was responsible for implementation of the Final Solution, the extermination of the Jewish race in German-occupied Europe. He had much to do with developing the Mauthausen concentration camp and visited it frequently, especially while his duties kept him in the region. On at least one occasion Kaltenbrunner observed the murder of prisoners in the camp poison gas chamber.

Heydrich was appointed to manage the German-occupied Czechoslovakia. He was seen as such a threat that the Allies trained a Czechoslovak commando team to enter Czechoslovakia, and to assassinate him. Their attack on 27 May 1942 wounded Heydrich, and he died in hospital of septicemia on 4 June 1942. Following Heydrich's assassination Himmler personally took over as acting chief of the RSHA. After considering With Kaltenbrunner's knowledge and background Himmler recommended him, and on 30 January 1943 Hitler delegated the office to Kaltenbrunner; he would head the RSHA for the remainder of World War II. Kaltenbrunner was now administering the very agencies which sent millions of victims to their deaths with his stroke of a pen implementing The Final Solution planned under Heydrichs' tenure but implemented under Kaltenbrunner.

On 21 June 1943 Kaltenbrunner was promoted to SS-Obergruppenführer und General der Polizei:

After the failed assassination attack on 20 July 1944 that wounded Adolph Hitler, Kaltenbrunner was assigned to manage the investigations and prosecution of those implicated in the plot. He was occasionally seen attending some of the trials, and this no doubt motivated the SS Judges and prosecutors to put on an even better 'show'. His new status gained for him direct access to Hitler, and this increased his prestige and influence within Nazi Germany. Kaltenbrunner received honors from Hitler, and engendered Hitler's personal trust.

As reality set in some months after the June 1944 D-Day landings and the progress of the Allies through France, SS General Officers were granted equivalent Waffen-SS ranks so that if they were captured by the Allies then they would be granted the privileges expected to be provided to a military officer instead of administrative or police officials. On 1 December 1944 Kaltenbrunner's title became SS-Obergruppenführer und General der Polizei und Waffen-SS.

In the morning of 12 May 1945 Kaltenbrunner was arrested by a US Counter-intelligence Corps (CIC) team including intelligence officer Robert Matteson, with squad support from the 80th Infantry Division, Third U.S. Army. He was found hiding in a remote cabin called Wildenseehütte, atop the Totes Gebirge mountains in Austria. Kaltenbrunner was the highest ranking SS leader to face trial at Nuremberg where he was charged with conspiracy to commit crimes against peace, war-crimes, and crimes against humanity. On the opening day of the trial Kaltenbrunner was not in the prisoners' dock; he had been stricken with a subarachnoid hemorrhage (in the area between the arachnoid membrane and the pia mater surrounding the brain) the night before. Three weeks later he he was well enough to attend and to enter his plea, "I do not believe I have made myself guilty in the sense of the indictment." Later that week Kaltenbrunner suffered a recurrence of the cerebral hemorrhage, and could not attend the trial until January 1946. He was convicted of War crimes and of Crimes against humanity on 30 September. On 1 October the convicted were sentenced:

"Defendant Ernst Kaltenbrunner, on the counts of the Indictment on which you have been convicted,
the International Military Tribunal sentences you to death by hanging."

At 1:36 am on 16 October 1946 Kaltenbrunner, wearing a sweater beneath his blue double-breasted coat, was escorted into a small, brightly lighted gymnasium at the Nuremberg Prison. Then climbed the thirteen steps onto the gallows platform. The sentence was carried out at 1:39 am, twelve days after his 43rd birthday.