History's Judgement: SS Dr. Eduard Krebsbach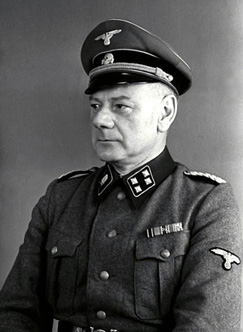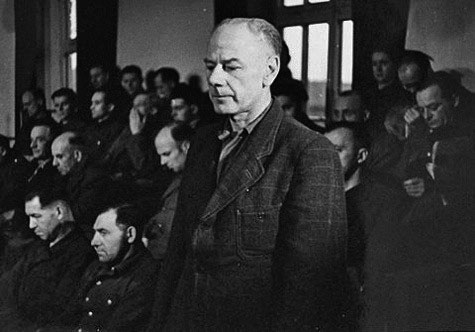 Above: SS Sturmbannführer Dr. Eduard Krebsbach in his heyday, then in May 1946 on trial for War Crimes.
He was sentenced to death by a US military tribunal in Dachau on 13 May 1946, and was executed on 28 May 1947 at the Landsberg Prison.
Click on image at left to see enlarged view (211,246 bytes).
Eduard Krebsbach (b. 8 August 1894, d. 28 May 1947) received his doctorate in medicine from the University of Bonn. He worked for many years as a pediatrician and in-plant doctor, before applying for membership in the SS in 1937. The following year he was inducted into the SS as Untersturmführer (SS Captain). Between the fall of 1941 and the fall of 1943 Krebsbach served as SS Sturmbannführer (Major) and Standortarzt (Chief Physician) of the SS and the Police at the Linz, Steyr, Wels and Gusen satellite camps of the main Konzentrationslager (concentration camp) commonly referred to as KL Mauthausen-Gusen. In this period Krebsbach initiated the practice of mass execution of prisoners that he judged unworthy to live or unable to work. This was performed by lethal injections (Spritzen) of phenol directly into the heart, thus he killed or supervised the murder of at least 900 prisoners, for which he earned the nickname among inmates "Dr. Spritzbach". Lethal heart injections continued to be administered at the Gusen camp twice a week even until April 1945.

Krebsbach's SS career at Mauthausen ended abruptly when while on vacation on 22 May 1943 he shot and killed Josef Breitenfellner, a German soldier, over some disturbance at the lodge where Krebsbach was staying. After that incident Krebsbach was effectively demoted and transferred to the Warwara concentration camp, where he led the selections and presided over the liquidation of the camp in August 1944. Afterwards Krebsbach was appointed Inspector for Epidemics in occupied Latvia, Estonia, and Lithuania. Then eventually promoted to Oberstabsarzt (Chief Staff Doctor) in the Wehrmacht (regular army). At the end of 1944 he left that position as well and went to work as the resident physician for a textile factory in the city of Kassel.

After the war Krebsbach was arrested and charged among the 61 accused in Case No. 000-50-5 (US v. Hans Altfuldisch et al), with the '50' indicating this was a concentration camp case, and the -5 suffix indicating the crime location was KL Mauthausen or a satellite camp thereof. This was the 66th in the series of American Military Tribunals conducted at Dachau from 1945 to 1948. The trial concluded 13 May 1946. Partial extracts from transcripts of the trial testimony provide some insights to how these people thought:

"As the senior SS doctor in the camp, Dr. Krebsbach sometimes came to block 5 and had the still surviving Jews paraded before him. He then asked if any of them were doctors. If there were, he would say: 'You Jewish pig, you're just an abortionist.' The next day they were done away with by the kapos. If a Jewish inmate was lying on the floor with a broken limb - a not uncommon occurrence at work - he was usually thrown over a wall by a kapo. If Dr. Krebsbach were passing, he would say ironically: 'Yes, this broken foot is a hopeless case.' "
Josef Herzler, former Mauthausen inmate (AMM V/3/22)




From the court record in Dachau (quoted in Hans Maršálek, "Die Geschichte des Konzentrationslagers Mauthausen", p. 174):



"Krebsbach: when I started work I was ordered by the head of Office III D to kill or have killed all those who were unable to work, and the incurably sick.

Prosecutor: And how did you carry out this order?

Krebsbach: Incurably sick inmates who were absolutely incapable of work were generally gassed. Some were also killed by benzene injection.

Prosecutor: To your knowledge, how many persons were killed in this way in your presence?

Krebsbach: (no answer)

Prosecutor: You were ordered to kill those unfit to live?

Krebsbach: Yes. I was ordered to have persons killed if I was of the opinion that they were a burden on the state.

Prosecutor: Did it never occur to you that these were human beings, people who had the misfortune to be inmates or who had been neglected?

Krebsbach: No. People are like animals. Animals that are born deformed or incapable of living are put down at birth. This should be done for humanitarian reasons with people as well. This would prevent a lot of misery and unhappiness.

Prosecutor: That is your opinion. The world does not agree with you. Did it never occur to you that killing a human being is a terrible crime?

Krebsbach: No. Every state is entitled to protect itself against asocial persons including those unfit to live.

Prosecutor: In other words, it never occurred to you that what you were doing was a crime?

Krebsbach: No. I carried out my work to the best of my knowledge and belief because I had to."

Above Right: Krebsbach was sentenced to death by a U.S. military court in Dachau on 13 May 1946, then was hanged at the Landsberg Prison on 28 May 1947 (41,032 bytes).
Click on image to see enlarged view (189,205 bytes).