MODEL ST-5C CCD IMAGING CAMERA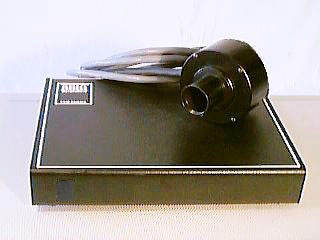 Model ST-5C Thermoelectrically cooled CCD Imaging
Camera.
For several years SBIG has been promoting small pixels to short focal length telescopes and camera lenses to achieve wide field CCD images. The original SBIG Model ST-5 and the newly reintroduced Model ST-5C achieved much acclaim when used at the F/1.9 prime focus of Celestron's new Fastar SCT telescope. The Model ST-5C is a new generation CCD imaging camera emphasizing Quality Imaging at an Affordable Cost. The camera has 10 micron square pixels in an array of 320 x 240 pixels. The very small pixels generate outstanding high resolution images when used with fast focal ratio telescopes or standard camera lenses with focal lengths from 50 to 400 mm.The optical head is 3.25" in diameter and available with a fully integrated color filter wheel mounted inside the CCD head to support tricolor imaging. The CCD head can be directly mounted at the prime focus of Celestron's Fastar SCT, into an eyepiece holder, or mounted with a T-Thread or C-Mount Adapter to a standard SCT.
---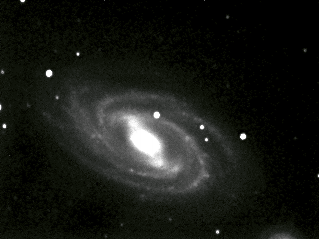 ST-5C image of M109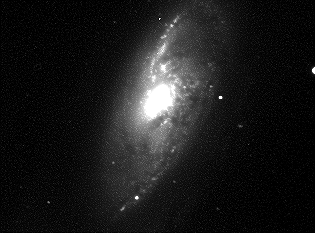 ST-5C image of M106
The imaging camera communicates with the PC through the standard parallel port and is supported by the same CCDOPS software that controls the other SBIG imaging cameras. Use with the Macintosh is supported with the optional Mac SCSI-Parallel adapter. The readout electronics utilize a 16-bit A/D converter and double correlated sampling. The imaging camera system consists of a thermoelectrically cooled CCD head with a cable that connects to a small separate processor. The processor has cables, which connect directly to power and the parallel port of a PC. A separate cable connects to the telescope to interface the Autoguider and Track & Accumulate functions.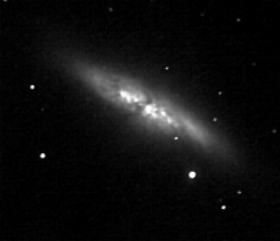 ST-5C image of M82
If you have an interest in wide field searches for near earth asteroids, supernova, etc, the Model ST-5C and the Celestron Fastar SCT will be of great interest to you. If you are interested in very high resolution planetary imaging where structure and detail are prominent, the Model ST-5C, used with longer focal length refractors or SCT's, is an ideal system.
---
Model ST-5C CCD Specifications
| CCD | TI TC-255 |
| --- | --- |
| Pixel Array | 320 x 240 pixels, 3.2 x 2.4 mm |
| Total Pixels | 76,800 |
| Pixel Size | 10 x 10 microns |
| Full Well Capacity | 50,000e |
| Dark Current | 5eø/pixel/sec at 0¡ C |
| Antiblooming | Variable Rate |
---
Readout Specifications
| Shutter | 2 Position Wheel, Internal RGB Ready |
| --- | --- |
| Exposure | 0.01 to 3600 seconds,10ms resolution |
| Correlated Double Sampling | Yes |
| A/D Converter | 16 bits |
| A/D Gain | 2.0eø/ADU |
| Read Noise | 25eø RMS |
| Binning Modes | 1 x 1, 2 x 2 |
| Pixel Digitization Rate | 30 kHz |
| Full Frame Acquisition | <3 seconds |
---
Optical Specifications (8£ f/10)
| Field of View | 5.4 x 4.0 arcminutes |
| --- | --- |
| Pixel Size | 1.0 x 1.0 arcseconds |
| Limiting Magnitude | Magnitude 14 in 1 second |
| (for 3 arcsec FWHM stars) | Magnitude 18 in 1 minute |
---
System Specifications
Cooling
Single Stage Thermoelectric -25 from Ambient Minimum
Temperature Regulation
±0.1¡C
Power
12 VDC at 1.2 Amps
Transformer Included in US / Japan Cigarette Adapter Elsewhere
Computer Interface
Standard Parallel Port
Computer Compatibility
PC - MS-DOS, Windows 95, Macintosh With Optional MAC SCSI adaptor
Guiding
Autoguiding and Track & Accumulate
---
Physical Dimensions
| Optical Head | 3 inches diameter by 1.8 deep 7.5 cm diameter by 4.5 deep 1.0 pounds / 0.5 Kg |
| --- | --- |
| CPU | 8 x 10 x 2 inches / 20 x 25 x 5 cm 2.4 pounds / 1.1 Kg |
| Mounting | T-Thread, 1.25" nosepiece included |
| Backfocus | 0.64 inches / 1.6 cm |
Go to Price List
Go back to SBIG Products page