800 GERMAN EQUATORIAL MOUNT WITH DUAL AXIS DRIVE
(discontinued in 1996)
The importance of mechanical stability in a mounting cannot be overstated. You may own a fine, high resolution instrument, but unless your mount is rock-solid, you will rarely achieve the results that you want in the eyepiece or on film. The image will be subject to frequent movement, so you will not be able to perceive the subtlety of detail that would be possible if your image were steady. For astrophotography, movement in the Image will result in a streak or blur on your negative.

Astro-Physics mountings are engineered to be steady even in gusting winds. Both axes respond to fingertip pressure with no hint of backlash. Built-in clutches can be disengaged for uftra-smooth sweeping or locked for astrophotography. The thrust bearing design allows for compactness, yet this mount will carry large telescopes with ease. Gear aocuracy is also exceedingly important. Our gears were specifically designed for precision tracking. The fine pitch gears on our drives are cut with Class AA hobbs on a highly accurate gear-cutflng machine. Wth easy polar-alignment capabilities, it is possible to take excellent astrophotos with minimal or no guiding on most telescopes.

Included in the hand control is a choice of drive rates for lunar, solar, sidereal and variable (handy for comets) tracking. A reversing switch for declination allows the 4-button controller to be properly oriented on both sides of the meridian. The fine-guiding rate is designed for aocurate tracking of guidestars at very high powers. The slew rate can be used for leisurely cruising on the lunar surfaoe or for rapidly centering objects in the field of view.

Over the years, our mounts and drive systems have functioned reliably in the coldest environments of Canada, Norway and remote Alaska. The circuitry of our controller has been proven since the mid-1970s and is comprised of the highest-quality military spec components. We have seen many of our competitors' controllers constructed with flimsy, hygroscopic (water absorbing) circuit boards, components rated for indoor use, and poor solder connections. Astro-Physics controllers will stand up to the humidity and temperature extremes oommon to many observing locations.

When coupled with the options described separately, the 800 will be your portable observatory for home or dark-sky site. Within minutes, you will be assembled and polar-aligned, ready to enjoy the wonders of the night sky.
SPECIFICATIONS OF EQUATORIAL HEAD
Worm wheel:
6" fine pitched wheel
Worm gear:
stainless steel
Latitude range:
0 to 57 degrees with polar soope in place
Azimuth adjustment:
approximately 14 degrees
Setting circles:
Porter Slip Ping design
Right ascension:
10-minute increments, 2-minute vernier
Declination:
5-degree increments, 1 -degree vernier
Capacity:
Will accommodate refractors up to 7",reflectors to 10", Cassegrains to 12"
Weight of equatorial head:
45 lbs (20.5 kg)
SPECIFICATIONS OF MOTOR DRIVE SYSTEM
Dimensions of controller:
4" x 3" x 1.5"
Drive rates:
Sidereal, solar, lunar, variable
Guiding/ Slowing rates:
2x / 8x
Hemisphere:
Northern is standard, Southern circles on request
Power consumption:
0.25 amps at normal rates
Power requirements:
12 VDC
Suggested power sources:
Portable battery pack, auto battery, power inverter for 110 volts
FEATURES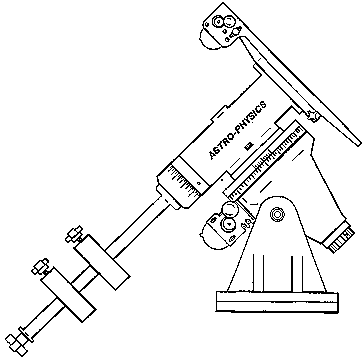 Virgin aluminum sand castings, precision hollow cast and machined for light weight yet provides rigid performance
Precision 6" Gear with + - 5 second periodic error
Dual Axis Pulse Motor Drive with 12-Volt Controller
Manual slow-motion knob in both axes
Tangent arm in declination
Massive tapered Timken roller bearings form ultra-stable thrust surfaces for tremendous rigidity in a small package
Hollow 1.5" stainless-steel right-ascension and declination shafts maximize strength at minimum weight Right ascension shaft threaded for optional polar scope for quick, accurate alignment in the field
Removable 1.125" stainless-steel counterweight shaft for compact storage
Polar and declination axes come apart quickly for light weight easy handling
Fine altitude and azimuth adjustments for quickly and accurately zeroing in on the pole in the field
Engraved setting circles with Porter Slip Ring Design; polar-axis ring is driven; it follows the stars without having to be reset each time you look at a now object
Converts to an alt-azimuth mount for comet hunting and terrestrial viewing. Imagine, two mounts in one!
When most scopes are mounted on our 8" diameter pier, they damp out in 1-2 seconds
AVAILABLE OPTIONS
Please see accompanying information shoots for description
Modification of hand controller for SBIG ST-4 and ST-6 Star Tracker
Right-Ascension Drive Cord for Southern Hemisphere
Portable Pier - 8" diameter with heights 48", 54", 62"
SBIG ST-4 and ST-6 Star Tracker/ Imaging Systems
12 Amp-hr, 12-Volt Rechargeable Baftery Pack
Stainless Steel Counterweights - 6 lbs., 9 lbs.
Encoders for Digital Setting Circles
Polar-Axis Scope with Illuminator
Hexagonal Mounting Rings
Set of two Carrying Cases