, Washington's 24 hour news radio station on the radio dial at 103.5 on the FM band. WTOP broadcasts traffic and weather reports for the Washington, D.C. region every ten minutes on the 8's (12:08, 12:18, 12:28, etc.). This may help you learn about and bypass traffic snarls.

Approximate Travel Times by Auto:
| | |
| --- | --- |
| From | Time |
| Annapolis (Downtown) | 30 Minutes |
| Baltimore (Downtown) | 30 Minutes |
| Washington-Dulles International Airport, VA (42.8 Miles) | 1 Hour |
| York, PA | 2 Hours |
| New York, NY | 3.5 Hours |
| Philadelphia, PA | 2 Hours |
| Richmond, VA | 2 Hours |
| Washington, DC | 40 Minutes |
| Reagan National Airport, Washington, D.C. (28.2 miles) | 1 Hour |
| Wilmington, DE | 1.5 Hours |
---
If you are coming by Helicopter:
For detailed directions, please select an option based on the direction from which you are approaching:
---
If you have a Global Positioning System (GPS) then enter our street address (above) or:
Latitude North 39 Degrees, 05 Minutes, 07.3 Seconds

Longitude West 076 Degrees, 51 Minutes, 38.2 Seconds
---
Accomodations: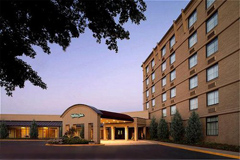 Among the better hotels in the Laurel area is the "Holiday Inn Laurel West". This hotel is very easy to find and access. It is located about 1/2 mile (1 km) west from the intersection of Interstate 95 and Maryland Route 198. It is 3.9 miles (6.3 km) almost due west from our showroom, and about 18 miles from BWI Baltimore-Washington Airport, 27 miles from DCA Washington National airport, 39 miles to IAD Dulles International Airport.
The Holiday Inn Laurel West completed a four million dollar renovation in September 2005 after being acquired from the former operator Best Western. It remains a full service hotel with comforts and conveniences including breakfast and lunch on site at the Atrium Cafe, and dinner at the attached Outback Steakhouse restaurant. There is an indoor fitness center complete with indoor pool, sauna, whirlpool, exercise room, game room, putting green, billiard table, shuffleboard and gift shop. Many guest rooms include computer hookups, phone messaging system and an upgraded keyed off Executive Level complete with upgraded in-room amenities. If visiting Company Seven during your stay then you may inquire about any available corporate rate discount.
Address: 15101 Sweitzer Lane, Laurel, MD 20707. Telephone 301-776-5300, or for reservations (from USA and Canada) 1-888-465-4329, or E-Mail "hilaurelwest@verizon.net". Their Internet site is http://www.ichotelsgroup.com/h/d/hi/1/en/hd/waslm.
---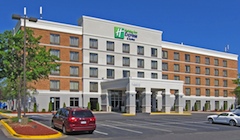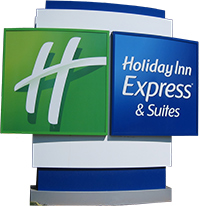 The hotel that is closest to Company Seven's showroom is Holiday Inn Express & Suites of Laurel Lakes, it is among the more economical places to stay of reasonable quality in the area. This hotel is visible to the south from Cherry Lane on the approach to the intersection of Baltimore Ave (Route 1). This hotel is situated conveniently to the local bus stops and the hotel is about one mile south from the Laurel Train Station (mentioned above). While the hotel is is only about 1,000 feet (300 meters) directly from our showroom, getting to Company Seven requires a walk of some fifteen minutes: proceed one block north to Cherry Lane turning right, then about three blocks east (from Route 1 Baltimore Avenue) to Cherry Lane Court.
Left and Right: photos taken by us of the sign nearby the Holiday Inn Express & Suites, and of the hotel as seen from Laurel Lakes Drive as one would approach it from Route 1 from the east.
The Holiday Inn Express of Laurel Lakes provides guests with an indoor swimming pool and fitness center. Each of the 117 rooms has amenities including: a compact refrigerator, Queen-size sofa bed, security safe, clothes iron with ironing board, coffee-maker, and cable TV. The hotel was remodeled over the Spring of 2012, after it was acquired by Holiday Inn from its former operator formerly the Comfort Suites Laurel Lakes.
Address: 14402 Laurel Place, Laurel, MD 20707. Telephone 301-206-2600, or for reservations (from USA and Canada) 1-800-315-2621. Their Internet site is http://www.hiexpress.com/hotels/us/en/laurel/nhklp/hoteldetail.
Dining:
The Holiday Inn Express & Suites hotel backs up the the man-made Laurel Lake and is adjacent to the Laurel Lakes Shopping Center. The hotel is near by several restaurants including Einstein Bagels that is just across the street from the hotel's main entrance.
Also within a block or two are the Silver Diner (good food open almost around the clock), TGIF, and Olive Garden. One of the better Italian restaurants in the area is the small family-owned C J Ferrari's at 14311 Baltimore Ave. telephone 301-725-1771, this is a short walk south and east of the hotel. If you can drive north into the city of Laurel then there are numerous fast food restaurants and other sit down restaurants including Red, Hot And Blue on Main Street in Laurel who are popular for their ribs.