BAADER PLANETARIUM PRODUCTS DISTRIBUTION
DISTRIBUTION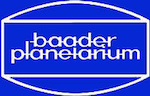 Baader Planetarium offers a highly perfected line of accessories and equipment for astronomical applications. These products are designed to provide a lifetime of observing (and increasing, imaging) pleasure. Baader Planetarium works through the highly regarded Astro-Physics company in Illinois to distribute these products in the Americas. Company Seven Astro-Optics Division remains Astro-Physics sole full line distributor in the Americas; we earned this by way of our technical merit, integrity, and dedication to the long term success of our clientele.

Company Seven's staff can be your primary source of information about the Baader Planetarium products, so feel free to visit our showroom (one of the last remaining specialty optics showrooms in the Americas) to see these products, and you may place your order for these items directly with Company Seven. Your support makes resources such as this Internet Site possible. If we can be of assistance to you in any way, please visit or call Company Seven, or send E-Mail for more information.

International Sales:

Company Seven generally serves a worldwide clientele however, unfortunately for some people we do have a verbal agreement with Baader Planetarium that Company Seven will not deliver their products in to Germany, Austria or Switzerland unless the customer actually visits our showroom (near Washington, D.C.) to accept delivery at the showroom.