COMPANY SEVEN'S IN HOUSE QUALITY CONTROL PROGRAMS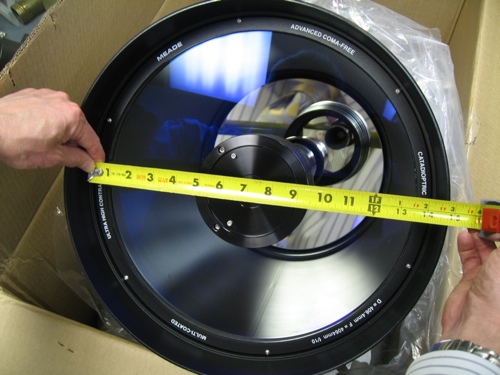 Company Seven works diligently to earn and to maintain the trust of our community. To that end we evaluate each newly arriving telescope with the hope that your first experience with our telescopes will be highly gratifying. At a time when most retailers simply forward a new order to the factory and then have the item "drop shipped" directly to the customer, Company Seven remains more and more unique. At no extra cost to our customer, each telescope we offer is carefully examined and tested here at Company Seven to assure our customers receive the best complete example of what the factory is capable of producing.

Right: HOW MANY MM = 14 INCHES? someone at Meade Instruments obviously forgot. Images taken by us during failed acceptance evaluation of a new Meade 14 inch telescope S/N 107674 on 19 May 2009. This is a 14 inch aperture (355.6mm) model with a focal length of 3,556mm. But the Corrector Lens Retaining Ring read "D=406.4mm F=4064mm". Meade shipped this and most retailers (and their intended customer) would have probably never realized this.

Company Seven is the only Meade Instruments retailer in North America who has the resources of experienced personnel and the technology to perform a detailed survey of each instrument that arrives here for resale. Our customer will not have to deal with shipping damage or other issues, negligent or not. And we are in a position to find the slightest discrepancies. This testing process is so concise that a failure is not likely to be found by our customer. As the telescope check-out and preparation for delivery are completed; each telescope optics set, mechanics and electronics are checked by technicians with an average of between 20 to 30 years experience. Furthermore, as every telescope is processed, we generate a comprehensive report characterizing its recommended photo-visual and CCD performance parameters.

PROGRAMS OF INSTRUCTION

This is another critical aspect of our overall quality assurance program. Those buying more sophisticated telescopes may wish to visit us near Washington, D.C. to spend several hours getting "checked out" at our showroom on the use of your new telescope. Company Seven has developed structured complimentary programs of instruction with a course syllabus specific to each telescope. Our customers have found that our materials, combined with such one on one training has proved invaluable to their long term success. Commonly a mid size telescope with a German mount generally requires about a full work day of instruction.

OPTIONAL EVALUATION/CHARACTERIZATION While Company Seven does perform a subjective evaluation of every telescope, Company Seven can also perform optional highly detailed testing which will produce detailed documentation of each telescope optical tube assembly.

The optional testing will be done on a Zygo Large Aperture Phase Measurement Interferometer and this will provide a very accurate characterization of the telescope. Our normal testing is done at 632.8nm (others available on smaller apertures), with the telescope acclimated at Standard Temperature and Pressure. The test will be performed at full aperture, with the telescope optically aligned and set to nominal infinity focus. The test will provide:
Interferogram diagram

Measure of System Peak to Valley

Measure of System RMS

Measure of System MTF

Measure of System PSF - energy concentration at focus

Measure of System Strehl

Wave front diagram
The testing will be performed as part of the acceptance testing prior to delivery of the telescope to our customer. The test reports will then be delivered with the telescope in the forms of printout, and in Code V and Zygo formats on computer disk. For detailed information about the cost of this optional Zygo testing please contact Company Seven. Please understand that this is a program we offer only in support of individual telescopes which we sell, or those owned by institutional, industry, or government.
WARRANTY AND REMEDY
Should an issue arise that may require repair or adjustment, then Company Seven will be your preferred point of contact. Of course you retain the choice of working a solution through the Meade Instruments Corporation factory in California too.
Simply call us with your concern. More often than not, the problem is a matter of operator error or a misunderstanding of directions. If we cannot quickly resolve the issue with a discussion, then we may suggest that the instrument be brought or shipped to Company Seven (or to the manufacturer if that is more convenient to the customer). If we find a fault of the instrument in manufacture, or a premature failure then Company Seven will be responsible for fixing it and returning it to the customer - all at our expense. Company Seven will even refund the return shipping costs if applicable. We are the only shop outside of Meade Instruments factory in California who is qualified to troubleshoot and repair Meade Instruments products.
Learn more about the unrivaled Service and Repair support we provide for instruments sold by Company Seven.