S.B.I.G. Model ST-237 and ST-V "All Sky" CCD Imaging Camera System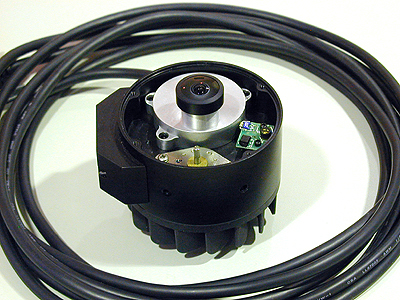 Illustration at Right: ST-237 CCD Camera with All Sky Fisheye Lens (327,447 bytes).
---
New Product Announcement:
ALL SKY versions of the ST-237A and STV cameras Preliminary Information July 15, 2002
---
Many observatories use an all sky camera to monitor changing sky and weather conditions. Until now, obtaining high quality 180 degree views of the sky required an expensive large format CCD and a similarly expensive fish eye camera lens. Now, however, the ALL SKY cameras make this possible for much less. The lens used in the ALL SKY cameras is a high quality custom mounted 1.24mm F/2.8 fisheye.
In order to illuminate the TC-237 CCD with the full field of the fish eye, the rear of the lens must be mounted very close to the CCD. To place the lens at the correct distance, a special housing has been designed that replaces the CCD chamber. The shutter or filter wheel must be removed and a new face plate will be made to cover the front of the camera head.ĘThe face plate will have provisions for a cap that may be used to take dark frames and for protection when the camera head is not in use.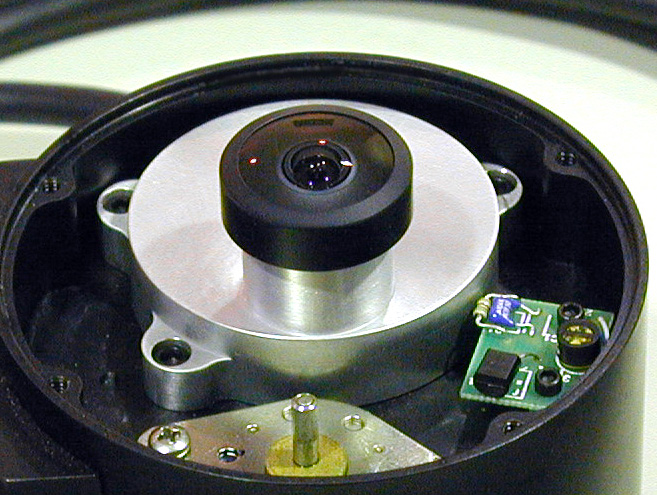 Above: Figure 1 - The prototype "All Sky" version of the ST-237A camera head.
Note, a new face plate with screw-on lens cap will be added to close the head cavity (327,447 bytes).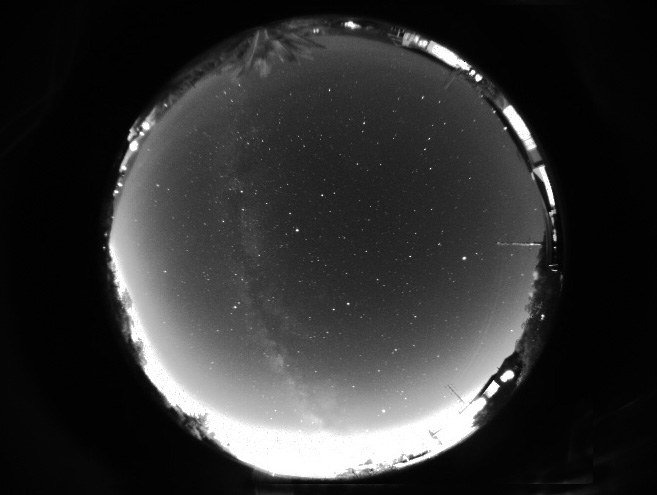 Above: Figure 2 - A 120 second image taken with the ST-237 All Sky camera. North is up. Polaris is top center and the
Big Dipper is top right. The Milky Way is clearly visible despite the bright lights of a shopping center to the south (215,246 bytes).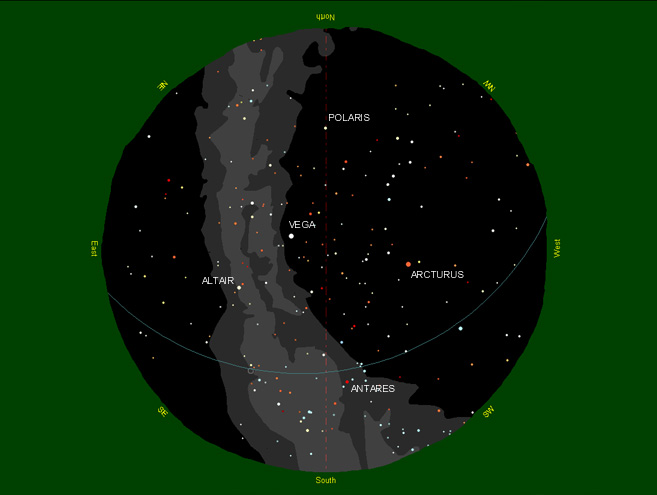 Above: Figure 3 - This chart was made using S.B. "TheSky" software.
The chart shows approximately the same field of view as the image above (183,028 bytes).
This is preliminary information. The All Sky versions of the ST-237A and STV cameras are still in development although a prototype of the ALL SKY ST-237 has been completed and tested. We do not have a firm price established yet but we estimate that All SKY versions of the cameras will be approximately $500 higher than the standard cameras. We may offer a kit to modify an existing head assembly for approximately $600 including the lens. The modifications required are such that it is not trivial to switch between normal imaging and All Sky imaging. Therefore, users who do not wish to dedicate a camera to All Sky imaging should consider purchasing a spare head assembly and modify it for the All Sky lens. Switching from All Sky imaging and normal imaging could then be accomplished by simply switching heads. We estimate that a spare head for an ST-237 or STV will cost approximately the same as the All Sky kit.