New Product Announcement: SBIG Model ST-402ME
Simple and Powerful CCD Camera
4 May 2004
Scheduled to become available late Summer or early Fall 2004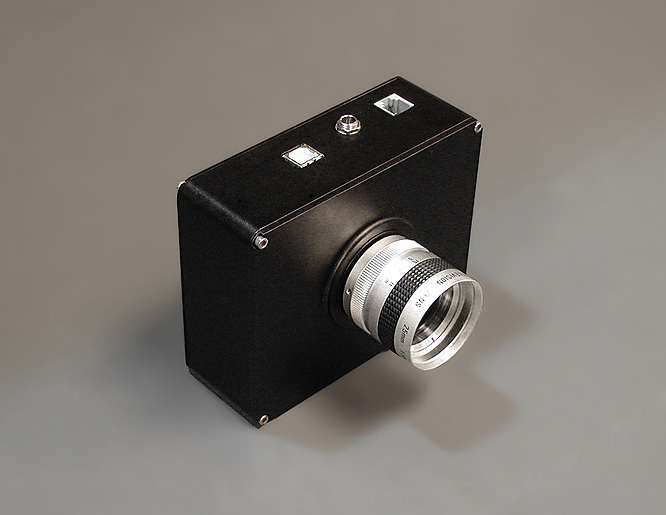 ST-402ME CCD Camera with Optional C-mount Adapter and Lens
"Simple and Powerful", these were the design goals for the ST-402ME camera: SBIG wanted to develop a CCD system that was something simple and easy to use yet powerful enough to carry the "ST" model prefix. The new ST-402ME is seen at right equipped with the optional T-thread to C-mount adapter ring and lens. For use at the telescope, a 1.25" nosepiece screws into the T-threads of the front plate.
The small size and light weight makes this camera very easy to handle and set up. A custom internal filter wheel and shutter lets you take dark frames and tri-color images automatically. Best of all, the low noise and extraordinary QE of the KAF-0402ME CCD makes this one of the most sensitive CCD cameras available to amateurs at any price. Simply put, there is nothing that can touch it in its class, except of course the dual sensor, self-guiding ST-7XME camera. The same technology that is used to achieve such high quantum efficiency in the KAF-3200ME CCD is also used with the same effectiveness in the KAF-0402ME CCD. With a peak QE of nearly 85%, this camera bows its head to no other when it comes to recording faint detail in dim objects.
Similarities to the ST-237A:
Like the ST-237A, this single sensor camera is designed for light weight, low cost and high performance. The camera uses a monochrome CCD with an internal filter wheel and custom filters enabling it to do both high sensitivity B&W imaging and RGB/LRGB color imaging with the same camera. The CCD is centered in the camera body and is correctly spaced for Celestron telescopes having Fastar or Hyperstar optics. Single stage, regulated, thermoelectric cooling with fan assist is provided on the standard astronomical model. An uncooled model is also planned for additional cost reduction. The uncooled model makes an excellent autoguider, TDI camera or lab camera. At 4 x 5 inches, the camera head is somewhat wider than the ST-237A, but it is only 1.8 inches deep with electrical connections on the side. This gives the camera the shortest possible protrusion from the rear of the telescope to allow maximum clearance when imaging objects in the north with a fork mounted telescope. This size and shape also makes it possible to put the filter wheel inside the camera, even though the KAF-0402ME CCD requires larger filters than the ST-237A. Electronic relays provide typical autoguider output from the RJ-11 jack, so the camera can be used as a highly sensitive autoguider with a larger field of view than most other autoguiders. While somwehat wider than the ST-237A, this new camera is still fine for all Fastar equipped telescopes. The additional width will not affect its use as a Fastar camera in the slightest.
The target price for this camera is the same price as the ST-237A but we have not determined the exact cost yet.
Differences from the ST-237A:
The KAF-0402ME Imaging CCD is about 75% larger than the TC-237. It also has slightly better read noise, much lower dark current, significantly greater dynamic range and higher QE than the TC-237. All of these factors combine to make a more sensitive detector with greater field of view. The KAF-0402E/ME CCD is available only in NABG. For fast systems such as the Faster, the KAF-0401LE (ABG) version is also available as an option.
All new electronics are contained entirely in the camera head. There is no separate CPU box. The computer interface is USB 2.0 (USB 1.1 compatible). The high speed transfer rate is approximately 800,000 pixels per second. With some overhead, a full frame, high resolution image will download in approximately 0.8 seconds using USB2.
A regulated power supply is built into the camera so you can operate directly from a 12V battery or other unregulated 12VDC source. A wall transformer is also supplied for operation in North America from 110VAC.
---
Comparison of ST-237A to ST-402ME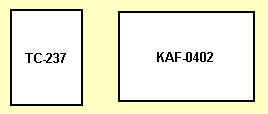 Relative Size of TC-237 and KAF-0402ME
Camera
Pixel
Array
Number
of Pixels
Pixel
Size
CCD
Size mm
CCD
Area
mm2
Diag FOV
11" Fastar
(544mm FL)
Dark
Current
at 0 C.
Read
Noise
Full Well
Capacity
Peak
QE
Computer
Interface
Full
Frame
Transfer
ST-402ME
765 x 510
360,000
9u
4.6 x 6.9
32
52 arcmin
1e-/p/s
<15e-
100,000 e-
85%
USB 2.0
0.8 sec
ST-237A
657 x 495
325,000
7.4u
3.7 x 4.9
18
38 arcmin
5e-/p/s
<15e-
20,000e-
75%
Parallel
15 sec
---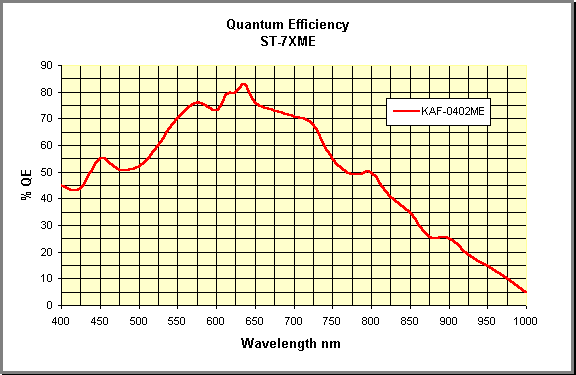 The ST-402ME has the same high QE as the ST-7XME and ST-10XME
---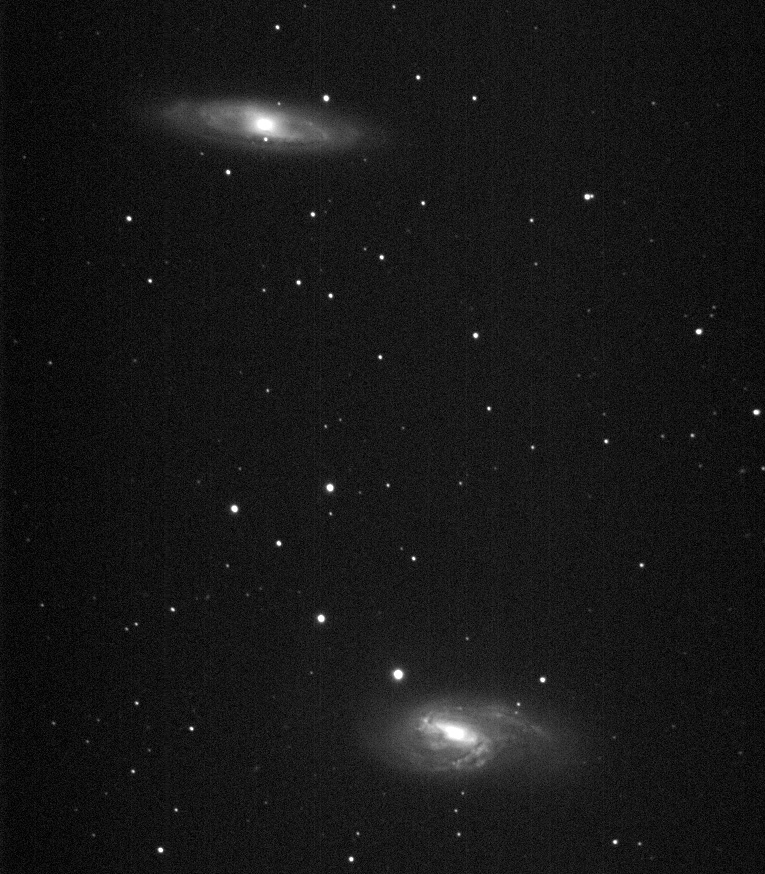 Object: M65 and M66
Exposure: 67 seconds - Single TDI Exposure taken with KAF-0402E CCD
Scope: C-8 at F/4.8
Image size: 765 x 874
Processing: No dark frame, log scaled with CCDOPS
---
| | |
| --- | --- |
| | |
| Inside Front - Internal Filter Wheel, CCD Chamber | Inside Rear - Heat Exchanger, Fan, Relays, Shutter Motor |
---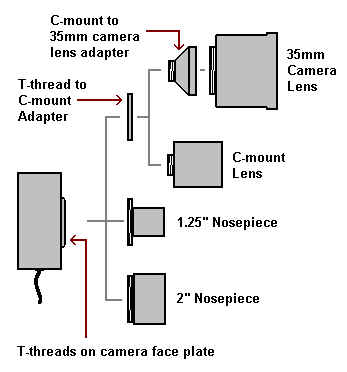 Optional Attachments for the ST-402ME
(1.25" nosepiece with t-threads is included)
---
Preliminary Specifications

CCD
CCD
Kodak KAF-0402ME
Pixel Array
765 x 510 pixels,
6.9 x 4.6 mm
Total Pixels
390,000
Pixel Size
9 x 9 microns
Full Well Capacity (NABG)
~100,000 e-
Dark Current
1eø/pixel/sec at 0¡ C
Antiblooming
Option (KAF-0401LE)
---
Readout Specifications
Shutter
Electromechanical
Exposure
0.11 to 3600 seconds, 10ms
resolution
Correlated Double Sampling
Yes
A/D Converter
16 bits
A/D Gain
TBD
Read Noise
15eø RMS
Binning Modes
1 x 1, 2 x 2, 3 x 3
Pixel Digitization Rate
Up to 800,000
pixels per second
Full Frame Acquisition
less than 1 second
---
Optical Specifications (8" f/10)
| Field of View | 12 x 8 arcminutes |
| --- | --- |
| Pixel Size | .9 x .9 arcseconds |
| Limiting Magnitude | Magnitude 14 in 1 second |
| (for 3 arcsec FWHM stars) | Magnitude 18 in 1 minute |
---
System Specifications
Cooling - standard
Single Stage Thermoelectric,
Active Fan,
-25 C from Ambient Typical
Temperature Regulation
±0.1¡C
Power
12VDC
Power supply included
Computer Interface
USB 2.0
(USB 1.1 compatible)
Computer Compatibility
Windows 98/NT/2000/Me/XP
---
Physical Dimensions
Optical Head
4 x 5 x 1.8 inches
CPU
All electronics integrated into Optical Head, No CPU
Mounting
T-Thread,
1.25" nosepieces included
Backfocus
TBD
---
Price To Be Determined
---
Price and specifications are subject to change without notice.
---
Go to Price List
Return to SBIG Products page