A BRIEF PERSPECTIVE
Technical Innovations, Inc. has been developing and manufacturing innovative observatory domes and dome control systems for the amateur and professional communities that feature: durable reliability, efficiency, state of the art technology, all of which appeal to the professional astronomer. However, these domes are marketed at a price that is within the grasp of most amateurs. Technical Innovations, Inc. was founded by John and Meg Menke in Barnesville, Maryland located about 35 miles North West of Washington, DC.
John has been an active amateur astronomer since his early teen years, and is a physicist whose work has focused on instrumentation and electronics. Meg's career has been in management of public and non-profit agencies.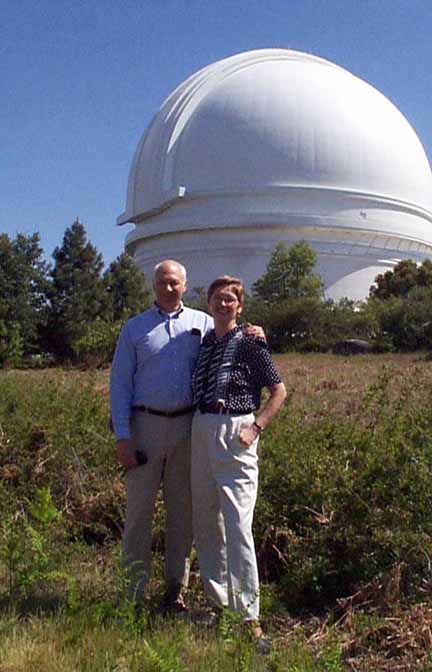 Above: John and Meg Menke visit Palomar. (38,201 bytes)


In 1991, while working on improvements to their home-made 25 year old metal observatory dome, the Menkes decided to use their knowledge of observatory construction to create affordable domes for astronomers, both professional and amateur, and for institutional users. They've said their inspiration for design has always been Palomar Mountain Observatory, and in May of 1999 they were able to stop for a visit on their way to the annual "Riverside Telescope Makers Conference".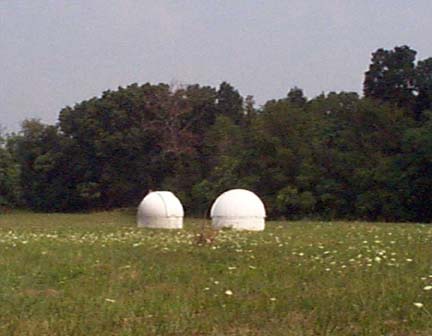 Left: Technical Innovations observatories: next to the Pro Dome 10 foot dome is one of the very first HD-10's housing a 10 inch Newtonian telescope. They rarely use the Newtonian since the Astro-Physics arrived with all its wonders! (22,838 bytes)
The Menke's observatory is a "Pro Dome" Model PD-10 with two optional wall rings and Digital Dome Works. The dome houses a Astro-Physics 6 inch f12 folded Apo refractor, with a Santa Barbara Instruments Group Model ST-7 - an innovative dual CCD imaging/autoguide system. In year 2000 was installed one of our Astro-Physics Model 1200 German equatorial mounts with the acclaimed Astro-Physics DigitalSky Voice "Go To" computer control system. the dome, telescope, and CCD camera can be operated remotely employing an personal computer to store images, and then send the images to the office for processing (when time permits) via a network connection.
Other domes on site include a 6 foot Home Dome HD-6T used for testing the Dome Wizard control system. This dome houses a Meade 8 inch LX200 Schmidt-Cassegrain telescope. Also on the site is one of the newest domes, the RoboDome. There are frequently other domes on-site undergoing "pre assembly" service, and component checkout prior to delivery to the customer.

Among the reasons for the success of these products in the marketplace are:
John and Meg are involved amateur astronomers, using a number of telescopes popular in the astronomy community including the computer controlled "go to" systems. They participate in popular events where amateur and professional astronomers gather, and they interacting regularly to obtain critical comments and feed back. This has contributed greatly to the very rapid product evolution over the years, much faster than that obtained by our other lower volume manufacturers most of whom tend to market more costly larger domes.

The Menke's focus their full time business efforts 100% on the development and production of astronomy domes and dome automation products.

These observatories are designed to take advantage of the strength, good appearance, and long life of fiberglass. Technical Innovations employs a highly skilled fabrication firm in Maryland, with decades of experience in industrial and commercial fiberglass production, to manufactures the dome under the close supervision of the Menke's.

We realize that it is in our interest to make the observatory systems marketable to the amateur as well as the professional. And so the designs are technologically advanced yet the components are simple to assemble and operate. The documentation is written and illustrated to be helpful from the consumers' view point, and edited not to be "techno babble".

They share our values at Company Seven: we are committed to the advancement of astronomy. We believe that a comfortable observer with a permanent equipment set-up will be a more productive and active astronomer. Technical Innovation promises to you a well-designed, affordable observatory, made to their highest standards.
You are invited to discuss your special needs so that your dome installation will be a success. You'll receive courteous service, and prompt attention to any problems you may experience. We will do everything we can to be sure you are satisfied.