TELRAD SIGHT RISERS
height extensions for the Telrad sight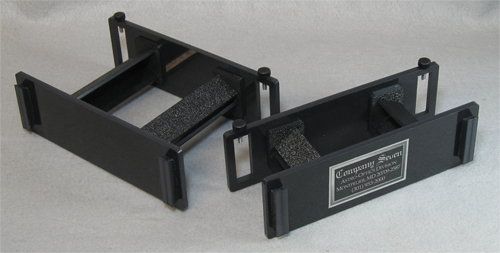 Above: Telrad optional four inch and two inch high Risers (87,946 bytes bytes).
Click on image to see enlarged view (213,717 bytes).

The Telrad sight is a versatile illuminated finder where the observer looks onto the center a tilted window onto which is projected a red LED illuminated reticle pattern; this pattern appears suspended over the target area in space. The center of the window is about 3-½ inches (89 mm) above the platform (telescope, stage light, etc.) upon which the Telrad is installed, and so seeing into the distance through the sight depends on being able to have the Telrad window remain above obstructions that might be in the way. As typically employed in astronomy the obstructions can include a Lens Shade/Dew Shield at the front of a telescope, when that shield has a larger diameter than the optical tube of the telescope. Or the Telrad may be obstructed by Mounting Rings, guiding equipment, or other devices. For applications with Stage Lighting it may simply be desired to elevate the Telrad sight so that it's sight is more convenient to view through, away from the heat of the spot light. To provide Company Seven's customers with a practical solution the Telrad Riser has been developed.
Right: Telrad Sight Reticle Pattern - display set to near maximum brightness to show up better in photograph.
The Telrad Riser is an optional accessory for the Telrad sight which may be installed quickly and with no tools by the user. The Riser is available in either 2 inch or 4 inch heights, these are installed onto the Telrad Quick Release Base and the Telrad sight is installed onto the Riser. The upper platform of the Riser resembles the Telrad Base and accepts the Telrad Sight, while the bottom of the Riser matches the arrangement on the bottom of the Telrad Sight and thus fits perfectly into a Base. These Risers can even be stacked if desired to attain greater elevation.
Installation of the Telrad Riser:
Install the Telrad Sight Base onto the telescope in the desired orientation, pointing towards the target.


Loosen the Base screws to remove the Telrad Sight from the Base.


Install the Riser onto the Base, secure the Base screws.


Attach the Telrad onto the Riser as shown below by securing the Riser screws: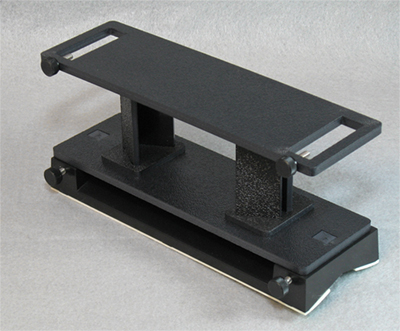 Above left: Telrad 2 inch Riser on Base (102,475 bytes), and right Telrad installed onto Riser (87,997bytes).
Click on images to see enlarged views (210,656 and 223,592 bytes).
TELRAD RISER SPECIFICATIONS
2 Inch Riser
4 Inch Riser
2" Riser Platform Height:
236 in. / 59.83 mm
4" Riser Platform Height:
4.34 in. / 110.3 mm
2" Riser weight:
4.1 oz. / 114 g.
4" Riser weight:
4.6 oz. / 128 g.
* Typical Telrad Sight with two AA batteries and Base weighs 9.5 ounces / 268 g.
** Specifications are subject to change without notice.