600E GERMAN EQUATORIAL MOUNT WITH SERVO MICRO-DRIVE MOTORS

A discontinued product replaced by the Mach1GTO in 2006. Information posted for information purposes only
Servo Micro-Drive Control System
Servo "DigitalSky Voice" Go-To Computer Control System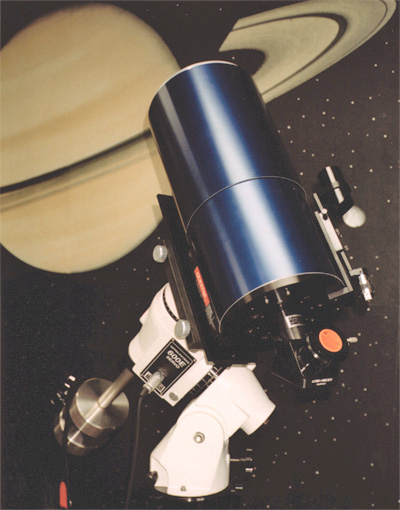 Above: Questar Seven Astro telescope barrel (viewed from rear left) with Dewcap threaded onto stored
position, attached to Astro-Physics Model 600E GTO computer controlled German equatorial mount.
(123,818 bytes).

Astro-Physics 600E German Equatorial mount offers many fine features to provide superb performance in a compact, portable package. It was engineered to provide a firm, steady compact platform for your high-resolution instrument. Both axes respond to fingertip pressure with no hint of backlash. Built-in clutches can be disengaged for ultra-smooth sweeping or locked for astro-photography.

The 600E is constructed of high quality components to provide you with years of observing pleasure. The rigid aluminum castings enclose the worm gears and the right ascension and declination motors. Therefore, the drive components are protected from dirt and dust, extraneous wires and gearing are eliminated, and the overall appearance is enhanced. All other parts are machined of aluminum and stainless steel. Astro-Physics avoids the use of any carbon steel shafts or plated-steel fasteners because they will deteriorate with time. This mount will not rust or bind up and will retain its appearance and function throughout the years. Fine-pitch, precision gears are the heart of the drive system. These gears are cut with Class AA hobbs on a highly accurate gear cutting machine. Designed for the utmost in durable convenience, this drive system operates from a portable battery pack or the cigarette lighter of your automobile.

Over the years, Astro-Physics mounts and drive systems have functioned reliably in the coldest environments of Canada, Norway and remote northern Alaska. The circuitry of our controller designs has been proven since the mid-1970's and is comprised of the highest-quality Military Spec. and Aircraft Grade components. Astro-Physics avoids the cost cutting techniques employed in most competing controllers: construction with flimsy, hygroscopic (water absorbing) circuit boards, components rated for indoor use, and poor solder connections. Astro-Physics controllers will stand up to the humidity and temperature extremes common to many observing locations.

Indeed the 600E has been so well accepted that Carl Zeiss selected the original Astro-Physics Model 600E mount head (with metric threading and Zeiss paint) with the brich wood tripod as the standard mount for sale with their premium 40 lb. Carl Zeiss "APQ" 6"f8 Apochromatic refractor telescopes (now discontinued).

This mount has been engineered to work seamlessly with the included Servo "DigitalSky Voice" Go-To Computer Control System. The furnished Keypad controller permits access and control of most desired functions, while the "DigitalSky Voice" software is a terrific observing companion offering many observing ideas and information, and a new level of ease of use for the beginner or the more experienced observer. If you plan to use an IBM-compatible personal computer to control your GTO mount, then you will have lots of fun with this accompanying software.

Right: Model 600E GTO Mount Head West side, with optional 6 and 9 lb. (2.7 and 4.1kg) counterweights, DOVELM Saddle Plate, and Tripod Adapter (178,447 bytes).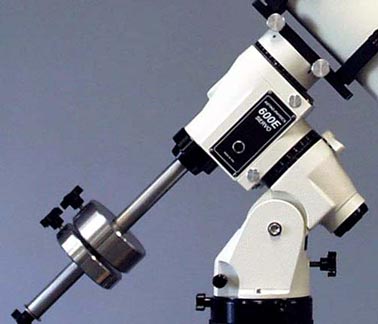 BASIC STANDARD FEATURES:
Head weighs 27 lbs. (12.3 kg)
Counterweight Shaft (removeable) weight is additional 5 lbs. (2.3 kg)
Virgin aluminum sand castings, precision hollow cast and machined for light weight
Gears and motors fully enclosed within housing
All fasteners are made of stainless steel
Declination axis gear allows full 360 degree continuous rotation; can move through zenith for photography
Dual axis servo motors with 12 Volt quartz micro-drive controller
the GTO Computer Keypad Controller with the "DigitalSky Voice control software
Polar and Declination axes feature large ultra-stable thrust bearings affording tremendous rigidity
Polar and Declination axes shafts are precision machined and hollow for maximum strength and minimum weight
Fine altitude and azimuth adjustment mechanisms for quickly and accurately zeroing in on the Pole in the field
R.A. Setting Circle Porter Slip Ring design:

when mount is moved manually or driven electronically it follows the stars without needing to be reset

Declination axis gear allows full 360 degree continuous rotation; can move through zenith during long exposure astrophotography
R.A. axis shaft threaded for optional detachable polar scope for quick, accurate alignment in the field
Two 12 volt power output to plug in guiding reticle, heater, CCD camera, or other accessory
One 6 volt power output for optional camera (Pentax 6x7cm)
One variable power output for optional guiding or measurement reticle illuminator
Ready to go with our optional SBIG Star Tracker Autoguider / Imaging CCD Systems
Below Right: Diagram of 600E GTO dimensions commonly requested. If the telescope is horizontal and pointing to west or south, then the measurement from the top of the pier to the middle of the cradle plate is 11.75 inches (28.9cm); these dimensions will vary somewhat depending on your latitude. We quote thus for 42 degrees because that is the latitude of the factory, it is also a good average value (144,653 bytes).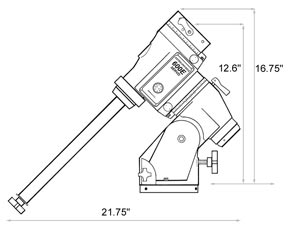 SPECIFICATIONS OF EQUATORIAL HEAD:
Worm wheel:
4 inch, fine pitch bronze
Worm gear material:
stainless steel
Latitude range:
15 to 57 degrees with polar scope; low latitude wedge available
Azimuth adjustment:
approximately 17 degrees
Setting circles:
Porter Slip Ring design
Right Ascension Circle:
10 minute increments, pointer
Right Ascension Vernier:
2 minute increments
Declination Circle:
1 degree increments, pointer
Weight of equatorial head:
27 lbs (12.3 kg).
Pier Outer Diameter:
6 inch
Pier Wall Thickness:
0.083 inch
SERVO MICRO-DRIVE CONTROLLER SYSTEM:
GTO Keypad/"DigitalSky Voice" Computer Control
Each axis has a fully enclosed zero-cogging DC Servo motor controlled to accuracy of +-0.05 arc seconds
Power requirements: 12 Volt D.C.
Current draw: only 0.4 amps when tracking or up to 2 amps with both motors slewing at 1200x
Electronic components meet industrial and automotive application standards
Push button selection of drive rates for lunar, solar, or sidereal tracking
PEM permanently stored Periodic Error Memory correction
TVC Time Variable Constant Declination backlash control
R.A. and Declination reversing switches for correct object orientation and movement in eyepiece
TIC Interface for optional SBIG Autoguider / Star Tracker controller
Adjustable brightness control for optional guiding or measuring reticle illuminator
Locking plug connections for all control and power cables
AVAILABLE OPTIONS:
Please see accompanying information sheets for description
Portable Piers: 6" diameter with heights 48", 54" or 62"

Portable Piers Accessory Tray and Support Bar

Telescope Optical Tube Assembly Mounting Rings

15" Model FP1500 Flat Mounting Plate

Model DOVE08 8" or DOVE15 15" Quick Release Saddle Mounting Hardware for Astro-Physics Slide Bar

Model DOVELM Quick Release Saddle Mounting Hardware for Losmandy "D" Plate

Stainless Steel Counterweights of 6 or 9 lbs.

Pier Accessory Tray and Support Bar

Integral 5X Polar Alignment Telescope

SBIG Star Tracker Autoguider / Imaging CCD Systems

TIC Interface Cable for SBIG CCD System Autoguider

12-Volt Rechargeable Portable Battery

Power Cord for Pentax 6x7cm Camera; Part No. CORD01

Astro-Physics Storage/carrying case

Company Seven offers optional deluxe fitted "Airline Transport Approved" cases to facilitate
shipping the mount (or telescope) world wide, or routine transport. Features include weather
resistant construction, combination lock, Fedex/UPS label plate.



Above: Astro-Physics Model 900 Mount in optional Company Seven ATA case. Case 1 of 2 shown here, with Declination housing (left side shown) with GTO Keypad Controller and Counterweight Shaft (94,326 bytes).