YA GOTTA LOVE IT: among the glowing reviews is that test report from the December, 2007 "Sky & Telescope" magazine entitled "Staying on Track" by Dennis di Cicco their Senior Editor, (from http://skyandtelescope.com/reprint/795. Dennis tested and reviewed Televue's TV-NP127is refractor, Apogee's Alta U9000 CCD camera and the Mach1GTO at the same time.
"The mount just faded into the background as I worked with the scope and camera. Each night I'd turn it on; press a few buttons to slew to a bright star (usually before sunset), confirming that the mount was still synced with the sky; and go about my observing. Night after night the Go To pointing, sidereal tracking, and autoguiding remained virtually flawless. The fact that the mount proved so unobtrusive as I busied myself otherwise is, in my opinion, one of its greatest qualities - especially since its setup had been so easy."
Dennis' summary quote from the end of the article stated:
"If you're in the market for a quality, midsize German equatorial mount that's highly suited to portable and permanent installations, you should definitely consider the Mach1 GTO. I can't imagine anyone being disappointed with its performance. The nameplate says "Astro-Physics," and after months of using it, I know it's good."
As a final testament to the Mach1GTO, Dennis decided that he did NOT want to give up the mount that he had borrowed for testing, so he purchased it himself!
CONFIGURING A MOUNT FOR YOUR USE: all of our Astro-Physics mount and telescope systems are selected "Ala Carte" as needed to fulfill a particular mission of the client. An Astro-Physics mount system will usually consist of several components:
a) mount head

b) choice of mounting hardware to attach a telescope onto the mount. This is usually some Dovetail Quick Release plate.

c) counter weight - this should be about 2/3 of the anticipated payload
(telescope, mounting hardware, accessories)

d) adjustable wood Field Tripod, the "Eagle" portable tripod, or a fixed height pier (permanent or portable)

e) Pole Alignment Finder telescope

f) portable rechargeable 12 volt D.C. Battery Pack, or regulated AC to 12 volt D.C. Power Supply
Please contact Company Seven for additional advice about what may suit you best. Note the phoning in the afternoon gives our customers the best chance at quick and easy access.

POLE ALIGNMENT FINDER: Part No. PASILL4 is a very handy accessory that threads into the RA Axis of the mount. Company Seven recommends this for people who are operating the mount at several locations, since this dramatically speeds up the process of aligning the mount onto the Celestial Pole. The current model includes illuminated pole alignment reticle (updated for years from 2005 to 2030), battery, and this will include either a CABPAS3 or CABPAS4 cable (requirement determined by us) to plug into the Mount CPU Control Panel.
COUNTERWEIGHTS: We recommend you order 2/3 the anticipated total payload (telescope, mounting plate, mounting rings, visual and/or photographic accessories) in counterweights. This can average out to be one counterweight (or multiples) that match the weight of the optical tube.

So for example if you have a 4 inch aperture Apo refracting telescope tube assembly weighing 10 lbs. then we suggest a single 9 lb weight will probably manage it with the typical extra accessories. If using an Astro-Physics 13cm EDF (typical OTA weight16 lbs), then we suggest one 9 and one 6 lb weight.

The provided Counterweight Shaft is 1.125" diameter X 14.5" long, 4.1 lbs. (29mm X 368mm, 1.9kg) This shaft uses the same 6 lb. and 9 lb. counterweights that were used with the older Model 400, 600 and 800 series mounts.

For those customers who already own, or plan to buy either of the larger AP 900GTO or 1200GTO mounts, then we recommend you consider the optional Counterweight Shaft (M1053-A). It is 1.875" diameter X 10.70 " long, 7.7 lbs. (48mm X 273mm, 3.5kg). This shaft is the same diameter as the shaft for the 900 and 1200 mounts and uses the same counterweights as well as a smaller 5 lb. counterweight produced especially for the Mach1GTO. Longer shaft sizes and an optional extension are available too. This is an accessory that must be purchased separately, and is not available as a substitution/upgrade. Requires Safety Stop (M12676).

Counterweight Choices:
5SCWT 5 lb. Stainless Steel Counterweight for 1.875" Shaft - for 900 and 1200 Mounts (and Mach1GTO with optional shaft).
6SLCWT 6 lb. Stainless Steel Counterweight for 1.125" Shaft - for 400, 600E, 800, and Mach1 Mounts.
9SLCWT 9 lb. Stainless Steel Counterweight for 1.125" shaft - for 400, 600E, 800, and Mach1 Mounts.

MOUNTING HARDWARE: You will find that there are several possible ways to attach a telescope optical tube assembly (OTA) on to the Astro-Physics mount. Each has its advantages and drawbacks, but for more portable mounts we recommend attaching the telescope onto a quick release "Dovetail" plate, and then slide the assembly onto the mount:

In this case we would suggest either the Astro-Physics Dovetail Plate and Slide bar system, or our 8.5 inch long Losmandy "D" Plate Adapter (Part. No. DOVELM2), with a pair of Mounting Blocks and "D" Series Plate. The DOVELM2 is attached to the mount head, the "D" Plate is bolted onto the telescope optical tube assembly: on a Catadioptric this is generally at the front and rear cell mounting holes, other telescopes may employ mounting rings attached to the plate.

The advantage of the Quick Release hardware includes: the Mount Head can then accept any accessory that has attached to it a Losmandy standard "D" series plate. This provides quick and simple changing of optical tube position (and balance), or easy removal of the OTA and installation of another system in it's place, all with out the need for any tools. The disadvantage is that this does not permit rotation of the telescope as the "D" plate is attached "in line" with the telescope optical axis. Another "D" plate or Astro-Physics Slide Bar can be installed along the top of the OTA to accept "piggyback" or guide telescopes.


ADUSTABLE HEIGHT FIELD TRIPOD: The economical Astro-Physics Portable Pier and Wood Field Tripod continues to be the two most popular choice of platforms for the Mach1GTO/400 GTO/600E GTO heads. The tripod is adjustable in height, dampens vibrations well, and is aesthetically appealing to most. We also offer the Eagle Pier, a fully machined, high-tech portable tripod pier made entirely at the Astro-Physics factory.

Below from left to right is the AP 6" Diameter x 48" Portable pier (choice of many heights), Adjustable Height Wood Tripod, Eagle Pier and Eagle Pier in optional Carrying Case: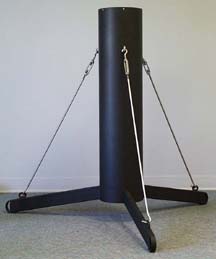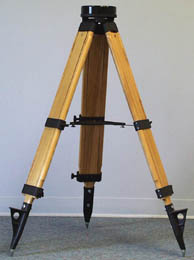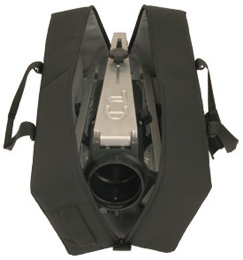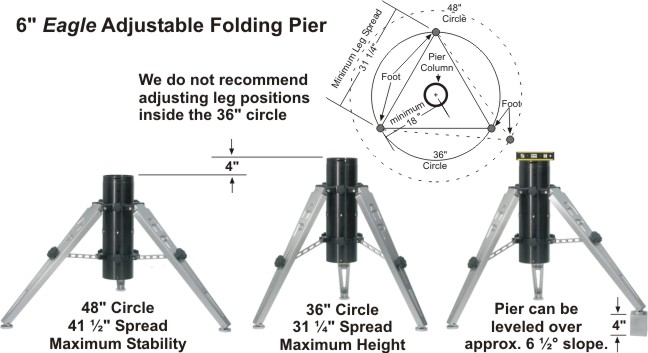 Portable Pier Models:
6X24PP 24" Portable Pier for 400, 600E and Mach1 Mounts (6" outer diameter) - includes post, legs, struts and base
6X32PP 32" Portable Pier for 400, 600E and Mach1 Mounts (6" outer diameter) - includes post, legs, struts and base
6X42PP 42" Portable Pier for 400, 600E and Mach1 Mounts (6" outer diameter) - includes post, legs, struts and base
6X48PP 48" Portable Pier for 400, 600E and Mach1 Mounts (6" outer diameter) - includes post, legs, struts and base
6X54PP 54" Portable Pier for 400, 600E and Mach1 Mounts (6" outer diameter) - includes post, legs, struts and base
6X62PP 62" Portable Pier for 400, 600E and Mach1 Mounts (6" outer diameter) - includes post, legs, struts and base
Eagle Pier & Accessories:
EAGLE6 6" Eagle Adjustable Folding Pier
C0031 Soft-sided Carrying Case for 6" Eagle Pier
EAGLE6E8 8" Extension for 6" Eagle Pier, includes (3) Knobs, and (3) ¼-20 tpi x 5/8 inch button socket head screw with washer
Company Seven also offers custom made ultra-lightweight tripods made in the USA to our specifications by Particle Wave Technologies. These are fully precision machined and hand assembled, finished to your preference of color scheme. Please inquire if you wish more information about fixed or adjustable height models. Some examples are: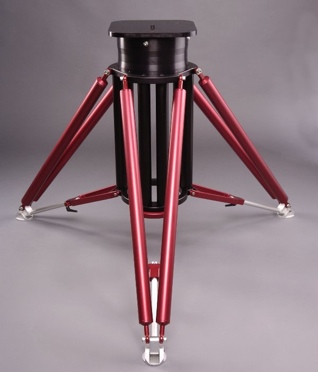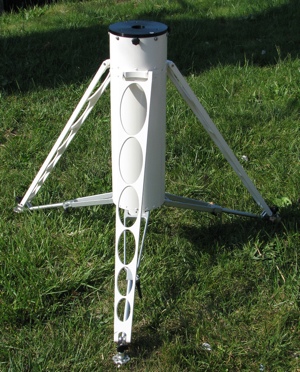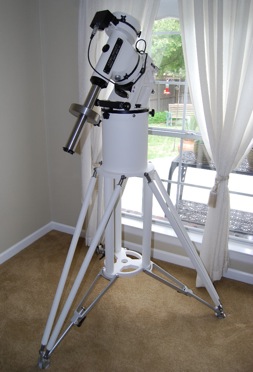 Details of the PW tripod pier construction include rotating pier tops, and many design aspects to insure rigidity, maintain light weight, resist wind loads: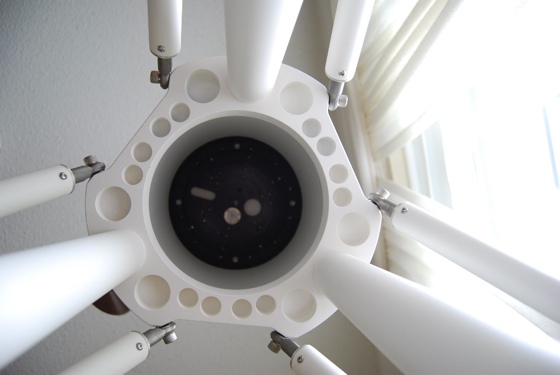 TRIPOD OR PIER HEIGHT SELECTION NOTES: in our showroom (latitude about 38 degrees) one can add 17-½ inches to the pier height to determine what will be the total height to the center of the mount head saddle when the head is in a Pole Alignment position (Declination at 90 degrees, R.A. axis with mount plate at its highest position). Consider the length of the telescope optical tube and its' likely balance point, the height of the observers, the need (if any) to reach objects low in the sky as well as at Zenith. Consider that you may wish to select a shorter option if you want to be able to easily get to a photo guide scope, or taller if you prefer to observe straight through.

For your convenience we provide the illustrated Latitude Dimension Calculator, a spreadsheet in Microsoft Excel format so that you may better determine what height of tripod or pier will work best for you with our Astro-Physics mount. Of course feel free to contact Company Seven for advice about this too.

POWER SOURCE: the Astro-Physics GTO mount requires 12 volts DC power. This is usually provided by either:

a. Portable rechargeable battery 12 volt D.C. battery pack. We offer packs of 18 amp hour and larger capacity. Please inquire for current models and pricing.

b. An installed 12 volt D.C. battery bank that is kept on trickle charge. Some observatories have make a vented small room, or vented "cubby" area to keep the batteries. Should have room for four or so car-sized deep cycle batteries, and trickle charger. Then run 12 volt DC to the mount/pier through a power disconnect switch. You may refer to marine wiring USCG regulations for the best guidelines on this.

c. A regulated 12 to 15 volt power supply into an AC outlet in the observatory dome. Make this a switched outlet so that when the observatory is not used a power surge can not work its way to the electronics. Make certain all AC power in the observatory (if not in entire facility) is on GFCI.

We offer several Regulated Power Supply from Astro-Physics, this is a perfect choice for use with an Observatory setting or where portability is not crucial.
• PS138V5A 13.8v 5 amp Regulated Power Supply with Cigarette Adapter, for 110-120V input.

And for those who are also using the larger mounts in cold weather and or with very heavy payloads then we offer:

• PS15V10AC 15 Volt DC - 10 Amp Regulated Power Supply with Cigarette Lighter Plug Adapter Cord - for 110 to 120 Volt, 60 Hz AC input.
Circuits to the telescope pier, and other circuits that may power sensitive CCD Imaging Cameras should each be on isolated circuits, GFCI, ideally filtered, and absolutely with power disconnects. One can not rely on surge suppression alone to protect sensitive circuitry from nearby lightning strikes.
Provide a nearby lightning rod to ground - locate it nearby but in a direction where it is least likely to impede observing. Some people have made a hinged or removable rod to get it out of the way when observing.
ATA CASES: Company Seven does provide "Airline Transport Association Approved" transport and shipping cases. We historically made these cases only for government and industrial clients, and on occasion we design a case for customers who patronize Company Seven. In response to increasing interest from consumers who wish to protect their more valued products, we have put a brief overview of these cases at Company Seven ATA Cases, this page includes images of several custom made cases including one for a Astro-Physics 13cm EDT telescope. You can see one of the two cases described as an accessory for our Astro-Physics Model 900GTO. And of course you may see examples of these cases first hand in our Laurel, MD showroom.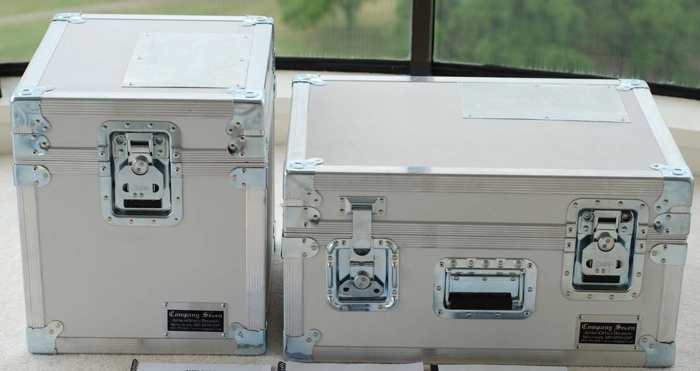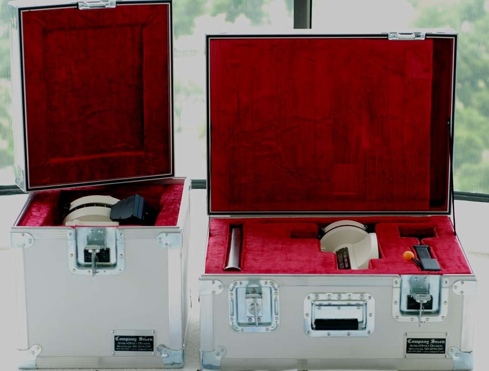 Company Seven has completed numerous proprietary designs for ATA cases for telescope optical tube assemblies, and for mounts. We are not aware of any instance where the contents of our cases were damaged in transit, and there is some measure of convenience added by the organizational qualities of these cases. These cases incorporate design features to protect the contents from accidental intrusion, and will prevent the items contents within from becoming a projectile. This is is achieved by clever engineering of the case shell, and interior foam (of varying densities as appropriate) linings, hand fitted velour interiors (to prevent abrasion of the contents and work with the softer density foams to retain the contents), corrosion and weather resistant components including spring loaded handles at convenient locations, tamper resistant valence spanning latches, and combination lock(s), weather tight sealed seams and gasketed lids.

These cases incorporate features designed to expedite shipping by Federal Express, UPS, and other common carriers.

Unless you specify otherwise, our default choices are:

Case Exterior - White. This helps to keep contents cool. We do offer this heavy duty vinyl covering in most other common colors, and we also offer optional aluminum exterior cladding.

Case Interior - Red. We offer the interior velour in either Red, Blue, or Black. I find the dark components stand out better in red lights against the Red velour.

Combination Lock - tamper resistant, is set to a number we will provide to you. You may change it to any other 3 digit number. Also note, the cases designed with a removable lid will incorporate two combination locks (set alike) instead of one.

Aluminum metal plate on case exterior to attach UPS or FedEx Airbill.

Other options include: Military Spec. Construction with corrosion resistant hardware, retracting handle with rolling wheel at the base (similar arrangement to typical carry on rolling luggage), stencil with information of your choice on case exterior (name, address, etc.). The lead time for production and delivery of a case depends on what modifications if any are made to our existing designs in order to accommodate customer requirements. But once the design is finalized then we generally require three weeks or so to manufacture the case.


Gear in declination axis allows full 360 degree continuous rotation; a telescope can move through zenith in the course of long exposure astrophotography

2.4 inch (60mm) diameter hollow right-ascension and declination shafts maximize strength at minimum weight

Large preloaded thrust bearings form ultra-stable thrust surfaces for tremendous rigidity in a small package

Right-ascension shaft threaded for optional polar scope allows quick, accurate polar alignment in the field

Removable stainless steel counterweight shaft for compact storage

Fine altitude and azimuth adjustments for quickly and accurately zeroing in on the pole in the field

Black anodized finish will retain its lustrous beauty for years

FEATURES
The drive system employs a high-quality DC servo motor controlled by a microprocessor. The tracking is very smooth, noticeably better than any production stepper motor drive. The system can be accurately controlled over a wide speed range of 4800:1 (0.25x sidereal for guiding to 1200x sidereal for 5 degree per second slewing). The servo drive will satisfy the requirements of the sophisticated, advanced astrophotographer, yet is easy for the casual, visual observer to use. Please refer to the separate section entitled "GTO Control System" section of our Internet Site for more details about this revolutionary development.
Fully precision machined aluminum with radiused edges

Gears are fully enclosed

Each axis has a fully enclosed, industrial quality zero-cogging high performance and long endurance DC Servo motor

Motors are microprocessor controlled to an accuracy of ±0.05 arc seconds

Power requirements: 12 Volt D.C.

Current draw: approx. 0.3 amps when tracking or up to 1.2 amps with both motors slewing at 1200x

Electronic components meet industrial and aircraft application standards

Push button selection of drive rates for lunar, solar, or sidereal tracking

PEM permanently stored Periodic Error Memory correction

TVC Time Variable Constant Declination backlash control

R.A. and Declination reversing switches for correct object orientation and movement in eyepiece

TIC Interface for optional SBIG Autoguider/Star Tracker controller

Adjustable brightness control for optional guiding or measuring reticle illuminator

Locking plug connections for all control and power cables