Company Seven | ATA Approved And Mil Spec. Cases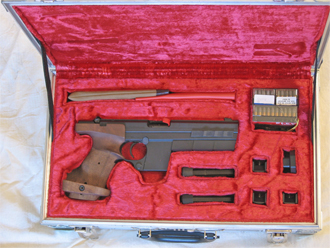 "for government and industry these are a means to improve mission readiness,
for the consumer these bring the same but with the added pride of ownership"
Company Seven provides custom designed hand-crafted carrying and shipping/transport cases for telescopes, other optical and mechanical systems, sensitive electronics including computer CPU's and monitors, and other valuable items. No other company has more experience in engineering cases suitable for telescopes and other sensitive instruments. Company Seven is a registered U.S. Government (DLA, ORCA, etc.) small business contractor and manufactures these cases entirely in the USA. Company Seven is licensed in several areas by a number of U.S. Government agencies including the Department of the Treasury's Bureau of Alcohol, Tobacco and Firearms.
Right: Company Seven ATA Case made for Hammerli Model 280 Target Pistol with accessories (83,013 bytes)...
and yes, Martin is dead-on accurate with it.
Click on image to see enlarged view (357,180 bytes).
We offer several types of case construction, but our most popular are the ATA series that meet or exceed all the requirements set for the by the Airline Transport Association. We also offer Military Spec. cases that add to the durability of the ATA cases improved resistance to environmental extremes and anti reflection treatment of the hardware. In an age where checking in baggage poses inconveniences and some risks (carrying through crowded terminals, clearing security, making connecting flights) these cases provide the easy option of simply affixing a FedEx or another carrier's label on the outside and then sending the items so that they arrive at your destination, and at your convenience. Shipping via a professional carrier can reduce risks and provide full value insurance coverage that is often not provided by the passenger airlines.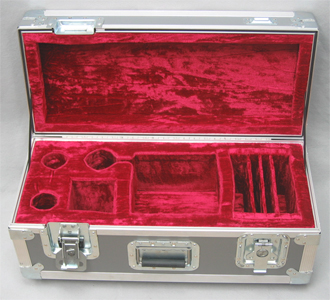 Company Seven has decades of experience in designing ATA and Mil Spec. transport and shipping cases incorporating features designed to expedite shipping by Federal Express, UPS, and other commercial carriers. We have completed numerous proprietary cases to accommodate telescope optical tube assemblies, equatorial mounts, CCD systems, tracking platforms, computer CPU's, displays and monitors, Solar Filter systems, UAV's, firearms, munitions, and numerous other high value sensitive gadgets and gizmos.
Our cases are engineered so that the interiors may give way to one degree or another to cushion the shocks that might otherwise be transmitted to the content; this is accomplished by employing various densities of foams, in the appropriate layered thickness, calculated with the surface area and mass of the contents in mind. We are not aware of any instance where the contents of our case were damaged in transit.
Right: Company Seven ATA Case for DayStar Hydrogen Alpha Filter System (98,907 bytes).
Click on image to see enlarged view (351,643 bytes).
These cases bring some measure of pride of ownership: one knows that a Company Seven case provides an elegant and a long term cost effective solution for day to day problems; their presence arrival reflects well on any organization willing to make the investment for a professional solution. These cases also provide some measure of convenience by their organizational qualities since every important component may have its own partitioned space within so that it becomes obvious when something is not in its place. To assist in isolating the associated hardware and cabling we can also provide hinged interior flaps, reinforced partitions, even removable smaller subassemblies.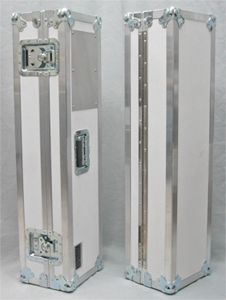 The standard case construction includes wall of plywood covered in scrape resistant exterior coverings of heavy duty plastic, fiberglass or aluminum. However we also offer the choice of a honeycomb laminate wall construction consisting of lighter weight synthetic materials where wight savings are a concern. The corners and edges are all steel and aluminum reinforced. All interior seams are sealed with silicone and gasketed lid channels provide weather resitance. The lids may be made hinged to open in a conventional manner, or the lid may be designed to be removed completely. The linings are precision cut of foam with each layer varying in its degree of stiffness and thickness; this is a part of the engineering principle of cushioning the interior contents so that they do not become a projectile while in the case. The cases are made with corrosion and weather resistant components and can include carrying handles at convenient locations, retracting tie down loops, tamper resistant valence spanning latches, gasketing, and choices of combination locks. The spring loaded retracting handles are rubber covered, and we provide latch handles wide enough so that these are easily manipulated even by the gloved hand, and in all practical extremes of temperature. All hardware is of metal and is flush fit or recessed. Case corners may be either rounded or formed to facilitate stacking one case upon another. Stenciling is available so that the cases may bear on their exterior the shippers address or contact information for example, weapons line number information, contents description or serial number, etc.
Left: Company Seven ATA Cases with hinged lids (49,425 bytes).
Click on image to see enlarged view (230,560 bytes).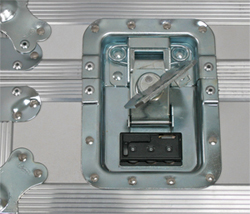 Our cases incorporate design aspects and hardware features to protect the contents from accidental intrusion. Furthermore, these cases will prevent the items contents within from becoming a projectile. This is is achieved by clever engineering of the case shell and by the use of interior foam linings of varying densities as appropriate. While foam lining cases alone can be economical and suitable for simple payloads (tripods, etc.), this does not provide the best degree of durability and protection and so at times we will suggest hand fitted velour interiors to prevent abrasion of the contents and work with the softer density foams to retain the contents. Straps and or cradles may be provided to hold sensitive contents in place. Our cases incorporate learning gleaned from years of analyzing failure modes of other production cases and so these are not "cookie cutter" cases - instead each is designed and crafted with a particular item in mind.
Right: Company Seven ATA Case tamper resistant combination lock latch (48,328 bytes).
Click on image to see enlarged view (230,758 bytes).
The combination lock latch shown at right is a design in which the flap handle is twisted clockwise to draw the clamp down upon the lid lactch. When the clamp is drawn tight, then the handle swings down and flush with the ATA case, and while doing so the handle blocks access to the combination lock internal latch. Only the three combination tumblers can be seen, and only from an orientation that makes these more tamper resistant than traditional combination latches.
Company seven also offers a variety of relatively lightweight accessory cases, these cost less than and are generally of simpler construction than those meeting our ATA conventions.
As one customer communicated to us:
"these are not just shipping cases, they are such gorgeous works of craftsmanship and logical arrangement that at first glance
I found myself wanting to buy a cheap outer case to protect my Company Seven case exterior from the scrapes to come"
Well, we do wrap each case in protective cardboard so that when you receive it the case will look pristine just as it left Company Seven.
Unless specified otherwise, our default choices and preferences include: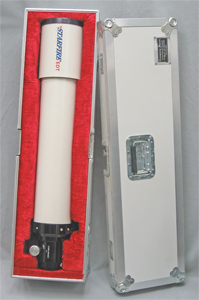 Case Exterior - White. This helps to keep contents cool. We do offer this heavy duty vinyl covering in your choice of many common colors, we also offer aluminum or fiberglass exterior cladding.


The case shell default construction is weather resistant, with silicone caulking within and the structural design optimized to minimize breaks in the lid gasketed channel. These cases may be stored on the exposed roof rack of a vehicle.


Case Interior - Red. For sensitive contents we offer the interior fully lined and fitted by hand with velour in choice of either Red, Blue or Black. We find for night time uses the dark components stand out better against the red velour when viewed at night under red light. In some instances where velour is not necessary then we may provide other covering materials for aesthetic and practical reasons.


Combination Lock - tamper resistant and valence spanning. The combination is set to a number we will provide to you. You may change it to any other three digit number. Also note, the cases designed with a removable lid will incorporate two combination locks (set alike) instead of one with one lock on either side of the case.

Right: Company Seven ATA Case custom fitted for a Astro-Physics 13cm EDT Apochromat Telescope with 2.7 inch Focuser (65,974 bytes).
Notice how this lid is removable to eliminate the possibility of damaging the telescope at night or in windy conditions.
Click on image to see enlarged view (215,942 bytes).