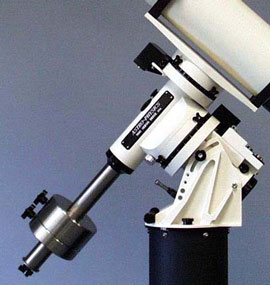 900 GERMAN EQUATORIAL MOUNT WITH SERVO MICRO-DRIVE MOTORS
Servo Micro-Drive Control System
Servo "DigitalSky Voice" Go-To Computer Control System
Astro-Physics has become synonymous with unadulterated performance and reliability, balanced with reasonable prices so much so that no other products command premiums on the resale market as does Astro-Physics - scalping may be the sincerest form of flattery. And to its credit, no other product line has achieved such a large installed base of clientele using this class of premium products: their telescopes and computer controlled "Go To" German Equatorial Mounts. It has been in part because of the numbers of these systems being used over the past decades with the frequent interaction with Astro-Physics between its customers, friends, testers, and with Company Seven that has led to this product line becoming so advanced, so quickly. And the fact that Astro-Physics is able to manufacture the quantities of these superb products completely in house helps to constrain prices and make them not only technologically advanced and desirable, but also comparatively affordable.
Right: Model 900 GTO Mount Head West side, with optional 10 and 18 lb (4.6 and 8.2kg) counterweights, 15 inch long Ribbed Saddle Plate, and Pier.
Telescope, Mounting Plate, and Mounting Rings are optional (188,382 bytes).
PRECISION AND PAYLOAD CAPACITY: The typical Periodic Error will not exceed 2.5 arc seconds peak to peak in one worm cycle period of 4.3 minutes. This becomes practically immeasurable as the tracking performance does even better with PEC trained, or with the provided PemPro software.
This 900 GTO mount is made to manage payloads (not including counterweights) of up to approximately 65 lbs. (29.5 kg) depending on length of the telescope and choice of tripod or pier. The Mach1GTO will handle pretty much any moderately-sized scope from a short 4 to 7 inch aperture Apo refractor, a 6 to 10 inch Maksutov-Cassegrain, or the popular 8 to 14 inch aperture Schmidt-Cassegrain telescopes. Consider these as guidelines since some telescopes are physically long for their weight or have very long effective focal lengths and may require a larger mount. Also consider that for imaging the requirements are much more demanding than visual observation, and so the accessory payloads for this work can amount to much more weight. So someone pursuing serious imaging with 7 inch or larger aperture Apos, or a Celestron 14 or Meade 16 inch class Catadioptric telescopes should probably select a larger mount such as the 1200 GTO.
BASIC STANDARD FEATURES:
Head weighs 38 lbs (17.3 kg). Disassembles into two manageable pieces:

Declination axis weight is 16 lbs. (17.3 kg),
Right Ascension Polar axis weight is 22 lbs. (10 kg)

Counterweight Shaft (removeable) of 1.875" diameter weight is additional 10 lbs. (4.6 kg)
All precisely machined mounting made from aluminum, brass, and stainless steel bar stock
All fasteners are made of stainless steel
CNC machining yields heavily ribbed internal structure for maximum rigidity and lower weight
Dual Axis servo motors with 12 Volt quartz micro-drive controller choose either
Polar and Declination axes dovetailed to come apart quickly (no tools required) for light-weight easy handling and transport
Polar and Declination axes set in precision Ball Bearing races
Fine altitude and azimuth adjustment mechanisms for quickly and accurately zeroing in on the Pole in the field
R.A. Setting Circle Porter Slip Ring design:

when mount is moved manually or driven electronically it follows the stars with no need to reset
if the mount is slewed electronically then reindexing is suggested

Declination axis gear allows full 360 degree continuous rotation; can move through zenith for photography
R.A. axis shaft threaded for optional detachable polar scope for quick, accurate alignment in the field
Two 12 volt power output to plug in guiding reticle, heater, CCD camera, or other accessory
One 6 volt power output for optional camera (Pentax 6x7cm)
One variable power output for optional guiding or measurement reticle illuminator
Motors and electronic components fully enclosed
Ready to go with our optional SBIG Star Tracker Autoguider / Imaging CCD Systems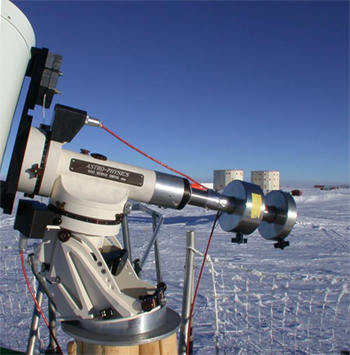 The 900GTO mount has proven itself to be reliable even in the most severe environment on the planet while functioning flawlessly 24 hours per day throughout the entire polar night - a night lasting 6 months. With few modifications these are carrying a telescope in Antarctica for planetary research. Once the mount is installed and the polar night begins, no maintainance can be done to the mount due to the extreme low temperatures and dangerous wind conditions that prevent technicians from working outdoors.
Right: Astro-Physics 900GTO Computer Controlled German Equatorial Mount in Antarctica (94,995 bytes).
Note custom Latitude Wedge between the mount base and pier required to attain proper Pole Alignment elevation here.
Click on image to see enlarged view (284,412 bytes).
All our Astro-Physics "Go To" German mounts have proven themselves in these frigid Antarctic conditions over several years starting in the mid 2000's. We have had a number of 900GTO and 1200GTO mounts with few modifications from those we sell at Company Seven running continuously at 'Dome C' in Antarctica and they have proved themselves to be winners. In fact, they are some of the few things that actually work under those conditions where the temperature is so cold that optics shatter and paint falls off tube assemblies like skin shed from a molting snake. The same design philosophy that has overcome these harsh conditions has made the new larger 3600GTO the finest mounting of its class that is available; (follow this link to see more photos from Antarctica. On the linked page click on the Photo Gallery menu choice at the bottom of the page, and then scroll down to "Astrophysics place"; click on Turbulence Monitoring; and click on Summer 2003: First Seeing . . . )
CONFIGURING A MOUNT FOR YOUR USE: all of our Astro-Physics mount and telescope systems are selected "Ala Carte" as needed to fulfill a particular mission of the client. An Astro-Physics mount system will usually consist of several components:
a) mount head

b) choice of mounting hardware to attach a telescope onto the mount. This is usually some Dovetail Quick Release plate.

c) counter weight - this should be about 2/3 of the anticipated payload
(telescope, mounting hardware, accessories)

d) adjustable wood Field Tripod, the "Eagle" portable tripod, or a fixed height pier (permanent or portable)

e) Pole Alignment Finder telescope

f) portable rechargeable 12 volt D.C. Battery Pack, or regulated AC to 12 volt D.C. Power Supply
Please contact Company Seven for additional advice about what may suit you best. Note the phoning in the afternoon gives our customers the best chance at quick and easy access.

We invite you to see the 900GTO at Company Seven's showroom, or contact Company Seven, the Americas only full line Astro-Physics showroom!