AstroSystems Elliptical Secondary Mirror Holders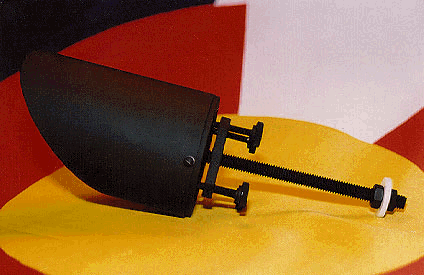 AstroSystems secondary mirror holders are fabricated with the latest materials and design technology to help you to build a telescope. This secondary mirror holder retains the secondary mirror in place firmly, yet with not strain which might introduce astigmatism.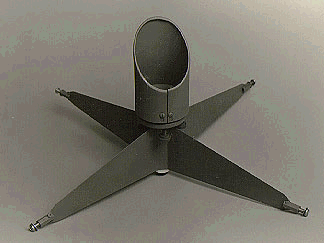 The secondary mirror holder is attached to and suspended from the "spider".
Those holders over 3.0" in minor axis size have provisions for tilt adjustment; there are no tools needed to adjust those holders. All sizes feature our innovative two-axis adjustment that greatly simplifies collimation. These holders are available in 18 sizes, for elliptical mirrors ranging from 1.25" to 5.0" minor axis.
| | | | | | | | | | | | |
| --- | --- | --- | --- | --- | --- | --- | --- | --- | --- | --- | --- |
| Size (in): | 1.30 | 1.52 | 1.83 | 2.14 | 2.60 | 3.10 | 3.50 | 4.00 | 4.25 | 4.50 | 5.00 |
| Weight (lbs): | 2 | 2 | 2 | 2 | 2 | 3 | 3 | 3 | 4 | 4 | 4 |

A, B, & C Dimensions for AstroSystems Spider and Elliptical Secondary Mirrors

| | | | | | | |
| --- | --- | --- | --- | --- | --- | --- |
| Minor Axis | A (in.) | B (in.) | C (in.) | A+B (in.) | A+B+C (in.) | Weight (lbs.) |
| 1.3 | 3.0 | .75 | 3.25 | 3.75 | 7.0 | .25 |
| 1.52 | 2.75 | .75 | 3.5 | 3.5 | 7.0 | .32 |
| 1.83 | 2.75 | 1.25 | 3.0 | 4.0 | 7.0 | .34 |
| 2.14 | 3.35 | 1.25 | 2.7 | 4.6 | 7.3 | .37 |
| 2.6 | 3.75 | 1.5 | 3.25 | 5.25 | 8.5 | .55 |
| 3.1 | 4.3 | 1.5 | 3.5 | 5.8 | 9.3 | .65 |
| 3.5 | 4.3 | 1.5 | 3.5 | 5.8 | 9.3 | .85 |
| 4.0 | 5.0 | 1.5 | 3.0 | 6.5 | 9.5 | 1.0 |
| 4.25 | 5.5 | 1.5 | 3.0 | 7.0 | 10.0 | 1.1 |
| 4.5 | 5.5 | 1.5 | 3.0 | 7.0 | 10.0 | 1.25 |
| 5.0 | 6.0 | 1.5 | 3.0 | 7.5 | 10.5 | 1.35 |
Go to Price List
Go to AstroSystems components page
Go to AstroSystems products page