AstroSystems Secondary Mirror Heavy Duty Spider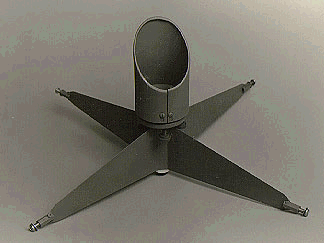 AstroSystems heavy duty secondary mirror spiders are fabricated with the latest materials and design technology to help you to build a high performance telescope. This secondary mirror spider retains the secondary mirror holder in place firmly, and it permits adjustments to center the secondary mirror in the light path.
Each is custom-made to order and sized for your particular telescope tube. The structure utilizes high tensile steel TIG welded to the hub, giving the vanes extra stability. The threaded stainless steel vane tips are solidly brazed to the vanes, probably making this the strongest spider on the market.
We will need your ID (inner diameter) to size the spider and the tube thickness to supply the proper length stainless steel mounting screws. We ask you allow 2 to 4 weeks fabrication time for custom orders.
| | | | | | | | |
| --- | --- | --- | --- | --- | --- | --- | --- |
| Size | A | B | C | D | E | F | G |
| Tube ID (in): | 7.0-10 | 10.0-13 | 13.0-16 | 16.0-19 | 19.0-22 | 22.0-26 | 26.0-32 |
| Weight (lbs): | 2 | 2 | 3 | 3 | 4 | 4 | 6 |

A, B, & C Dimensions for AstroSystems Spider and Elliptical Secondary Mirrors

| | | | | | | |
| --- | --- | --- | --- | --- | --- | --- |
| Minor Axis | A (in.) | B (in.) | C (in.) | A+B (in.) | A+B+C (in.) | Weight (lbs.) |
| 1.3 | 3.0 | .75 | 3.25 | 3.75 | 7.0 | .25 |
| 1.52 | 2.75 | .75 | 3.5 | 3.5 | 7.0 | .32 |
| 1.83 | 2.75 | 1.25 | 3.0 | 4.0 | 7.0 | .34 |
| 2.14 | 3.35 | 1.25 | 2.7 | 4.6 | 7.3 | .37 |
| 2.6 | 3.75 | 1.5 | 3.25 | 5.25 | 8.5 | .55 |
| 3.1 | 4.3 | 1.5 | 3.5 | 5.8 | 9.3 | .65 |
| 3.5 | 4.3 | 1.5 | 3.5 | 5.8 | 9.3 | .85 |
| 4.0 | 5.0 | 1.5 | 3.0 | 6.5 | 9.5 | 1.0 |
| 4.25 | 5.5 | 1.5 | 3.0 | 7.0 | 10.0 | 1.1 |
| 4.5 | 5.5 | 1.5 | 3.0 | 7.0 | 10.0 | 1.25 |
| 5.0 | 6.0 | 1.5 | 3.0 | 7.5 | 10.5 | 1.35 |
Go to Price List
Go to AstroSystems components page
Go to AstroSystems products page