Baader Planetarium UV/IR Cut Filter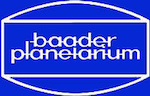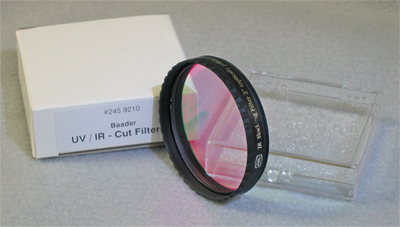 The Baader UV/IR Cut filter is designed to reflect infrared energy to protect sensitive equipment and is a good choice for use with heat sensitive accessories including the DayStar Hydrogen Alpha filters. And it will provide improved results when used for CCD imaging particularly when combined with another filter such as the Contrast Booster or Solar Continuum filters. This filter is not in itself helpful for night time visual astronomy.
Right: Baader 2 inch UV / IR Cut Filter P/N BPUVIR2 shown as provided with plastic case and box.
This filter is also available in 1.25 inch diameter shown lower left on this page (70,432 bytes).
Click on image for enlarged view (144.945 bytes).
Filters take away but they can not add - diminishing some parts of the spectrum
so that we might resolve what is otherwise obscured...
How Are These Constructed?
The filter is made with a disc of transparent optical glass that has been ground plane parallel to within thirty seconds of arc, and then polished until very smooth. The glass undergoes a vacuum deposition coating process where numerous micron-thin coatings of various elements are applied one upon another in a precise order and thicknesses. The coatings are calculated to transmit desired wavelengths (portions of the visible spectrum), while simultaneously rejecting other wavelengths.
When looking through this filter while holding it parallel to the human eye the filter element appears completely transparent. When tilted, depending on the angle of tilt and lighting, it will then appear to have a greenish or magenta toned antireflection coating.