"Starware" by Phil Harrington
The Amateur Astronomer's Ultimate Guide to Choosing, Buying, and Using Telescopes and Accessories
Paperback - 424 pages, 3rd edition (15 May 2002)
John Wiley & Sons; ISBN: 0471418064
Dimensions (in inches): 9.20 x 7.56 x 0.86
Other Available Editions: Softcover

Click on image at left to view enlargement
"Starware" is one of only a few up to date books which Company Seven recommends to those persons who have decided to buy a telescope, and who are now considering the choice of astronomical telescope and the related accessories. This is a book which is helpful before you buy, and which can also help you to progress with the telescope over the first year or two using the telescope.

This book "names names"; it briefly discusses specific telescopes manufacturers products which may be found on the market today. Chapters also include much practical advice as well as some explanation of theory, a bibliography of helpful publications and software, discussions about binoculars, telescope maintenance and collimation (alignment of the optics), telescope testing (since not all consumer telescopes are created equal), discussions regarding sky conditions (seeing, transparency, etc.), polar alignment and use of mechanical setting circles, with the last 20% or so of the book discussing celestial objects and how to observe them. Nicely supported with illustrations and drawings.
Table of Contents:
Preface to the Third Edition
Acknowledgements
1. Parlez-Vous "Telescope?"
2. In the Beginning
3. So You Want to Buy a Telescope
4. Two Eyes are Better than One
5. Attention, Shoppers!
6. The Eyes Have It
7. The Right Stuff
8. The Homemade Astronomer
9. Till Death Do You Part
10. A Few Tricks of the Trade

Appendixes:
A. Specs at a Glance
B. Eyepiece Marketplace
C. The Astronomical Yellow Pages
D. An Astronomer's Survival Guide
E. Astronomical Resources
F. English/Metric Conversion
G. Star Ware Reader Survey
Index
Price $30.00 (U.S.D.); please add $4.00 for domestic postage, or $10.00 for international postage.

The Authors: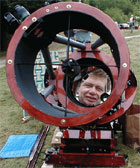 Phil harrington looking down the barrel of a Dobsonian reflecting telescope (22,576 bytes).
Click on image to see enlarged view (40,893 bytes)
Phil Harrington is an ardent amateur astronomer from Smithtown, New York. Bitten by the "astronomical bug" while watching the total lunar eclipse of April 1968, Phil has spent countless hours touring the universe through telescopes and binoculars.
He is a former staff member of New York City's Hayden Planetarium and an instructor at the Vanderbilt Planetarium in Centerport, New York. Phil continues to educate the public on the science and hobby of astronomy through courses (click for course outlines) taught at Suffolk County Community College in Riverhead, New York, and he continues to develop books on astronomy.
Phil is most familiar to amateur astronomers for his books including:
Astronomy for All Ages: Globe Pequot Press, 1994
ECLIPSE!: John Wiley and Sons, Inc., 1997
The Deep Sky An Introduction: Sky Publishing, 1998
Touring the Universe Through Binoculars: John Wiley and Sons, Inc., 1990
Touring the Universe Through Binoculars Atlas: self-published, 1998
In addition, Phil has also written extensively for Astronomy, Deep Sky, Sky & Telescopeand Astronomy Now(UK) magazines. For these achievements, he received the Astronomical League's Northeast Regional Award for 1991.
A native of Rowayton, Connecticut, Phil now lives on Long Island's north shore with his wife Wendy and daughter Helen. By day, he works as an environmental engineer at Brookhaven National Laboratory. Phil is also an avid bicyclist, and author of SHORT BIKE RIDES IN AND AROUND NEW YORK CITY.


Contents Copyright 1994-99 Company Seven All Rights Reserved