"Touring the Universe Through Binoculars" by Phil Harrington
A Complete Astronomer's Guidebook
Paperback - 304 pages, 1st edition (October 4, 1990)
John Wiley & Sons; ISBN: 0471513377
Dimensions (in inches): 10.17 x 7.22 x 0.83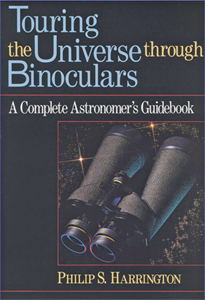 Click on image at left to view enlargement
The amateur astronomers guide to choosing, buying, and using binoculars (hand held and tripod mounted) for astronomy.

There is much that can be accomplished with binoculars to learn the night sky and observer a number of the brighter celestial objects. Company Seven has often some people think they may have some interest in the hobby, and who may already own a binocular that they have nothing to lose by pulling out a lawn chair and relaxing to the sights and wonders overhead with a simple chart and guide book. "Touring the Universe Through Binoculars" is one of only a few up to date books which Company Seven recommends to those persons who have decided to buy a binocular, and also seek information about the related accessories, and how to use binoculars to explore the night sky. This is a book which is helpful before you buy, and which can also help you to progress with the binocular on a night by night basis.

Phil Harrington explains:
"You've heard the phrase "two heads are better than one?" Well, when it comes to viewing the night sky, two EYES are better than one as well. And while most of us begin our night sky pilgrimage with binoculars, many quickly cast those binoculars aside in order to "graduate" to telescopes. Well, I'm here to tell you that binoculars are NOT just a beginner's steppingstone on their way to their first "real" telescopes; they are valuable observational tools in their own right. To prove that, I wrote a book called TOURING THE UNIVERSE THROUGH BINOCULARS.

But don't take my word for it. On the next clear, moon less night, try an easy test. With both eyes open, cover one with your hand and look at the sky. Make a mental note of the faintest stars seen. Now uncover your second eye and look back at the same area. There are more stars! Indeed, it is not unusual to experience a 10% improvement in perception when viewing with two eyes instead of one. Repeat this test with a nebulous object, such as the Milky Way's hazy band stretching across the starry vault. Alternately cover and uncover one eye as before. The contrast between the soft glow of our galaxy's star clouds and the background sky will appear far more distinct through both eyes than with only one. In fact, many observers enjoy up to a 40% increase in contrast perception of hazy objects merely by using both eyes. Note that while these two tests have been conducted without optical aid, similar results are achieved through binoculars versus a single equivalent size monocular or telescope."
This book discusses and compares a number of products which may be found on the market today. There is much practical advice about using binoculars in astronomy as well as some explanation of theory, a bibliography of helpful publications, discussions about binoculars, their maintenance, with most of the book discussing celestial objects (Solar System, and "Deep Sky" objects including Comets, Meteors, Nebulae, Galaxies, Star Clusters) and how to observe them. There are sections devoted to each of the Constellations with good descriptions of what there is to see, and how to find them. Adequately supported with black and white illustrations and drawings however, we at Company Seven recommend you buy in addition to this fine reference a good simple star chart with a red light flashlight to permit reading the chart and this book at night without adversely affecting your night vision. Since there are so many charts, we suggest you contact us to discuss which might serve you best.
Incidentally, we find it more than coincidental that the "poster child" of binoculars selected by Phil Harrington to grace the cover of his book are the highly regarded Fujinon 70 mm FMT-SX series large binoculars which are displayed and sold in our showroom, and ordered by our customers from around the world!
Table of Contents:
Preface
Acknowledgements
1. Why Binoculars?
2. The Moon
3. The Planets
4. Minor Members of the Solar System
5. The Sun
6. Stellar Happenings
7. A Survey of the Night Sky

Appendixes:
A. Caveat Emptor! (Let the Buyer Beware!)
B. Mounting Concerns
C. Care, Maintenance, and Other Tidbits
D. Binocular Manufacturers
E. Converting Universal Time to Local Time
F. For Further Information...
G. Bibliography

Index
Price $35.00 (U.S.D.); please add $4.00 for domestic postage, or $6.00 for international postage.

The Author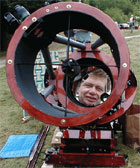 Phil Harrington is an ardent amateur astronomer from Smithtown, New York. Bitten by the "astronomical bug" while watching the total lunar eclipse of April 1968, Phil has spent countless hours touring the universe through telescopes and binoculars. He is a former staff member of New York City's Hayden Planetarium and an instructor at the Vanderbilt Planetarium in Centerport, New York.
Left: author Phil Harrington (11,413 bytes).
Click on image at left to view enlargement (40,893 bytes).
He continues to educate the public on the science and hobby of astronomy through courses taught at Suffolk County Community College in Riverhead, New York.
Phil is most familiar to amateur astronomers for his books including:
Astronomy for All Ages: Globe Pequot Press, 1994
ECLIPSE!: John Wiley and Sons, Inc., 1997
The Deep Sky: An Introduction: Sky Publishing, 1998
Starware:John Wiley & Sons, Inc., 1998
Touring the Universe Through Binoculars Atlas: self-published, 1998
In addition, Phil has also written extensively for Astronomy, Deep Sky, Sky & Telescope, and Astronomy Now (UK) magazines. For these achievements, he received the Astronomical League's Northeast Regional Award for 1991.
A native of Rowayton, Connecticut, Phil now lives on Long Island's north shore with his wife Wendy and daughter Helen. By day, he works as an environmental engineer at Brookhaven National Laboratory. Phil is also an avid bicyclist, and is also the author of "SHORT BIKE RIDES IN AND AROUND NEW YORK CITY".


Contents Copyright 1994-99 Company Seven All Rights Reserved