Above: Rigel Systems Skylite II distinguished by its rotary dial to adjust brightness (23,399 bytes).


Rigel Systems "Skylite II" Red/White LED Compact Flashlight
Patent Pending!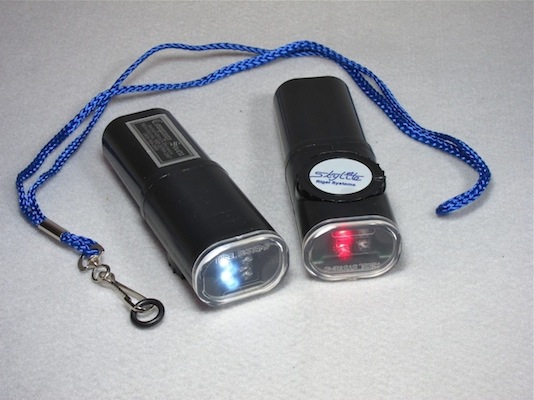 The Skylite is a unique handheld flashlight ideally suited to the needs of astronomers, or anyone who must work in low light while preserving their night (scotopic) vision. The Skylite flashlight is readily distinguished because it can do double duty as a conventional white light flashlight; this makes it an especially good choice for those who travel far from home to remote locations and carry the Skylite as a primary or backup conventional flashlight. While conceived for the astronomy community, Skylites are useful by anyone who may have to work in the dark and they have found their way into applications by the military, aviation, theatre stage workers communities and more. Hikers finds these to be an most convenient aid that is less likely to disturb wildlife at night. Most employees of Company Seven keep a Skylight close at hand in the home night stand, in our automobiles, in a tool box, etc.
Right: two Rigel "Skylite II" flashlights; one set to red and the other to white with both set fairly bright for clarity (67,800 bytes).
Mouse over image to see how these might appear at night in practice (46,446 bytes).
When Rigel developed the original "Starlite", that became the accepted as the most practical adjustable brightness dual red LED (Light Emitting Diode) flashlight of its day. Most Company Seven employees came to choose the Starlite, and soon after its introduction several prominent names in the astronomy industry began to sell the Rigel Starlite as accessories for their telescopes. Celestron International was among the first to shift sourcing of items like these in favor of clones made in third world nations. Company Seven decided to stay with the USA-made Rigel Starlite (even if it cost $5 or $10 more than the clones) since we prefer the quality of the Rigel product, and we believe it is in the consumers interest to support good innovators. Cheaper imports impacted Rigel sales, so Rigel responded by developing the dual Red and White LED "Skylite", it was the Skylite which become the compact flashlight of choice. In the Fall of 2003, Rigel introduced the even better "Skylite II". This was followed in December 2005 by the "Skylite mini", introduced for those who need an even more compact alternative to the Skylite II described herein. So it turned out we at Company Seven made a wise choice to continue backing Rigel the originators, since the foreign made lights tended to fail owing to the cheaper switches and Rigel replied with even more capable models.
These are a utilitarian and affordable gift idea. Company Seven recommends anyone who is buying a telescope, or even contemplating the purchase of a telescope for astronomy will do well to get started by using aids as simple as a Planisphere or a basic Start Chart with either illuminated by this red flashlight to conserve your night vision. If one pursues the hobby and buys a telescope then these will be among the accessories they will already own. Or, if they do not buy these in advance but instead buy a telescope, then they will probably buy these as among their first accessories.

Why Red?

As we point out in our article Star Watching Etiquette, it takes the human eye over thirty minutes to get fully dark adapted; ANY white light can make that cycle start all over again. So whenever one needs to conserve their night vision it is best to work under dim red light.

Daylight as we observe it is made up of red, green and blue light in that portion of the spectrum which the human eye can detect, this region is known as the visible spectrum. This occupies wavelengths from approximately the deep violet in the shorter wavelengths just below 400 nanometers (nm) up to the longer wavelengths of the deep red at about 700 nm. The human eye evolved to help us survive in a day lit world dominated by the green of vegetation, as such it has developed a photopic (light-adapted) sensitivity that spans from about 400 nm to 700nm, peaking at about 555 nm. Since the eye is so sensitive here this is why some emergency vehicles are painted "slime lime" so that they are very obvious for example. And our scotopic (dark-adapted) sensitivity ranges from 400 nm up to 620 nm losing some red efficiency peaking at 510 nm. The human eye responds to low light levels by dilating (opening) the Iris diaphragm to permit a greater area of cones and rods in the Fovea of the eye to become stimulated. If the eye is exposed to common white light, then the Iris will constrict thereby reducing the eye's sensitivity to seeing faint objects. To see how this works, walk into a room and turn off the lights - notice how over time you will be able to see more and more fine details in the dark room as your eye adapts to this. Scotopic vision has been understood for some time, this is why military vessels switch to red light when operating at night. And this is why astronomers avoid white light sources when trying to attain and preserve their night vision.

Above: Visible portion of the electromagnetic spectrum with bordering regions (20,129 bytes).