Choosing a Telescope: Advice for Anyone Seeking to Buy
Copyright 1994, Revised Dec. 2010, All Rights Reserved


Who Are We? Company Seven's team is extraordinary well qualified to assist you. Ours is a public service oriented company, we bring decades of experience working with amateur and professional astronomers to bear when helping others to prosper in our hobby. We provide an uncommonly fascinating showroom open since 1982. Our customers satisfaction rate, measured by our incredibly low return rate, is uncommonly high in any industry; we may go through years without a single customer returning their telescope. And when a problem or service issue arises, our response is matched only by few of the most conscientious manufacturers in our industry. Our goal is to avoid your feeling like:

Among the reasons why our customers are so successful is that they are better informed and advised before they buy, then supported well after delivery. In an effort to help you we have written this overview to help you avoid mistakes and to buy more wisely. We hope you will read this article carefully, making notes as you proceed, then refer to other applicable sections in our Internet site. After this homework assignment you will be better able to help us to help you attain a great outcome.

First Point: You Do Not Need A Telescope To Get Started: You should not feel any overarching sense of urgency to get into our hobby; astronomy has been around for millennia and it will still be there when you are ready to jump in. In fact, it is a simple matter to begin exploring the night sky the next clear night–just step outside and look up with your naked eyes. You will do a bit better to get started by using aids, some are simple as the Planisphere or a basic Start Chart illuminated by a dim red flashlight to conserve your night vision.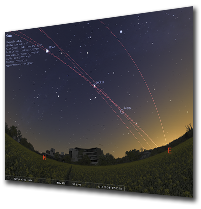 If you own a portable computer then we encourage you to download free planetarium software that will help guide you through the sky, and to identify what is up and when. The popular application Stellarium is among the best and easiest to use astronomy software efforts, with versions made for Windows PC, for Apple Macintosh OSX, Apple iPhone, Linux, and for other platforms too. This is a beautifully done and highly capable free open source planetarium for your computer. It shows a realistic sky in 3D, just like what you see with the naked eye, binoculars or a telescope. The Stellarium application includes a selectable day or night vision (dark red screen) mode, so you could be out tonight holding your iPhone overhead and seeing the sky mapped for you as you move your smart phone pointing from one are of the night sky north or south and east or west! This makes getting familiar with the night sky, even with the naked eye a snap!
Right: one of the screens from Stellarium. This perspective shows the night sky from a backyard point of view; there are many other choices of how and from what point of view the application will project.
In fact certain celestial wonders, most notably meteor showers, are observed best by the naked eye. Meteors appear only briefly and are dispersed across wide areas of the sky. Some comets have spanned such a wide area of sky that not even a binocular might show their entire width. Company Seven has helped build several astronomy clubs in our region. These offer beginners opportunities to observe at comparatively favorable locations, in safety, and you may look through various telescopes and binoculars there to help you judge which might be the best suited for you.

Binoculars for Astronomy?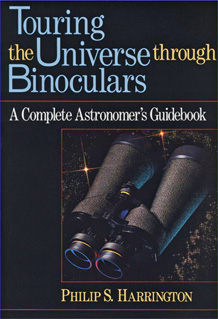 You should weigh the merits of starting off into the hobby with a binocular, especially if you already own one. If you already own a binocular of reasonable quality, then it can reveal a number of celestial objects much better than observing by the naked eye alone. A good binocular can help you to learn your way around the constellations while glimpsing several of the brighter large objects including: the Andromeda Galaxy, large emission nebulae including M42 the "Great Nebula" in Orion, and the occasional comet. If you have no space to store a telescope, or if you travel frequently then a binocular might be more practical for those adventures than taking a telescope. Furthermore, some binoculars may be suitable for other applications too including: birding, travel, shows or sports, spying on your neighbors, etc. So it might be a worthwhile and versatile investment for you. If you choose to start of with a binocular then you should have a suitable guide book to help you find and understand what you will see; among the titles we recommend is Touring The Universe Through Binoculars, a softcover book by Philip S. Harrington.
There are some downsides to relying solely on a binocular. For one, you may spend as much or more money to buy a good binocular than you might spend on a more versatile first telescope.
Secondly, consider that a typical 7x 50mm hand held binocular shows a field of view of up to about 7–½ degrees wide. While the Moon (as impressive as it may be) is about ½ degree wide, and so it appears as an object that is only about 1/15th the width of the field of view:

Above: examples of how Moon may appear in the eyepiece of about a 7x binocular at left,
and at right in a telescope with even moderate resolution potential (8,250 and 72,789 bytes).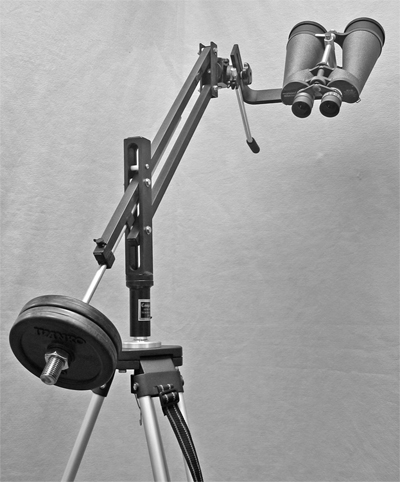 And with most hand held binoculars forget about doing much more than identifying a few planets by their color, or seeing an elongated disc that you may recognize is Saturn. But with a telescope one can attain clear distinct views of the Moon and its terminator, changing major features of the planets, and most telescopes we will recommend you start off with will have the added light gathering power to see fainter objects more distinctly.
Of course, we do sell wonderful larger binoculars that can show more impressive views of the Moon and other deep sky objects. But these larger binoculars are unwieldy for hand held use over extended sessions, and so they are often mated to a parallelogram mount with tripod. Our point is that if you are going to drag a tripod outdoors, then why not take a telescope if you can manage to transport it to where you plan to observe? Besides that, almost any well made larger binocular with a stand will cost as much or more than a reasonably well made first telescope–and the binocular will not best the telescope for versatility.
Right: one of our the most acclaimed mid size binoculars for astronomy is the Fujinon 16x 70 mm FMT–SX (98,506 bytes). The binocular is shown here supported by an optional Universal Astronomics UniMount™ Light Deluxe parallelogram mount and field tripod. The cost of this complete set is a bargain at about $1,400.
Our point here is that it has been our experience that more newcomers will progress further and for longer into the hobby if they are to buy either tool, with a telescope. In time you may add a hand–held or larger binocular to complement the telescope. The first telescope should be a tool that will impress the viewer providing memorable views of those magnificent celestial objects including the planets and the Moon. The better telescopes can give you access to worlds beyond our solar system where there await galaxies, star clusters, double stars, nebulae and more!
Today there has never before been such a wide selection of telescopes on the market, neither have there been so many that are suitable for the novice and that sell for a comparatively modest cost.

Special Considerations When Buying For Children: a telescope can be a great gift for a young child when that child has demonstrated some sustained interest in astronomy or related subjects. But consider that very young children (ages 4 to 6 or so) go through phases that can pass in a matter of weeks, days, or hours and you should so balance the desire and expense carefully. Be mindful that when buying a telescope for a youngster the chances of real success will be improved if someone can provide the child with basic instruction about how to use the telescope, and with some initial guidance on how to find one's way around the night sky.

Considerations After You Buy: for reasons including permitted access to observing sites, for security in numbers at night, and to obtain help in learning the hobby we urge you to participate in astronomy club events, especially their star watch activities which are usually open to members and the public for free. And to learn more about what can be seen in the night sky, and how to observe you may refer to many on line sources including our own observing planning aids page, or you can perform a search by entering your state and "astronomy club" in an Internet search engine.
---
This article will help you to understand how telescopes work, and how to best pursue the decision making process when buying an amateur telescope.
While it is geared more towards the hobby of astronomy, many of the basic principles apply to birding or nature watching telescopes too.
It has never been a better time to enter the hobby of astronomy since so many good telescopes are made today, many that simply did not exist decades ago, but that are comparatively affordable. Unfortunately, a high percentage of telescopes sold today are not very good for astronomy; they are put together in great numbers and then marketed by people who understand little about telescopes or the hobby. These retailers think foremost of putting something in their store shelves that will attract impulse buyers and they are largely successful in making sales and recouping a high percentage profit. However, many of the 'department store' telescopes that are sold end up in a closet or in the trash. The frustrations shared by many beginners in the hobby who buy these tend to originate with:
a. a poor choice of instrument:

the telescope does not work well with the user's lifestyle, or

it does not show enough to draw the observer into the hobby


b. the poor quality of manufacture: materials, or design, or assembly,
c. the seller and the new owner both lack the understanding of how and when to use the telescope.

Not only will the loss of interest in the instrument result in the loss of money, but it is far worse when any fascination that one might have ever had about this hobby is destroyed.
Success will be much more likely if some forethought is given to the matter.

1. Introduction: Telescopes Are Tools they come in many sizes, shapes, and differ in how well they are made. Each telescope, even the famous NASA Hubble Space Telescope, will do somethings very well and other things not so well. So we think of telescopes as tools, each with one or more useful purpose: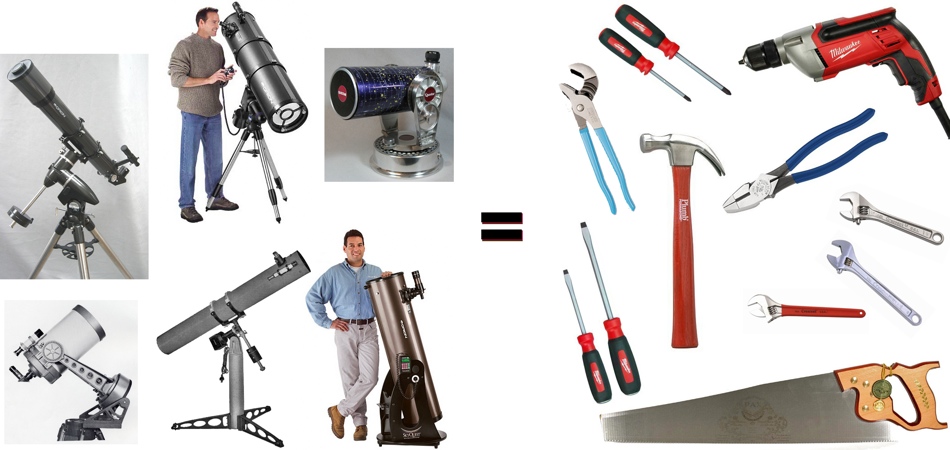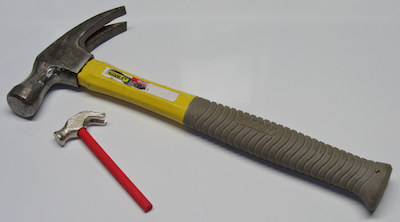 There is no such thing as a beginner's telescope anymore than there are beginner's hammers. Our first contact with most newcomers who call or visit our showroom often starts out with them introducing themselves with something like "I want to buy a beginner telescope" or "I want to buy a telescope for $XXX, what do you have?" While most of us who work for Company Seven probably started into the hobby years ago asking similar questions, we now relate that approach akin to greeting the staff in a hardware store with "Hi, I want to buy a tool today and I have $50 to spend, what do you recommend?" There is no such thing as a beginner's telescope anymore than there is a beginner's hammer or a beginner's screwdriver; there are cheap tools and then there are tools that work well and last longer than others. The approach of shopping by price or by what some might market as a beginner telescope reveals nothing about what the user might hope to accomplish with their new telescope, and it may arbitrarily limit what you are offered by most salesmen elsewhere. The approach that is much more likely to produce a good result requires one to start thinking of telescopes as a tool, with each model having specific strengths and weakness. Beyond that also understand there is no one telescope that can do it all for you in either astronomy or for nature watching, even the Hubble Space Telescope has it's strengths and weaknesses. And so just as when picking a tool, when your task requires a $100 table saw then you should buy (or rent) that table saw.
Understanding what the tool is expected to do: When most people visit a hardware store they do tend to understand which tool they need. When they contact a telescope store, then the matter of choosing a telescope is complicated by the fact that few of those who are new to the hobby have an understanding of what they may expect to do with the various available telescopes. For example, when we ask visitors to our shop what they wish to see they often reply "I want to see stars". Well, one can see stars with the naked eye. And a star viewed through a telescope still looks like a pinpoint of light (in some telescopes or on turbulent nights a star may appear more like a "blob"). And so we at Company Seven first work to encourage and inform the novice by explaining what they may realistically expect to observe with a telescope. We do this by discussion in our showroom, by offering well thought out introductory books, and by providing opportunities to attend observing sessions with astronomy clubs.

2. The "Test Telescope" We understand why many people reason "I just want to buy a first, inexpensive telescope to see if we are interested in the hobby̵. That approach might work with many other purchases, but for buying telescopes that rationale is rarely successful because the telescopes sold at the lower prices are quite limited in what they can show, and so the novelty of most modestly priced telescopes usually wears off soon as the user will almost always quickly tire of going out only to observe an object with no detail, or changing features. Just imagine going out night after night only to see Saturn appear as a BB within a washer; how many nights will you want to go out only to see the same thing?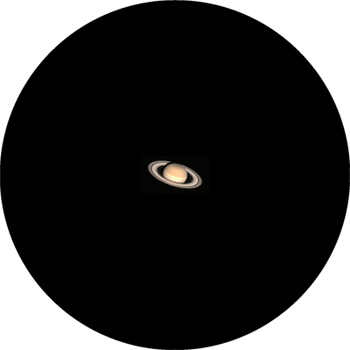 The worst aspect of failure is when a poor choice of telescope destroys any budding interest there may have otherwise been in the hobby of astronomy. But just for argument's sake, let us assume that first telescope inspires someone to want to see more. If one does remain at all interested in the hobby then that modest first telescope is likely to be outgrown soon, and that customer will be back soon for a better telescope – and the $100 or more invested in the first telescope will likewise have been wasted. And since the accessories provided with the common department store telescope are usually not upwardly compatible (if at all desirable) for use with a better quality telescope, there will be nothing to salvage from the first telescope to help growth into another more advanced model.
We suggest you save your money (skip a few nights out to dinner, etc.) to buy something better, a telescope that will give you better reasons to go out out night after night. And while you are saving your funds there are ways to explore the hobby and determine whether or not the interest may take hold. After all there should be no rush to buy a telescope since the sky is not changing all that fast.
God Did Not Make All Telescopes Equal: Telescopes do vary in design, aperture, physical dimension (length, width, and weight). And they differ how well they are made, even from one another of the same model they can vary. And while two telescopes may appear to be identical in their advertising claims and by their appearance, one telescope may provide a great experience while the other becomes a source of frustration. Unlike other commodities such as cars where there are standards (every car has headlights, tail lights, can do 55 mph, etc.) or in foods where guidelines define what claims may be made, there is no regulatory authority governing the advertising of telescopes.
Therefore, every telescope brings some compromises. The goal of the buyer should be to make the most reasonable compromise possible
after considering your particular circumstances, and observing (or photography) goals.
The basic philosophical aspects of choosing the telescope will be:
the telescope must work in well with your lifestyle: if you own a small car then the telescope must fit into that car, if you have a bad back then the telescope must either be lightweight or be able to be taken down into smaller and more manageable components. The best telescope is the one that gets used.

the telescope must show enough to make you want to take it out, the experience must be worth the expense in funds and effort. The best telescope is the one that makes you want to use it.

3. How Telescopes Work