CARL ZEISS "ABBE ORTHOSCOPIC" EYEPIECES
The new standard of excellence in high resolution eyepieces
7 April 1997


The new production Carl Zeiss Abbe Orthoscopic series oculars are now available in limited quantity, and only as a set of five with one optional ocular. These are: 4mm, 6mm, 10mm, 16mm, 25mm. An optional sixth ocular of 34mm is also available soon. It is planned that only 100 five piece sets will be made available in the United States. These will be sold only by Astro-Physics Co. and by Company Seven Astro-Optics Division of Laurel, Maryland. All are on display in Company Seven's showroom and at least a few sets will remain on display and stored in our museum collection.
Company Seven will contact its customers to advise them of the product availability. And it is planned by Company Seven to accept orders for these items only from those who have already established a customer relationship, and to members of the "Carl Zeiss Historica Society". Even then, the availability issue is such that we ask our clientele to buy only one set, or possibly as many as two sets if they have a binocular viewer.
Right: Carl Zeiss Abbe Orthoscopic series oculars with optional laser engraved solid walnut wood presentation case.
In front of case are (left to right): 34mm, 6mm, 16mm, 4mm, and 25mm. Models with extendable eyecup are shown with eyecup retracted (89,603 bytes).
Click on image for higher quality, enlarged view (321,968 bytes).
Design: The design of the original Orthoscopic eyepiece dates back to the 1800s when Ernst Abbe first designed them to be used for accurate measurements of linear distance on microscope slides. The term "orthoscopic" denotes an eyepiece that introduces no barrel or pincushion distortion, so that an object will have the same size when observed anywhere in the field of view. The Abbe design employs a triplet field lens and a singlet eyelens.
The modern Carl Zeiss Abbe Orthoscopic series that we now offer use a high index Schott Lanthanum glass to reduce the already low off-axis aberrations present In a good orthoscopic design. These oculars, when used with a high quality apochromatic telescope of f7 or longer focal ratio, will offer images of the planets which will appear clean and free of false color fringing from the center to the edge of the field of view.
The apparent field of view of each of these oculars is 45 degrees, the exception being the 34mm ocular which affords a 40 degree apparent field. In side by side comparisons, the fields of view actually appear to be equal to or slightly larger than Plossl oculars advertised as having 50 degree apparent field of view.
This Carl Zeiss Abbe Orthoscopic series oculars are parfocal. Each ocular is threaded for 1.25" diameter standard filters. The ocular barrels are of a dull black finish with a color coding band, with "Carl Zeiss" and the respective focal length ("A-16" for example) on each. The 1.25" barrel is chromed, and each features a machined safety groove to reduce the possibility of accidental loss from a focuser. The 16, 25 and 34mm focal length models incorporate a retractable (not fold down rubber) eyecup.
Each ocular is passed through very high quality control measures to assure perfection of raw materials, manufacture and assembly. Each is then furnished with a slip-on black plastic cover for the eye lens end of the ocular, with another cover for the 1.25" barrel. Each is packaged in a "zip lock" plastic bag with the Carl Zeiss Jena product description, numbers and final quality control inspection marks. In addition each set of five (4, 6, 10, 16, and 25mm ) is furnished in a walnut wood presentation case which is laser engraved with "Carl Zeiss Abbe Orthoscopic Oculars" and the current Carl Zeiss trademark. The walnut case will accommodate the optional 34mm ocular.
Coatings: Each of the 4 air to glass surfaces is multi-coated with the Zeiss patented "T" multilayer coatings; these are designed to achieve the highest possible light-transmission and contrast.
It is in this area where the Zeiss Abbe orthoscopic has no equal. The total measured light transmission (including the internal glass absorption losses) exceeds 97%. For high-power planet observers, this means that planets appear bright and sharply defined, with none of the grayish-white haze surrounding the ball of the planet as is common in many other oculars.
The visual impression is striking. It Is almost as if a thin veil has been lifted, thereby revealing the most subtle contrasting features more clearly. There is a similar effect for deep-sky observers using the longer focus, low-magnification Zeiss Abbe Orthoscopic series oculars. Even though the field width is not spectacular, the enhanced contrast on small bright and faint objects really can be worth it.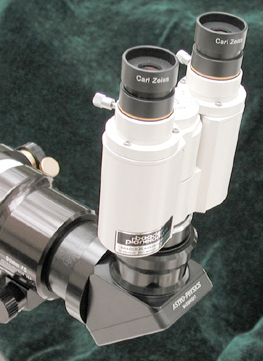 Recommended For: These eyepieces are designed primarily for solar/lunar/planetary users who need the last ounce of contrast to pick out subtle contrast features.
Left: two Zeiss Abbe Ortho 16 mm oculars with eyecups extended on Zeiss Baader Binocular Viewer, attached to Astro-Physics 90mm "Stowaway" Apo telescope (114,009 bytes).
Secondarily, these eyepieces work extremely well for deep-sky observers who are looking for maximum image brightness and high contrast of faint objects. As such, these oculars will appeal more to the experienced observers using premium equipment.
Availability: Carl Zeiss introduced Abbe orthoscopics several years ago when the factory in Jena, Germany produced astronomical instruments for amateurs. At that time the 4, 6, 10, 16 and 25mm focal lengths were offered. When Zeiss dissolved their amateur telescope division in the Fall of 1995, production of these eyepieces was discontinued along with the rest of their instruments and accessories.
Late in 1996, the Baader Planetarium in Germany commissioned a special production run of four hundred sets of oculars. This production run introduces the new 34mm Abbe orthoscopic which was not previously available. There will be only one hundred sets available for sale in the US market; these are to be delivered at intervals throughout 1997. The first shipment arrived in April. At this time, we do not know if Carl Zeiss will produce additional telescope eyepieces for sale in the future
In honor of this special production, we are offering a velvet-lined, walnut wood presentation case bearing the inscription "Carl Zeiss Abbe Orthoscopic Oculars". All eyepiece sets will include this case, and a limited number of extra cases are available for collectors who may already own some of the oculars. The case incorporates foam liner with cut away areas to accommodate the oculars in the complete set.
TECHNICAL SPECIFICATIONS:
Barrel diameter
1.25" (31.7mm)
Focal lengths
4, 6, 10, 16, 25 and 34 mm
Lens elements
Four (a triplet field lens group and singlet eyelens)
Anti-reflection coatings
Zeiss "T*" multi-coat
Transmission
=>97%
Field of view
45 degrees
Parfocal
Yes
Filter Thread
1.25 inch (M28.5 x 0.6)
INDIVIDUAL AO EYEPIECE SPECIFICATIONS
As determined by Company Seven
Part Number
Focal Length
Eyecup
Color Band
Field Stop
Weight
Height
AO-4
4 mm
No
Blue
3.31 mm
2.1 oz / 59 g
32.97 mm
AO-6
6 mm
No
Teal
4.92 mm
2.2 oz / 62 g
35.85 mm
AO-10
10 mm
No
Dk. Yellow
8.29 mm
2.5 oz / 72 g
43.45 mm
AO-16
16 mm
Yes
Yellow
8.29 mm
3.2 oz / 91 g
53.28 mm
AO-25
25 mm
Yes
Orange
20.69 mm
3.8 oz / 107 g
66.9 mm
AO-34
34 mm
Yes
Red
24.31 mm
3.6 oz / 101 g
78.5 mm


* Specifications are subject to change without notice.
PRICING:
ZEISSA0 - Zeiss Abbe Orthoscopic Set - 4, 6, 10, 16, 25mm with Walnut Case Sold as a set only, no individual sales. $1,180.00

ZEISS34 - Zeiss Abbe Orthoscopic - 34mm (new issue) $240.00

ZEISSBOX - Walnut Eyepiece Case for collectors who already own the 5 original eyepieces. $50.00


The case (illustrated at top of the article, and again below) will also accommodate all six eyepieices, this includes the new 34mm
The laser engraved walnut wood cases will be available in the first week of May 1997.
Unless you otherwise requested, we will ship your oculars to you with the case when both are available.

Limit: two sets per customer.
Right: The cover page from Carl Zeiss Jena GmbH publication "Zeiss Abbe Eyepieces, July 1994 (22,905 bytes).
Click on the image to see a higher quality, enlarged view (77,352 bytes).
FURTHER READING
To read additional information refer to "Zeiss Abbe Eyepieces", the eight page illustrated technical booklet by Carl Zeiss Jena GmbH. This is the edition dated July 1994, and is written in English. As a tangible expression of our gratitude Company Seven has made a copy of this publication available in Acrobat Reader ".pdf" format for our customers personal use only. Please contact Company Seven to obtain the private link to this document.