Announcing TheSky Version 4.0 for Windows'95
There has never been a more exciting and dynamic time in the history of astronomy and computers than right now. With the Hubble Space Telescopes astonishing images, the discovery of comet Hale-Bopp, Mars meteorite news, and the introduction of Windows 95 and Pentium Pro's, and the introduction of Celestron "Ultima 2000" telescopes, the future of computer-aided astronomy has never shined so brightly. In this light, Software Bisque developed their latest upgrade: "TheSky Version 4.0". This is the most comprehensive upgrade since TheSky was first introduced in 1984; and it is also the most exciting!

What is New with TheSky 4.0?
This revision includes improvements to almost every feature of TheSky. Though the changes are too numerous to cover here, we will highlight some of the major changes. A beta tester said it best "though I was perfectly happy with TheSky version 2.1, version 4.0 has shown me what state of the art is...and I won't go back!"

32-bit Software for a 32-bit World
Microsoft Windows 95 is currently the top-selling software product in the world; microcomputer users are converting en masse from Windows 3.1. If you have not already switched to Windows 95, now is the time! TheSky has been retooled from the ground up to take advantage of the 32-bit efficiency of this latest Windows technology. Unlike other 16-bit astronomy software, TheSky 4.0 is a full 32-bit application enabling it to utilize the power of Windows 95 or Windows NT. If there is a Pentium Pro in your future, beware this new processor is optimized to run 32-bit software; 16-bit software actually runs slower on a Pentium Pro than on a Pentium! Windows 3.1
One frequently asked question is if TheSky 4.0 will run on Windows 3.1. Yes, the new version still supports Windows 3.1. However, since TheSky 4.0 is a native 32-bit application, it requires the Windows 32-bit subsystem. Chances are you've already had to install Win32s, but if not, we can guide you through this simple process. However, we strongly recommend you move to Windows 95 or Windows NT to realize the full benefits of 32-bit operating systems and software.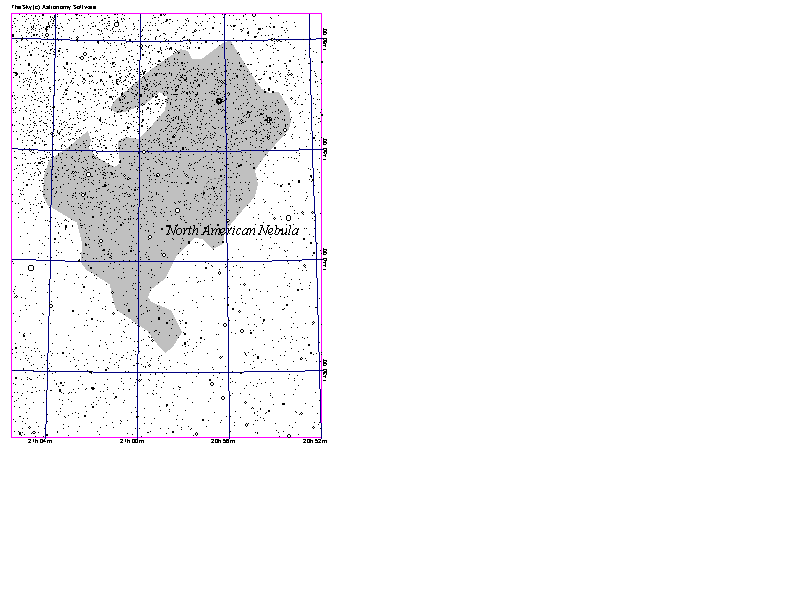 Sample Star Chart
Customizability
The theme of TheSky version 4.0 is customizability. Every object that appears on the screen or on a printed star chart has attributes that can be tailored to your satisfaction. Fonts, line styles and colors, fill colors and symbols can all be customized. Using many popular graphics programs, you can even create the symbols printed on star charts! Of course, we provide symbols and color schemes that result in truly magnificent sky displays. The customizing theme does not end with the beautiful sky display and printed charts. One of the most powerful features of TheSky is its mastery of large amounts of celestial data. In the past, the main databases supplied with TheSky were fixed, remaining static. The new Sky Database Manager in version 4.0 allows easy integration of any celestial data in text-file form. Once imported to TheSky, you have full visualization of, and access to, the data. The added databases are plotted with the speed and accuracy you expect from TheSky. You can search the data, add labels to charts from any field in the data, and identify the objects from the Sky Display. You can even add new object types with their own plotting characteristics for displaying the data!
DataBase Compiler
This new database compiler benefits users of TheSky in two ways. Software Bisque uses this compiler to easily add additional databases to TheSky. If you have custom databases or acquire data in text form from an outside source, you can readily add this data to TheSky, without program changes. Examples of the types of data that can be compiled include deep sky objects (any of the over 30 types supported by TheSky, or custom types), chart labels, reference lines (such as constellation lines) and polygons (as used to display the North American Nebula in the above star chart).
The Preferences Dialog
With all of the types of celestial objects supported by version 4.0, keeping track of their appearance could be overwhelming. The new Preferences dialog manages the millions of preference possibilities comfortably. Simply select the object from the list, then set the desired characteristics for the Sky Display and the Sky Chart.


View Preferences
Accuracy Beyond Epoch 2000
TheSky employs all of the necessary calculations to provide the most accurate coordinates available. Stellar coordinates are corrected for precession, nutation and aberration. Our new asteroid calculations show extreme accuracy of asteroid positions. TheSky version 4.0 shows the recent occultation of SAO 111235 by asteroid 85 Io quite splendidly. We have also increased the amount of magnification you can achieve on the Sky Display. At full magnification, pixels represent small fractions of an arc-second and even the smallest of objects like half arc-minute galaxies show size and extent.

Time Skip


Time Skip Tool Bar


The Time Skip function has been changed to provide much quicker access. The enhanced functionality is present in the new toolbar that can be used to quickly move forward or backward in time. The new Lock on Object function lets you keep any of the solar system objects precisely centered on the screen during a time skip. Hop on comet Hale-Bopp and take a ride as it traverses the celestial sphere!


Star Charting....The Best Gets Better
Often imitated, never matched, star charts from TheSky are used all over the world to create informative renditions of the night sky. TheSky version 4.0 takes computer generated star charts to a new level. Exploiting today's printer technology to the fullest, charts created with TheSky version 4.0 are not only full of information, but also beautiful. For example, picture a faint blue Milky Way behind black-outlined cyan stars with red galaxies and yellow clusters. Use your color printer to create charts that are suitable for framing.

Object Identification Dialog
One of the most frequently referenced dialogs in TheSky software is the Object Identification dialog. Whenever you query TheSky for information on an object, whether through a Find command or a cursor identification, the information is presented in this dialog. Version 4.0 shows a list of objects that match the query on the left and the information on the selected object on the right. New buttons have been added to quickly highlight the most commonly used data of a particular object such as Magnitude, Coordinates, and Rise and Set times.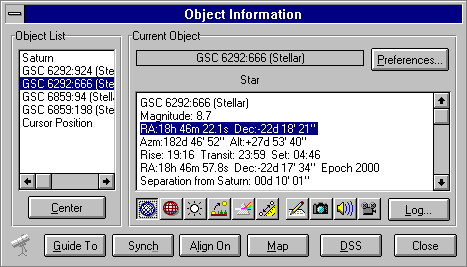 Information Dialog
Comet and Asteroid Input
Departing from the previous versions NOTEPAD method of entering orbital elements; now are created very comfortable dialogs as a replacement (some of you are probably asking "What took you so long?"). An Import button lets you pull data from existing text files and a Compute button provides quick and easy verification of entered data.

Other additions and enhancements in version 4.0:
Stellar spectral colors.
Milky Way boundary and shading.
Local meridian.
Refracted horizon.
Horizon line editor.
Telescope limit editor.
Telescope limit lines display.
Definable equatorial grid spacing.
Enhanced object labeling functions.
Detailed information for a featured object star chart.
Display any number of eyepieces and add new ones using the new field-of-view calculator.
Full Telescope simulator for showing the telescope functionality of TheSky and feigning telescope operation.
New status bar options including cursor position (equatorial or horizon) and telescope position.
Six toolbars that can be positioned anywhere on screen with many new buttons.
Adjust chart margins and size.
Increased accuracy of stellar positions.
Increased accuracy of comet and asteroid positions.
Set your PC clock very accurately using the NIST time service.
Mosaic function for CCD imagers.
Support of the Space Telescope Science Institute Digitized Sky Survey.
Print preview.
Plus more!

Additional Data
Herschel numbers
Patrick Moore's Caldwell catalog
Full GCVS with 13,000 new suspected variables
Abell Clusters
Quasars
Availability of TheSky with Several Levels of data

And as in prior versions, TheSky is offered with several levels of data provided. We suggest those users who plan to do imaging or astrophotography buy Level IV. Visual observers with small telescopes can do well with Level II, and those with larger telescopes should select Level III, or Level IV.
TheSky Astronomy Software Level Comparisons
| | | | | | |
| --- | --- | --- | --- | --- | --- |
| Product | Level II Floppy | Level II CD-ROM | Level III Floppy | Level III CD | Level IV CD-ROM only |
| Stellar Data | 45,000 | 259,000 | 259,000 | 1,500,000 | 19,000,000 |
| Double Stars | 536 | 536 | 536 | 536 | 16,000 |
| Variable Stars | 611 | 2492 | 611 | 2,500 | 12,000 |
| NGC Catalog | 7,840 | 7,840 | 7,840 | 7,840 | 7,840 |
| IC Catalog | 874 | 5386 | 5,382 | 5,382 | 5,382 |
| PGC Catalog | N/A | 6716 | 6,700 | 41,000 | 73,000 |
| PK Planetary | 54 | 54 | 1,455 | 1,455 | 1,500 |
| Total | 55,000 | 280,000 | 280,000 | 1,551,000 | 19,000,000 |
Product Pricing
Product
Version
Price
TheSky Level IV (GSC)
4.0
$249
TheSky Level III
4.0
$199
TheSky Level II
4.0
$129
Skypro
2.06
$199
Remote Astronomy Software TheSky Level II & Skypro
2.00
$299
Remote Astronomy Software TheSky GSC, CD-ROM & Skypro
2.00
$399
To Upgrade From
TheSky version 2.x to TheSky version 4.0
&nbsp
$79