TeleVue Bronze "Equalizer"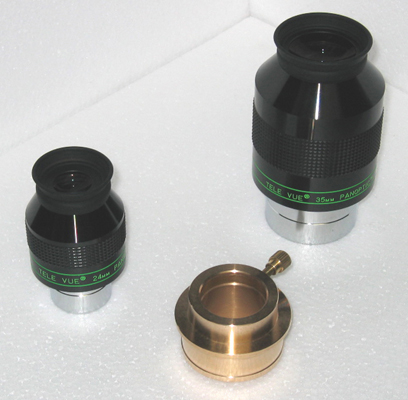 "a most simple solution to a common inconvenience"
The TeleVue Equalizer remains a unique aid helps one change to and from the heavier 2 inch diameter eyepieces to 1.25 inch eyepieces (or accessories) without having to change the balance along the longitudinal (Declination) axis of a telescope. This is another innovation pioneered by TeleVue Optics to make observers lives a bit better. We have mentioned to our customers over the years that there are a number of accessories that an amateur astronomer may buy which help to make the experience more enjoyable. Many of the accessories are obviously important and have a place directly on a telescope. While the value other accessories such as a star chart or red flashlight will become apparent in time. Among these are accessories that provide a most simple solution to a common inconvenience which the observer may intuitively just deal with "on the fly".
Right: Equalizer flanked by TeleVue 1.25 inch 24mm Panoptic and 35mm Panoptic 2 inch eyepieces (95,331 bytes bytes)
Click on image to see enlarged view (111,179 bytes).
Why an Equalizer?
The Equalizer when left on the telescope adds enough weight so that the total weight of a 1.25 inch eyepiece with the Equalizer approximates that of a typical 2 inch eyepiece. This is particularly helpful when operating on an Alt-Azimuth mount
with refracting telescope with 2 inch focusers such as those we offer made by TeleVue, and Astro-Physics,
with smaller Dobson style telescopes with 2 inch focusers which may be sensitive to balance such as those we offer by Astro-Systems and Orion
The Equalizer is made of precisely machined bronze, and it weighs 12.3 oz. (348 g). Compare this to some of our other 2 to 1.25 inch reducers made of aluminum by TeleVue, Astro-Physics, etc.; these weigh between 3.8 to 4 g (108 to 113 g). Now add to that to the weight of a typical 1.25 inch eyepiece which can be between 3 and 8.1 oz. (85 to 230g).
The weight of an aluminum reducer with 1.25 inch eyepiece may be 6.8 oz to 12.1 oz.

The weight the Equalizer reducer with 1.25 inch eyepiece may be 15.3 oz to 20.4 oz.

The weight of a typical 2 inch eyepiece alone weighs between 18 and about 26 oz.
The Equalizer holds 1.25 eyepieces or other accessories by means of a non-marring collar that grips the items around its circumference. The tension is adjusted by the set screw, this screw is captive and in normal use will not unscrew and fall out. The Equalizer is provided with a 1.25 inch diameter cap plug so if the Equalizer is left in place on a telescope, dust will not pass into the optical tube.
The Equalizer may tarnish over time and if desired, one can polish it with brass cleaner to restore its luster.