Celestron "Pixcel 237" (by SBIG) CCD Camera System Introduced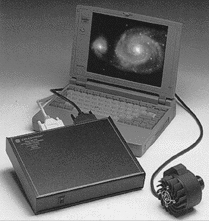 Over the prior few years Celestron International has collaborated with Santa Barbara Instruments Group in the development of new telescope and CCD imaging systems: the "ST-5C" or "Pixcel 255" and now the new "Pixcel 237" CCD Imaging system. The new camera is shown at left (with an optional portable personal computer).
The Pixcel 237 CCD system consists of a small CCD imaging camera head capable of accepting as fast as an f1.8 light cone. The camera is similar in design to the original (and now discontinued) Pixcel 255 camera. This CCD system is truly designed with the consumer market in mind, it is made to be integrated with a telescope for extraordinary ease of use, and good success. The camera and a new and unique Celestron "FASTAR" f10 / f1.95 (or f6.3 with optional Focal Reducer/Field Flattening Lens) Schmidt-Cassegrain telescope optics are designed to insure ease of use for the novice or experienced astrophotographer. It is known by us that a novice with this camera can be set up and imaging in less than 30 minutes! An optional internal color filter wheel magazine is available which will permit tri-color imaging.
This small profile imaging camera can be mounted at the prime focus of a telescope or a camera lens to permit imaging, or autoguiding of a telescope mount. The CCD employed is the high resolution Texas Instruments Model TC237 array which assures high resolution and a wide and relatively even spectral response with good quantum efficiency. The wide field images covering 0.7 x 0.5 degrees already provided by the 8" FASTAR at f1.95 are outstanding, other images done with the C-14 (at f10 and at f2.1 focus) and other Celestron telescopes grace the handout booklet provided to us by Celestron. These are made possible because of the very small 7 micron square pixels in the CCD array, combined with Celestrons quality of optical fabrication.
This CCD camera and its CPU include a 12 bit A/D converter for low signal to noise ratio, and good color and gray scale reproduction. A Parallel interface permits fast image downloading in under four seconds. The thin CCD housing features on-off switch, cooling fins, a selectable thermo-electric cooling system with a vibrationless fan. The CCD firmware features the SBIG developed "Track and Accumulate" mode to permit guiding and tracking through the main instrument (or a "piggybacked" camera lens) with no need of a guide telescope, or an off-axis guiders. The TI chip permits a selectable antiblooming gate, and an internal rotary shutter wheel in incorporated to simplify dark frame recording. The camera head and CPU will fit into an optional compact carrying case, and includes instructions manual. And while the system will operate from 12 v.d.c. , an AC power adapter is also provided.
The limited time introductory selling price for the Pixcel 237 CCD Camera by Company Seven will be $1295.00, and $400.00 for the optional Color Filter Wheel Magazine. The cost will soon rise to $1395. This does not include shipping costs or taxes (if applicable). We estimate shipping in the U.S. lower 48 will not exceed $20.00 even with shipping by 2 Day Air service. As of May 1998 the Pixcel 237 is in stock, and on display at our showroom - in keeping with good planning by Celestron and SBIG.