200mm Equatorial Newtonian Telescope
The 200mm (7.9") f/4 Newtonian equatorial telescope (GP-C200) is a unique rich-field telescope and CCD imaging instrument. The incredibly fast f/4 system has multi-coated mirrors and superb optical quality. The focal length of 800mm is packed in a tube that weighs just 13 lbs. and is only 28" in length.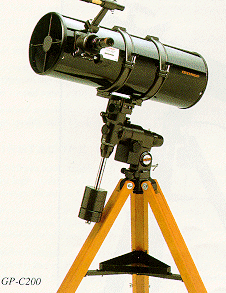 Its equatorial mount is the highly mounted Great Polaris mount which is described under the 102mm equatorial model.
The large 7.9" aperture and fast speed combine to give you awesome rich-field, deep-sky images. But the f/4 system is also an excellent performer for planetary images - a recent Astronomy Magazine review stated "under the scrutiny of 230x, the planet's (Jupiter) belts, zones, ovals, and festoons appeared distinct, as did the numerous comet (Shoemaker-Levy 9) impact sites. The level of planetary image fidelity impressed me."
A further quote from Astronomy Magazine - "the GP-C200 offers exceptional (great) optics on a sturdy Great Polaris mount."
Standard accessories include a 12mm Orthoscopic Eyepiece 1-1/4" (67x), 6 x 30mm Finderscope and a 2" Focuser (with a 1-1/4" adapter). Weight is 41 lbs.