DayStar Hydrogen-Alpha Filter Warranty
"A manufacturers' warranty is the tangible expression of their confidence in the product. Martin Cohen"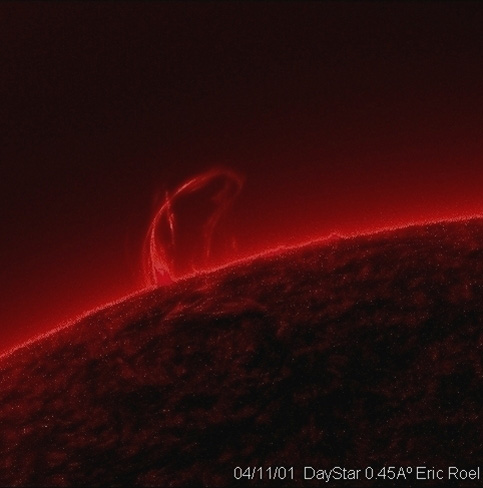 The DayStar filter has a very good history of providing years of good service at amateur and professional facilities around the world. Since 1975 very few of these filters have failed to perform properly even when in regular use day in and day out whether in professional settings, at educational facilities, or in flight.
Right: Solar Prominence imaged through a DayStar 0.45Å filter. Image by Eric Roel taken on 11 April 2001 (68,821 bytes).
If a DayStar filter has stopped operating as designed then this has typically been related either to damage from severe impact (dropping it for example), from use of an improper power supply (exceeding the manufacturer recommendations), improperly wired power cord, or improper pre filtering (if applicable) for that particular filter. Some of these issues can be readily and economically repaired by us.
The DayStar filter housing and elements (powered or not) are so robust, and well engineered that it is very rare to see damage that would interfere with the correct operation of the DayStar filter. These routinely survive impacts and vibrations typical in the course of shipping, or even a modest fall from a telescope. Company Seven does provide extra documentation and recommendations for our customers who acquire a DayStar filter from us; this includes some simple precautions such as using a safety strap (from filter to Finder telescope for example) to prevent the filter from falling to the ground if someone by accident releases the filter and other attached accessories from a telescope.
We are so confident in a filter line that has such a long term proven history in observatories that when used as directed, the DayStar Hydrogen Alpha filters sold until May 2005 are guaranteed for TEN (10) years from date of delivery from Company Seven against defects of workmanship or materials. Filters delivered after March 2006 under the new ownership of DayStar Filters Limited Liability Corporation also bear a TEN (10) year limited warranty. Should the filter become inoperative due to optical or electronic failure, DayStar or Company Seven will repair the filter or replace it at our discretion with an equivalent filter at no cost other than return shipping to the customer.
These plans provisions include:
The product is warranted against defects of workmanship or materials.
Any tampering with, or attempt to disassemble the filter (or it's power controller) by anyone other than DayStar or Company Seven voids the warranty.
The plan does not cover loss of the filter (theft, etc.), or damage by vandalism, accident or fire.
The wood storage case or the current hard shell plastic case and their foam liner are excluded from this warranty.
Recovery is limited to the repair or replacement of the filter product with the same model.
If the damaged filter is discontinued then it may be replaced by a similar model.
This warranty does not obligate Company Seven or DayStar to reimburse the original purchaser or any user of the equipment for any 1. incidental expenses, 2. loss, or 3. incidental or consequential damages which may arise in connection with the loss of use of the equipment.

Country of Origin: United States.
Customers who own the older DayStar University or ATM series AC powered filters can return their filter to Company Seven to have the filter elements removed, serviced, and then installed into the newer QUANTUM PE or SE series 12 volts DC powered housings. Older T-Scanner filters can be serviced and similarly updated. This too guarantees they will continue to enjoy the benefits of longevity and adaptability that only the DayStar trade name can provide.