DAYSTAR PRODUCTS DISTRIBUTION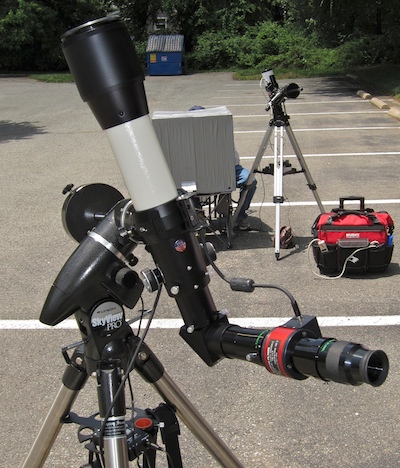 Company Seven's staff serve an international clientele and we have many decades of experience with DayStar filters. In fact for a time from the 1990's through 2005 Company Seven remained the sole authorized retailer of the DayStar filter line. Even since the days of the founder Del Woods, Company Seven remains the most enduring and longest lived continuously operating representative of the DayStar filter line, and we continue working with Jen Winters and the current team at DayStar. No other retailer than Company Seven has more experience and understanding of these products, or more knowledge of how to implement them with a broad variety of telescopes and other specialized instruments.

"since the days of Del Woods, Company Seven remains the most enduring and longest lived,
continuously operating representative of the DayStar filter line"
As such Company Seven can be your primary source of information regarding DayStar products and how best to configure them for use with a telescope (your own or a new one provided by us), estimating likely delivery dates, and checking on the status of your order. Furthermore, Company Seven has taken on the task of manufacturing (yes, entirely nearby in the USA) the high precision Energy Rejection Filters when required for our DayStar filters customers; these filters will be specified and produced by Company Seven to suit their particular requirements. We will be your service center as well should routine cleaning, repair, or upgrading a filter you purchased here ever become necessary.
Right: DayStar Quantum series filter on the superb TeleVue 85 telescope furnished with a Company Seven Pre-Filter, on a routine Solar Saturday event outside our showroom (113,535 bytes).
Your support makes resources such as this Internet Site possible, while we improve your chances of success in our hobby. We invite you to contact Company Seven to learn more about these systems, or visit our showroom to see the DayStar filters in operation.
Company Seven is also a registered U.S. Department of Defense Contractor. So it is a simple matter for Government agencies to seek out our services and hardware.
QUALITY ASSURANCE, MAINTENANCE, REPAIR
Company Seven is one of the most enduring optical specialty 'brick front' companies left in the Americas. We are still here because of the support from clients who want the assurance that they are buying not only a great solution for themselves but also are obtaining the best possible example of what a manufacturer can offer.

Our services include offering sound advice based on decades of experience using and supporting the DayStar products, hosting a Notes & Interesting Articles section at our web site, offering you and the public routine access to an amazing selection of Solar observing and imaging products at our 'Solar Saturdays' events. Even after you order, your DayStar filter will come to us for final acceptance testing and evaluation; only after we say it is the best that DayStar can make will we deliver it to you.

Left: new DayStar QUARK filter as it arrived from the factory at Company Seven. Our evaluation process detected the problems in the filter and we returned it to DayStar; our customer later learned this could have been his filter (40,380 bytes).

Demanding people choose to buy from Company Seven because they are assured we are looking out for our customers before the product is delivered to them, and we can support them well after the sale too with routine service or repairs; ask any other retailer to put that in writing.

Refer to our ordering advice page to learn how to order products from Company Seven.
PACKING AND SHIPPING
Whether you are in the USA or Antarctica we can support those who are astute enough to purchase their DayStar filter from us. When you receive your order it will become obvious that a great deal of care was also given to the safe packing of each item so it is very rare that any of these most durable components is damaged during transit.

Shipments originate at Company Sevens facilities near Washington, D.C.