---
IFW - Intelligent Filter Wheel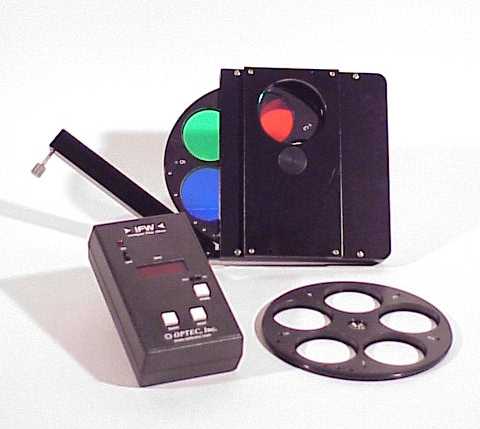 Above: Optec IFW Filter Wheel System showing Filter Selector Housing, Hand Control,
Filter Wheel with Filters, optional spare Filter Wheel (172,307 bytes)
The Optec Intelligent Filter Wheel brings to astronomy a new level of sophisticated equipment for the benefit of the astro-imager. Astro-imaging in this age of astronomy requires the use of many color filters and the management of these filters during an observational session can sometimes be confusing. The use of the wrong filter could easily spoil an otherwise successful imaging run.
Above: IFW Filter Selector and Hand Control shown mounted on Meade 16" LX200 SCT axial port.
Shown with optional Optec TCF-S focuser attached (217,613 bytes)
The Optec IFW has the ability to determine the identification (ID) of a particular wheel and apply that wheel ID to a preprogrammed set of filters. The names, not just position numbers of these filters, are displayed on the eight character display and are also available to the camera operating software via an RS-232 interface using a simple command structure.
Up to 5 different filter wheels can have separate IDs and each wheel can have up to 5 filters for a total of 25 identifiable filters.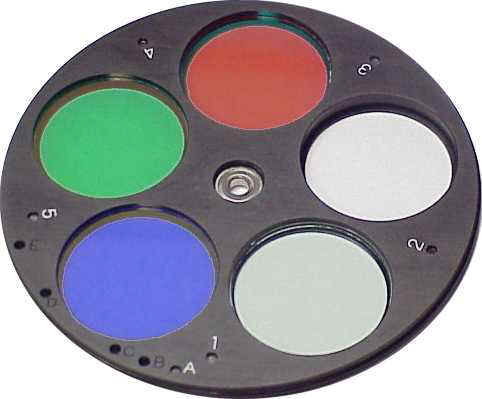 Above: Optec IFW Filter Wheel with Filters (169,457 bytes)
The IFW filter wheel can easily be removed from the IFW system without tools or removal from the telescope. A hinged door is secured by a single captive thumbscrew. Once opened, the wheel can be extracted and another inserted in its place.
The entire process takes only a few seconds. Hitting the HOME switch on the hand control or invoking the HOME function in the operating program will set the wheel to position one and bring up the available filters for that wheel.
The IFW can be controlled by either the switches on the hand control, an SBIG camera controller, or by an external computer via an RS-232 interface. The RS-232 operating protocol is a set of simple ASCII commands that any programmer can easily implement. While any software capable of controlling the SBIG CFW-8 filter wheel can immediately control the IFW, we believe developers will incorporate the IFW serial operating protocol since it offers full feedback including filter names. Optec's IFW control software can be used for the filter description programming and also for filter selection and control.
Swapping filter wheels takes only seconds and does NOT require removing the camera from the telescope. Click on the link below to view an MPEG showing how easy changing filter wheels can be.

IFW Filter Carousel Change.mpg automated presentation showing how easy it is t change the Filter Wheel Magazine. This is an "mpg" MPEG movie clip, and so your Web Browser must be suitably enabled with a player plug-in such as Apple QuickTime, or WIndows Media Player. Clip size is 295,958 bytes.
So, what does it the IFW filter selector system cost? It depends on your configuration. MAXfilter 2" owners who bough their system from us can immediately upgrade for about $900. Please contact Company Seven for details.
Optec TCF-S users will be pleased to learn how easily the filter wheel fits into their system. SBIG camera owners will find the full CFW-8 compatibility makes the IFW easy to integrate into their observing programs without the need to learn new software. Users of other CCD cameras can communicate directly with the IFW filter selector with Optec's IFW Controller program. The IFW Controller software requires a serial port for PC mode communication. This Windows program is written in Visual Basic and can be downloaded from our ftp site. Order stock no. 17695 (PC serial port converter) and a reverse cable to use the IFW filter selector in PC mode.