Orion IntelliScope™ Object Locator
For use with Orion's IntelliScope™ series telescopes introduced in November 2003
EPROM change from 15 to 50 minutes introduced in February 2005*
Right: Orion IntelliScope™ hand held Control Keypad with Cable (56,680 bytes bytes).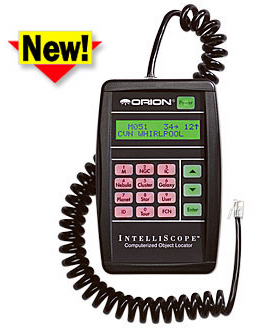 The IntelliScope™ system is an advanced form of digital setting circle providing a digital readout of the telescope pointing position and information about celestial objects in the database. This system features an innovative electronic position indicator (Encoder) which is affixed to each of both axes of the telescope Base (or Carriage). The system derives its power from one 9 volt battery installed in the Keypad, this common battery is easily found at almost any store. To activate the full benefits of these "digital setting circles" all one needs to do is buy this optional IntelliScope™ Computer Controller Set, install the provided Elevation (up-down) Encoder onto the Base, plug in the IntelliScope™ Computer Controller, and go!

The Azimuth (left-right) motion Encoder is provided with each Intelliscope Telescope Base when you buy the telescope. If you buy the IntelliScope™ Object Locator set then as you assemble the Base you may install the Azimuth Encoder, or if you pick up the telescope at Company Seven then you may have the instrument assembled with the Encoders already installed for you.

Computerized Pointing Access to 14,000+ Objects
with the IntelliScope™ Computer Controller, you just select an object to view from the user-friendly menu buttons, press Enter, then move the telescope in the direction of the guide arrows on the liquid crystal display. In seconds, the IntelliScope's high-resolution 9,216-step digital encoders pinpoint the object, placing it smack-dab in the telescope's field of view.

A good measure of why this is such an advanced system is how easy it is to use! Setup under the night sky is a simple matter of finding two stars overhead to obtain the "two-star alignment" initialization.

* smaller telescopes and those telescopes employed in light polluted areas can not show all of the objects provided in this database -
you will run out of telescope or sky before you run out of objects to seek!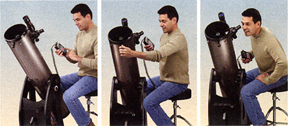 Left: Using the Orion IntelliScope™: Select, point, and play! (54,205 bytes).

Operation

Attach the IntelliScope™ Hand Control Cable into the phone style jack on the side of the XT IntelliScope™ telescope.
Power on the Hand Control
Index the Control (let it know where it is) using a "Two Star Alignment" technique:

scroll to the Align function of the IntelliScope™ Hand Control menu
press "Enter" to select that function
point the telescope and center it onto one known star overhead
scroll to display that star in the controller information panel
press "Enter" to select that star
repeat the above three steps with a second star

select an object to view from the database
move the telescope manually onto the object as directed by the display directional arrows
look into the eyepiece and enjoy the view!
Features of the IntelliScope™ Computer Control System
Operation is Idiotproof:

Plug and play ease of set up
Four Pin RS-232 Interface cannot be confused with cable attaching Keypad to telescope
Keypad incorporates circuit protecting it against accidental reverse polarity battery install
Encoders are highly resistant to typical shock and vibration
Encoders can not be routinely "out run": one is not likely to move the telescope so fast that the encoders will loose accuracy
Encoders are reliable and can not be routinely "out run" - one is not likely to move the telescope so fast that the encoders will loose accuracy
One 9 volt alkaline battery included; Company Seven recommends use of a lithium battery for use in cold climates


Backlit Liquid Crystal Display (LCD)

illuminated pushbuttons

user friendly keypad with database including over 14,000 celestial objects*:


837 stars (including double and variable stars),
7,840 NGC objects,
5,386 IC objects,
101 Messier objects,
8 major planets,
99 user-entered objects,
and and 12 monthly tours!

useable in North and Southern hemispheres

Keypad Power Saver circuit turns Keypad off when left unattended for fifty (50) minutes*
changed processor operation from 15 minutes in February 2005, ROM versions v1.18 or later

* IntelliScope™ controllers sold by us with ROM versions 1.17 or earlier can be updated by Company Seven.
Please contact us for more information.

And there's much more! Orion's IntelliScope™ makes a great tool for learning the night sky, planning your next observing session, and getting the most out of your scope. The perfect tool for new telescope owners who are intimidated by the night sky!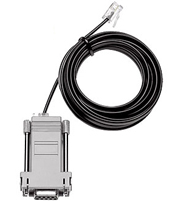 Options of the IntelliScope™ Computer Control
IntelliScope™ RS-232 Cable Set, Mdl. 05222 to connect the IntelliScope™ Keypad to a Personal Computer

IntelliScope™ Keypad Storage Holster


tap and drill two set screws in the side to hold the Holster (done by C7 if we assemble the telescope for you)
slide the Holster into place
slip the Keypad into the conveniently located Holster
Holster is easily removed for transport if desired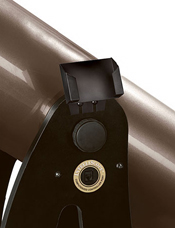 Above Right: IntelliScope™ RS-232 Cable Set (16,243 bytes).
Click on image to see enlarged view (32,557 bytes).

Left: Optional IntelliScope™ Holster shown attached to Fork Tine of IntelliScope™ Base (24,099 bytes).
Note RJ connector socket for the IntelliScope™ Hand Control Cable just below the elevation locking knob.
Click on image to see enlarged view (65,058 bytes).
---
FURTHER READING
To read more about the Orion SkyQuest™ Intelliscope Controller feel free to download the Orion SkyQuest™ Intelliscope Computerized Object Locator. This is the complete 48 page illustrated instruction manual provided for installing and using the Controller with our Orion SkyQuest™ XT6, Orion SkyQuest™ XT8, Orion SkyQuest™ XT10, and Orion SkyQuest™ XT12 Intelliscope series Dobsonian telescopes. Publication content by Orion Telescopes and Binoculars, all rights reserved. From Company Seven's Archives. 1,115,501 bytes (in Acrobat Reader ".pdf" format).