PARTICLE WAVE TECHNOLOGIES - MANUFACTURING
It all begins with an innovative idea to which technology is applied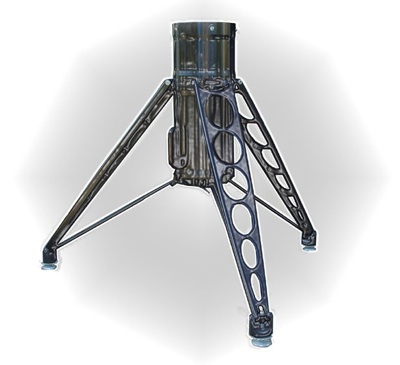 How does Particle Wave Technologies (PWTEC) deliver good solutions? It all begins with an innovative idea to which technology is applied. A need is identified, or an existing solution is looked at and then imaged to be more aesthetically pleasing, or lighter in weight, or both. The next step involves entering the ideas into a computer aided design program to determine how it can come together, predict if it will meet the goal even before the first casting of aircraft grade alloy or composite is ordered. If the computer agrees with the engineer, then its off to discuss the project with a US based aerospace grade manufacturing facility. The machine shop that will be contracted to do the work will agree or disagree, and will always offer some input about how to make it better.
Since these are not mass produced items then there is plenty of leeway to incorporate changes of color, materials (alloys and or composites), and features that are tailored for the individual customer. Being a limited production commodity however means these products appeal to a most demanding clientele, but one that is patient to wait and get it right - and to their satisfaction.
Right: A sketch of the PWTEC Monolith Tripod (28,833 bytes). Click on image to see enlarged view (69,249 bytes).
The founder of Particle Wave Technologies is even better than a businessman, he is an enthusiast was known to Company Seven first as a customer, having acquired one of our fine telescopes. He envisioned improvements in other components of his telescope system that could compliment his superb Astro-Physics telescope. His company first come to our notice as a supplier of several innovative accessories including: desiccant holding covers, Monolith Tripod and later the Pinnacle Tripod series field tripods.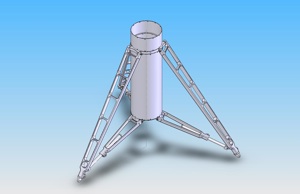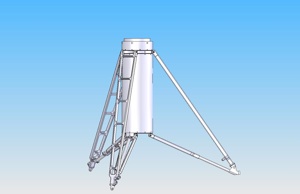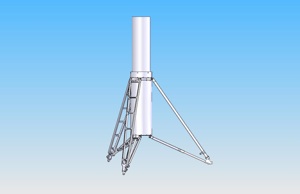 Above: views of Astro-Physics 900 GTO German Mount supporting 160mm EDF telescope displayed at Company Seven.
All this is atop an optional PWTEC Rotating Pier Adapter showing part of the 360 degree range of motion.
The movement is smooth, and nearly effortless (each image Appx. 37k bytes).
After the design is worked it then it is time to start machining, and it all starts with aircraft grade aluminum stock:
In time the parts begin to resemble parts of a tripod:
And then it begins to look like something impressive is coming:
And then the finish is applied and assembly commences, many of the niceties are not all that obvious:


Contents Copyright 1994-2009 Company Seven All Rights Reserved