QUESTAR COLOR FILTER SET AND OPTIONAL BOX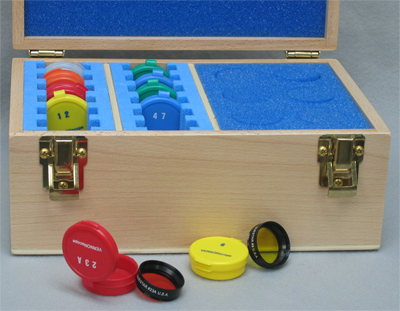 The Questar Color Filter Set includes a selection of ten filters, each consists of a disc of colored glass each ground to be plane parallel and then polished until very smooth, housed in 29.85 mm dia. x 32 tpi machined aluminum cells. These filters vary by color and by density. This selection of filters include lighter and darker variations of red, green, blue, neutral density or polarizing filters. Each are identified by a numbering system devised more than a century ago by a London-based company "Wratten and Wainwright" founded in 1878 by Frederick Charles Luther Wratten (1840-1926). Wratten and Wainwright was acquired by Kodak in 1912 and to this day many filters are referred to by their "Wratten" number. So any two filters made, regardless of the manufacturer, with the same Wratten number will share the same properties pertaining to color and density, or their inverse which are the spectral transmission at various wavelengths.
Right: Questar Color Filter Set with 23A and No. 8 Yellow alongside formerly provided tubs, tub is no longer included, and in optional wood box (115,851 bytes)
Click on the image to see enlarged view (283,325 bytes).
The human eye integrates light that is made up of three basic colors (red, green, blue) to form an image. Color filters reduce some portion of the spectrum.
Filters take away but they can not add - diminishing some parts of the spectrum so that we might see what is otherwise obscured
Every filter will attenuate the brightness of the image, and at times this can also help us to see fainter details. These filters each have some area of usefulness in astronomical applications, even with smaller high performance telescopes such as the Questar where they may be useful at bringing out subtle details when observing Venus, Mars, Jupiter, Saturn, the Moon. When used with larger telescopes, then they are also helpful when observing Mercury, Neptune and Uranus. Some filters show quite dramatic improvements in contrast, particularly the reds especially when observing in sky light polluted areas. But more often than not, the effects of these filters are generally subtle. And while there are observers who can not due without their color filters these people tend to be the more patient observers who have trained their eyes to look for subtle differences on the planets.
For photographic or video applications the filters can are accommodated by the Questar Camera Coupling Set. The Camera Coupling Set is provided with three Extension Tube Rings, a Camera Swivel Coupling, and two washer like Accessory Rings. Each Accessory Ring is threaded around its inner circumference; and one of these two rings is threaded to accept a Questar Filter. The filter threads into the Ring, and the Ring/Filter assembly slip into place in between the Camera Coupling Set Extension Tube Rings, or between one Ring and the Camera Swivel Coupling.
For protection, each filter used to be provided with its own plastic tub with attached flexible lid however, by 2009 the tub was discontinued and the filters are now provided in a simple plastic bag. The Wood Case remains an available option.
These filters will thread into Questar Brandon and Vernonscope eyepieces. Note Questar filters are not threaded for use in conventional slip fit eyepieces or their accessories with 1.25 inch diameter x 42 tpi (28.5 x 0.6 mm) threading.
The filters provided as of February 2006* include the following listed by: Kodak Wratten series, color, and their transmission

* Provided filter specifications subject to change. Other filters may be available, please inquire.
The Questar is a family of telescopes and accessories have been made for more than fifty years in the U.S.A. to industrial degrees of perfection and durability. Questar telescopes and accessories are proven to have been engineered to provide more than a lifetime of rewarding service. The glass filter elements used in our Questar filters feature excellent freedom from wedge, and smooth polished surfaces so these are superb glass windows for high resolution applications. The element is housed in a precisely machined aluminum cell which is anodized black. The cells are threaded for easy installation onto the Camera Coupling Set of the Questar 3-1/2 and 7 telescopes. Each filter is engraved and painted in white are: QUESTAR, the filter Wratten number, and USA.
The optional wood case (also shown top right) provides cutout space for all filters, six Questar Brandon eyepieces and other small accessories for your Questar. The lid of this case is hinged, with two thumb claps. The interior lid and bottom sections are fully lined with die cut foam inserts.
Right: optional wood box for Questar Color Filter Set (52,803 bytes)
Click on the image to see enlarged view (190,049 bytes).
Company Seven routinely stocks the Questar Filters and other accessories at our Laurel, Maryland showroom. You may refer to Kodak publication B-3 Kodak Photographic Filters Handbook for technical specifications about the Wratten filters. Or for further information about the filters, their pricing and availability of these items please contact Company Seven.
MAINTENANCE AND CLEANING INSTRUCTIONS:
It is best to protect the filter from sharp edges or any item that could cause a scratch or abrade the glass.


When not in use, store the filter in a its provided rigid container, and it may help you to keep them organized in a fitted carrying case.


Dew may form on the filters, if this happens do not store a wet filter into its airtight container for long periods of time; whenever possible let the filter "dry out" in order to reduce the potential for problems developing associated with Fungus, etc.


Draw any large, loose bits of foreign matter from the surface of the glass with an air bulb or small vacuum. Stubborn particles can be removed with a soft camel's hair brush. Throughout the year, but especially in cold climates when static become more of a problem we particularly recommend the use of a Staticmaster brush.


Place a few drops of an approved lens cleaning solution (by Carl Zeiss or Kodak) or mild soap solution of clear dish washing liquid diluted with distilled water onto a cotton swab. Then gently wipe in a circular motion with little or no pressure. The filter can be damaged if there are tiny abrasive particles on the surface which are pressed in by rubbing hard.

For more information about how to work your way through the decision making process of choosing and specifying a Questar 3-1/2 telescope, the common accessories, and desirable options please feel free to call us or send an E-mail inquiry, or visit our showroom. You may find more help by referring to the articles in our Questar Library section on line.