QUESTAR MFL 90 Manual Multi Focal Length Lens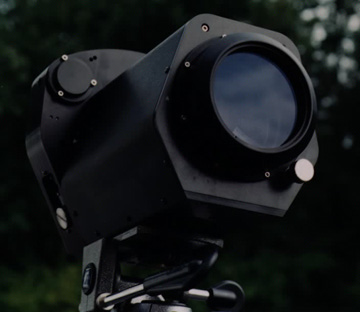 Illustrated above: Questar MFL 90 System viewed from front and right; showing one of two manual control knobs for focus

The Questar MFL 90 is a Multi Focal Length Optical System which is a very compact and lightweight, manually operated, rugged, Maksutov Cassegrain Catadioptric Optical system with a clear aperture of 89 mm and a base focal length of 1280 mm at F/13.5, with a focal length range in steps of between 480mm to 3100mm. The lens is weather resistant, with seals and "O" rings throughout, and with protective optical flat windows at the front and rear. The instrument can be positioned at a site, magnification, focus and brightness of the lens set, and left to surveil a target indefinitely.
The MFL 90 system internal optical components and baffling system have been designed to maximize light transmission and minimize all optical aberrations to increase overall system performance to unprecedented 1/6 wave PV minimum; and so it is able to display on a TV montor a 7mm (1/4 inch) feature at 1 kilometer. Each instrument is tested to assure at least Arc Second resolution.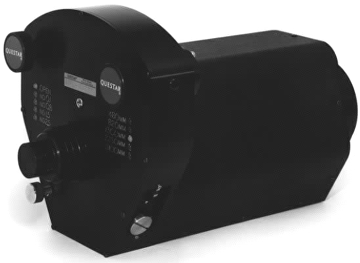 Illustrated above: Questar MFL 90 System viewed from front and right; showing controls for magnification and filters, position display LED's, focus control (lower left) and camera/accessory port, to the lower right is battery housing and power switch

The focal length and filter positions of this instrument are indicated by Light Emitting Diodes (LED's) positioned at the rear wall of the instrument. These LED's are powered by an internal long life Lithium battery which is common in the photo industry, and readily available at stores in most cities around the world. The brightness is readily variable so that the LED's may be read in a bright light environment, or if employed in low light environments they can be set low enough so that they will not adversely affect the night vision of the operator, or set to off when the display is not required.
Available Effective Focal Lengths:
Focal Length
Focal Ratio
T Stop
480mm
f5.4
T6.6
660mm
7.4
T9.1
820mm
f9.2
T11.3
955mm
f10.7
T13.1
1280mm
f14.6
T17.8
2230mm
f25.0
T30.6
3100mm
f34.8
T42.6
Resistant to dust and rain, this is the most rugged and sophisticated long range surveillance lens available in the medium aperture market today. The internal mechanics allow this unit to tolerate high G loads while maintaining boresight accuracy at each focal length. It is available in both a permanent site fully integrated system or a rapid deployment configuration for mounting on customer supplied equipment. It is designed for modest power requirement. Optional accessories provide versatility and usefulness to meet most surveillance and many research mission requirements.

Each unit will be able to be upgaded (by Company Seven) to full "Step Zoom" capability with hardware that will allow all functions to be controlled locally from a furnished microprocessor keypad controller, or from a lap top computer's Com Port, or by modem for longer distances telecommunication. The system software has the ability to control or monitor features such as Focus, Focal Length, Filter Position, Automatic light control (ALC), and more.

The MFL 90 system comes equipped to accept any standard video camera with "C mount" lens thread. The system is equipped with four selectable focal lengths, and up to five selectable filters. This permits the system to operate at relatively low magnifications providing a wide field of view, or zoom in to reveal very fine details in a distant target. The system is typically employed with video cameras with 2/3 inch diagonal CCD formats, larger detectors would provide wider fields of view. An example of the range of field of view is illustrated in the following table: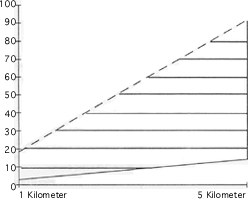 above: Possible Fields of View of Questar Step Zoom or MFL 90 System with optional 2/3" video camera
(Field of View is from 0 to 100 Meters, Distance Scale is from 1 to 5 kilometers)
SZ 90 Optical Specifications:
Design Type: Maksutov Cassegrain
Clear Aperture: 89 mm (3.5 inches)
Effective Focal Lengths: 480mm, 660mm, 820 mm, 955, 1280 mm, 2230 mm, 3100mm 6:46: 1 zoom ratio
Corrector: BK-7, magnesium fluoride AR coated
Primary Mirror: 96mm Pyrex aluminum coated, SiO over coated
Secondary Mirror: 28.7mm aluminum coated, on R2 of Corrector Lens
Working Focus Range: 15 meters to infinity
Resolution: 1.0 arc second
Format: Diffraction limited 18 mm @ 1280 mm EFL
Auxiliary Lens: Achromatic, magnesium fluoride AR coated
Filters: Schott colored glass, 400 nm, 450 nm, 650 nm, 750 nm long pass filters
Light Control Filter Bk7 optical glass. Neutral density 0 - 2.5. Inconnel coated
Baffling: Helix, knife-edge stop rings and anti reflective painted
Manual Control Description and Functions:
Selection of Focal Length by dial with LED indicator: seqeuntial up/down.
Selection of Filter by dial with LED indicator: seqeuntial up/down.
On-Off Switch for LED with variable intensity.
Parfocalization software to maintain focus for all focal length changes, selectable on/off
Adjustable focus by manual control dial at front or back of instrument.
Mechanical Specification:
Barrel Section: Machined from solid aluminum stock, black anodized.
Front Lens and Rear Cell Protective Optically Flat Window, AR Coated
Focus: Transiting corrector design. Mirror housed in Aluminum cell. Supported on six precision linear bearings on non-stressed rods, precision manual lead screw drive.
Turret Section: Lens and filters 110 min (4.5 inch) Dia. direct tooth belt drive. Machined and anodized. Bronze bushings and roller thrust bearings on 3/4" inch Dia. stainless steel shaft. Up to five colored 25.4mm or 38 mm diameter filters and up to five lenses in a spring-loaded adjustable bore sighting cell.
Cover: Aluminum black anodized form 1/16th inch thick cover skin
Finish/Hardware: All exterior surfaces black anodized. All hardware stainless steel. Exterior is also Prolane painted Black. Custom colors can be specified.
Mounting: 1/4" - 20 TPI, or 3/8" - 16 TPI mounting holes on bottom of plate. Custom pattern and sizes to suit your need
Dimension: 12 inches long (ALC adds 0.75 inch), 8.7 inches tall, 8.3 inches wide
Weight: Instrument 7 pounds.
Power Requirement: replaceable 6 VDC Alakaline or Lithium Photo Battery
Options Include:
Upgrade to fully motorised, remote control able operation.
Automatic Light Control (ALC): with manual override. Electronic module will automatically react to changing lighting conditions. The gain setting in auto mode is controlled from user interface.
Linear Wedge Filter: Manual neutral density variable light control. Two Inconnel. coated linear filters mounted on two pillow block linear slides and motor controlled from user interface. Bk7 optical glass. 0.625" Thick. Neutral density range 0 - 5.0.
Pan/Tilt and Elevation Mount Head, and Pier or Tripod
Video Transmission site to site
High Transmission Coatings
FS Corrector for extended UV sensitivity
Special Purpose Filters
Environmental Enclosure: Environmentally sealed aluminum fabricated lightweight enclosure. This unit includes a 10 inch Dia. coated optical protective flat, .5 PSI two way pressure relief valve, "O" ring and gasket seals, electronic solenoid valve and pressure sensor combination to control internal pressure, brass pressure fitting, sealed BNC connectors and sealed round Bendex connector for power and communication feed. All exterior surfaces are black anodized and Polane painted. Industrial textured black paint is standard. All hardware stainless steel. Custom colors can be specified.
Environmental heater/cooler option for Environmental Enclosure. Peltier heater/cooler: Thermoelectric device (Nema 4X rating) integrated into the enclosure to provide temperature regulation while maintaining the sealed integrity of the enclosure. The unit has several modes of operation. An internal auto protection preset to 35 degrees C and user interface setting control. The system software will monitor the user set values against the internal temperature and automatically control unit. Requires 24VDC to operate.
Variable Polarizer: Motorized polarizer assembly that can be moved in and out of optical path. When in the optical path Rotation Control will allow the user to change polarizer position to attenuate glare and light
For current dimensions and a construction overview of the MFL90 telescope sold by Company Seven download the illustrated two page brochure from Company Seven's Library. Download size is 153,368 bytes (in Acrobat Reader ".pdf" format).