TeleVue "Air Chair"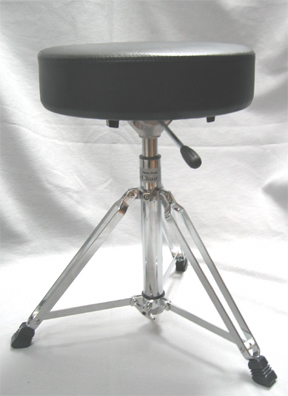 "the most easily adjusted, portable observing and multipurpose chair"
There are a number of accessories that an amateur astronomer may buy which help to make the experience more enjoyable. Many of the accessories are obviously important and have a place directly on a telescope. While the value other accessories such as a star chart or red flashlight will become apparent in time. But there are some accessories that can make the observing experience more pleasant and comfortable, and among these are a comfortable chair; the Air Chair is among those accessories that are overlooked by the person who has not spent hours standing up to observe through a telescope.
The Chair is made up of two basic components: the Tripod Leg/Air Piston Assembly and the Padded Seat Cushion. The seat is a durable vinyl covered foam cushion padding supported by a wood frame. The seat is installed onto the aluminum plate top platform of the steel Tripod with four provided wing nut screws. This makes it a very quick and simple matter to assemble the Air Chair or to take it apart. To extend the Tripod Legs loosing the winged leg spreader lock knob, then pull the legs out to the sides, one may tighten the lock knob to secure the legs in place.
Right: TeleVue Air Chair with seat piston retracted to low of 21-3/4 inch height (63,607 bytes bytes)
Notice the height adjustment Lever just below the Seat.
Click on image to see enlarged view (169,910 bytes).
The Air Chair seat is made available by Company Seven in your choice of either black, or black with the chromed tripod. It is a simple matter to remove the seat pad and have it recovered if in a hundred years or so, or if your fashion taste changes.
The Air Chair can be used indoors on or out for astronomy or other applications. Some employees at Company Seven use an Air Chair at their work desk. The Air Chair works on any indoor flooring since the legs are each provided with a durable rubber foot pad. To raise the chair is a simple matter of lifting up on a lever which extends out just below the seat cushion while raising one's weight off of the chair. To lower the seat, lift up the lever and the weight of the seated person will cause the seat to precisely lower; simply release the lever to stop extending when the seat is at the desired height.
When TeleVue first introduced the "Air Chair" we at Company Seven were impressed by this unique arrangement, but we were also a bit taken aback by its price since it was the most costly chair on the market when it was introduced. We thought TeleVue might have simply taken a drummers stool and modified it for the astronomy market. When we went shopping around to music stores and other suppliers to see how the Air Chair compared we simply could find nothing else like it. After spending several nights out we came to appreciate how well customized this accessory is for use in the field.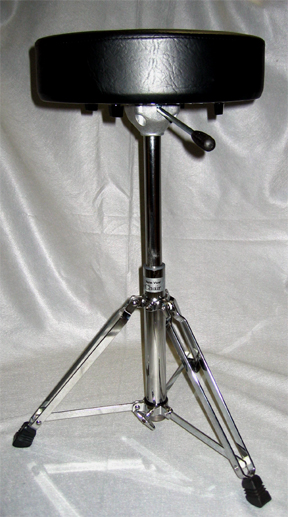 Why an Observing Chair?
As most experienced observers came to understand, when one spends hours standing by a telescope one is likely to quite suddenly develop a back ache or cramp. Any strain on the shoulders or across the back causes a gradual fatigue which can take enough away from the experience so that a solution becomes justifiable. TeleVue's Air Chair is one solution providing a most comfortable seat at a Star Party, the capability to swivel about left or right, and the most extremely easy observing seat height adjustment mechanism on the market due to its unique pneumatic air piston.
The author of this article has found himself standing for hours at a telescope, lost in the experience and with no sense of discomfort until rather suddenly - possibly four or five hours into an observing session I felt a distinct lower back ache; by then it was too late to salvage the rest of the evening. I might find myself trying to improvise some platform to sit on near the telescope. The thought of taking a chair into the field occurred to come to me, but then I would dismiss taking a chair into the field because of the bulk - after all, I am already hauling a load of telescope, mount, accessories, and other cases that nearly fill my vehicle, how could I fit a chair?
Left: TeleVue Air Chair with seat piston extended to maximum height of 28 inch height (123,252 bytes).
Notice the height adjustment Lever just below the Seat, and at the base of the Tripod Post is the Winged knob used to lock the Tripod legs.
Click on image to see enlarged view (328,062 bytes).
Other amateur astronomers shared my experience, and a few of them took it upon themselves to produce observers chairs. The basic characteristics of a good observing chair has been pretty well met with the chairs we offer:
1. Durable construction and finish.

2. Comfortable padded seat, thickly padded and the cylindrical form does not bind under your thighs.

3. Adjustable height - with a reach broad enough to put an observer at a comfortable position for a variety of telescope eyepiece heights.

4. Easy, quick height adjust - can adjust height and rotate to accommodate eyepiece position, without having to step away from the chair.

5. Ability to fold and store into a compact space.

6. Good lateral stability - so that if an observer leans left or right the chair will not easily tip over.

7. Good quality materials, resistant to rust or corrosion.
The chairs that have come the closest to meeting these requirements have been the TeleVue Air Chair and our Starbound chairs which have notably different features.
Company Seven has tested the Air Chair under a number of extreme conditions, and extreme loads - in fact these chairs have been BRUCE TESTED and passed, if you know Bruce - then you will understand that he is a man who carries quite a lot of weight around our organization, and he is arguably among the most severe "critics" of chairs.