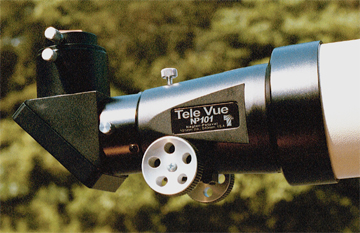 Above: TeleVue NP101 Apo Telescope 2" Focuser with TeleVue 2" right angle mirror diagonal (104,994 bytes).
With TeleVue's 2" focuser and a matched wide angle ocular the NP101 reveals its extraordinary wide field of view ability showing up to 4.88 degrees at 10X to reveal the entire "Messier Catalog" of deep sky wonders, or to be employed for panoramic viewing of a seashore or countryside. Imagine a telescope that at a dark sky site has the combination of resolving power and field of view to sweep the Milky Way, see the Double Cluster in Perseus (NGC-869), find the Andromeda galaxy (M-31) and see it's ellipsoid shape, and with no doubt see the distinct forms of large Nebulae such as the Veil and North American Nebulae! With a wide angle eyepiece the TeleVue 101 can reveal all three stars of Orion's belt, closer in it reveals the jewel like stars of the Trapezium - a birthplace of stars, with a sweeping wisps of greenish gas clouds surrounding it. With a higher magnification M13 (the Hercules star cluster) takes on a three dimensional "salt and pepper" appearance even from suburban skies on a clear night. By the time one finds a large enough aperture Catadioptric, reflecting, or achromatic refractor to see similar detail, then one can only see a fraction of their area due to the relatively high focal length of these competing telescopes; with other telescopes it would be something like trying to observe the night sky through a straw!
In fact, one of the finest advertisements ever published for a telescope concept is the book Deep-Sky Companions: The Messier Objects where the author Stephen O'Meara sought to keep the drawings relevant to the amateur. To produce the highly detailed drawings of these celestial objects Stephen chose to observe with the second generation TeleVue "Genesis" telescope (4" aperture, 500mm f5) which as glass technologies advanced has since been replaced by the improved TeleVue apochromatic telescopes. This book has become one of our best advertisements for the versatile, readily transportable fast 4 inch (10cm) refracting telescopes. Similarly to keep things simple, and relate as much as possible to the average amateur observer Stephen chose to use the telescope on the simple but sturdy TeleVue "Gibraltar" alt-azimuth mount with Ash Wood tripod. He equipped the telescope with only a modest selection of accessories: TeleVue 22mm "Panoptic" eyepiece (providing 23X, 2.85 Degrees Actual Field of View), a original 7mm Nagler eyepiece (71X, 1.08 AFOV), and a TeleVue Barlow lens to increase the magnification by 1.8X. In fact Stephen O'Meara recently commented "the TeleVue NP101 would now be my telescope of choice".
The NP101 compares favorably against many telescopes in field of view:
1.7 at 25X for a common 102mm f10 achromatic refractor,
1.4 at 31X for a typical 8" f6 reflecting telescope,
1.3 degrees at 32X for an 8" Schmidt-Cassegrain (operating with an optional telecompressor lens)
1.3 degrees at 32X for an 3-1/2" Maksutov-Cassegrain.
In fairness, the cost of the NP101 (equipped with either an optional Alt-Az or Equatorial mount) is positioned at a higher cost than most of the above telescopes. And as a practical matter for some applications in astronomy the nominal match of the "NP101" exit pupil to an average dark adapted human eye will be obtained at magnifications of between 17X and 15X. The best performance will be obtained at all magnifications if a wise choice of good quality oculars is made however, since the NP101 telescope incorporates a field flattening element then it is compatible with several of the simpler eyepiece designs. Again consider that an optional good quality "Barlow" or "TeleVue Powermate" amplifying (negative) lens, or optional long eye relief TeleVue "Radian" ocular (introduced in 1999) will usually be put into use to attain the highest usable magnifications which are necessary for observing small bright objects including planets, and close double stars.
The NP101 telescope includes the TeleVue 2 inch "Everbrite" diagonal (or "zenith") mirror. The "Everbrite" mirror introduced in 1999 features a very high-tech dielectric coating (developed originally for military optics used in hostile environments such as blowing desert sand) which provide optimum performance and years of use. This TeleVue 2 inch diagonal has no aluminum or other reflective metal coating. Instead, the reflective surface consists of about 50 layers of thin film oxides similar to those used in anti-reflection coatings. The coatings are deposited by an electron beam evaporator at a high temperature. The result is that reflectivity is above 99% over the entire 4000 to 7000 Angstrom photo-visual range. Thin film coatings have extremely low surface scatter compared to aluminum or enhanced aluminum coatings; examination with a laser source shows approximately a five fold improvement in surface scatter. The mirror diagonal provides a comfortable viewing position for the observer by diverting the image at the rear of the telescope off axis by 90 degrees to the side, with minimal degradation of image quality. The view when using the telescope as it is provided will appear to be right side up, and is reversed left to right; this is not usually a problem for astronomy or nature observing because the image quality provided by the high quality mirror and 2 inch diameters panoramic oculars is exceptional.
While Company Seven does offer optional 45 degree inclined image erecting prisms, these prisms can only accommodate 1.25 inch diameter oculars. Furthermore, the erecting prisms will not provide image quality to equal that of a good mirror diagonal; this is particularly perceptible at higher magnifications. However, for moderate to medium magnification applications where one needs correct images (such as to read numbers, etc.) then the optional prism should be suitable.
For film photography, the telescope (with our optional camera adapters) becomes a super sharp 540 f5.4 ultra telephoto lens, showing about 4.5 degrees across the diagonal of a 35mm camera film plane. And for CCD imaging operations the telescope at prime focus can show about 0.86 degree across the diagonal of a common 2/3" detector (such as that employed on some of our SBIG CCD systems. Optional techniques and hardware permit imaging of galaxies, nebulae, the planets, or of wildlife.
The NP101 can operate on any of a number of suitable optional German Equatorial or for extreme ease of use or portability consider our alt-azimuth mounts including:
Furthermore, this is a telescope one can grow with since most of the accessories that one would buy for this telescope are upwardly compatible with any larger telescope that one is likely to buy at Company Seven.
MECHANICAL CONSTRUCTION
TeleVue NP101's claim to fame beyond the already very good optical properties of its predecessors is that the NP101 is so compact that it can be carried onto a commercial airplane. There are few other first rate telescopes of this aperture. Fewer still are so compact that they can be carried onto a commercial aircraft; but some of these require the user disassemble the telescope into components. It has been our preference that customers not be made to disassemble telescopes in order to make a telescope as portable as the TeleVue NP101, or the Astro-Physics "Traveler" telescopes are. And so the TeleVue NP101 brings the number to two four inch Apos that can make this claim which Company Seven offers.
The NP101 has a fully machined aluminum front cell to house the objective lens, and focuser housing is similarly constructed. The objective lens is permanently aligned to the barrel as is the focuser assembly. Unless subjected to gross abuse this telescope will provide many lifetimes of service with no need for any other than cleaning of the front surface of the objective lens using common camera lens cleaning techniques. Its construction is extremely rugged to allow it to withstand all the handling that is typical of airline travel. However, some caution should be practiced not to damage the focuser pinion of any telescope; our experience with this focuser is that with routine handling this will not happen and in its hard shell case is routinely transportable.
We find most competing 4" Apo telescopes to be bulkier and heavier than we would like regardless of how good the optics may be. For an example of this consider the now discontinued Carl Zeiss 105 APQ, it is a wonderful telescope modeled after the Astro-Physcis 105 "Traveler", but the APQ was made relatively wide, pig heavy, and bulky with no easy provision for removing and compactly storing its' lens shade. The NP101 does incorporate a retracting Dew Shield/Lens Shade. Our experience is that most customers appreciate the convenience of a retracting lens shade, or one that can be removed then turned around and slid back over the tube into a stored position.
Also provided is a thread-on Lens Cover of machined aluminum, in a tube assembly that has an overall length of only 26 inches without diagonal, or 29 inches with it's furnished 2 inch diagonal attached. This is four inches shorter than its predecessor.