ASTRO-PHYSICS FOCUSER UPGRADE PROGRAM
STARLIGHT INSTRUMENTS FEATHER TOUCH® FOCUSER (27FTMU)
Introduced as option on new production models Summer 2003, 2.7" retrofit kits in Summer 2004, 4" in Oct. 2005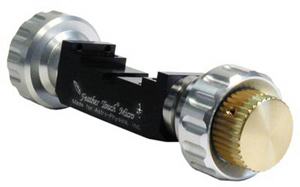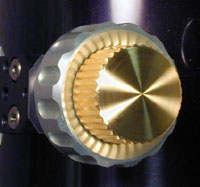 Above Left: Feather Touch® Focuser Pinion and Gear Reduction Assembly (24,150 bytes).
Click on image for higher quality, enlarged view (172,912 bytes).

Above Right: close up view of Feather Touch® Focuser knobs, brass for fine and aluminum larger knob for coarse focus (17,271 bytes).




Overview Astro-Physics has developed a new specially designed dual-speed pinion assembly with a 9 to 1 geared reduction knob. Known as the Feather Touch®, it was originally developed by Starlight Instruments for critical focusing and then introduced by Astro-Physics on the Stowaway 90 mm f5 and Stowaway 92mm f7 compact Apo telescopes.

Feather Touch ® is now available as an retrofit kit for existing compatible Astro-Physics Focusers. Or you can purchase a complete new Focuser incorporating the Feather Touch® feature.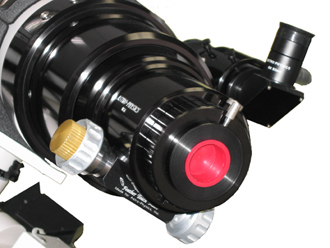 The precision mechanical Feather Touch® geared assembly is produced for Astro-Physics by Starlight Instruments. The assembly will fit onto Astro-Physics 2.7 and 4 inch Focusers (including Traveler Focusers) that have the newer-style pinion block (A1034-A). Simply remove the original pinion block assembly, and then bolt on the new dual speed unit. A similar retrofit unit became available for the 4 inch Focuser late in 2005.
Right: Feather Touch® Focuser option on Astro-Physics 155 mm EDF Apo telescope, optional Astro-Physics 8x 50mm Finder also shown (54,384 bytes).
Click on image for higher quality, enlarged view (125,877 bytes).
This new dual-speed Focuser allows very precise manual focusing on our relatively fast Apo lenses, this can be helpful if you are trying to obtain that last fractional improvement of image definition when looking at a planet, the moon, the Sun, etc. The coarse-focus knobs allow you to rack the drawtube out quickly, and then the fine knob is used to find and hold the final focus point. Ideal for very high powers with short focus oculars and Barlow amplifiers. It will also allow quick, precise manual focusing with CCD cameras. You will love the smoooooooth feel and the very cool reflection of the gold anodized knob on the polished aluminum knob.
We recommend this accessory for those who do mostly visual astronomy and manual focusing with imaging equipment. If you plan to use electric focusing motors and accessories, then we recommend that you stay with the original single-speed block. When focus motors are attached to the pinion, the dual-speed function can no longer be used. The extra drag of the dual-speed mechanism will result in higher loads and torque requirements for the focus motors. Therefore this is not recommended.
Design Imperatives the Feather Touch® was developed with a few basic goals in mind:
provide easy, precise focus
be easy to install with provided Allen wrench
not confuse the observer at night, focus wheels are easily distinguished even in the dark
require little or no maintenance
made with precisely machined, durable components to insure reliable lifetime of service
it just looks great too!
Group 1: upgrade for telescopes shipped after June 2003 with 2.7 inch Focusers
All of the customers who had a 130 f8.35 Starfire EDT, 130 f6 Starfire EDFS or 105 Traveler on order were offered the Feather Touch® Micro assembly as an upgrade - shown on the 2.7" Focuser pictured on the left. The Focuser that was already included with these orders featured the new greaseless drawtube design, but did not have the 9:1 reduction unit. This Focuser is shown above on the right.
The design of the 2.7 inch Focuser provided with the 105mm Traveler differs slightly from what is seen on this page. The Traveler Focuser body housing (the large black portion) with the optional Feather Touch® Micro assembly may be seen in the image at the bottom of our Traveler description page with the.
The part number for the upgrade when placed with the order or during the production run was S27FOCFPU; most of these customers ordered the upgrade. If you did not order the upgrade at that time, but wish to purchase it now, please contact Company Seven. The part number is be designated 27FTMU.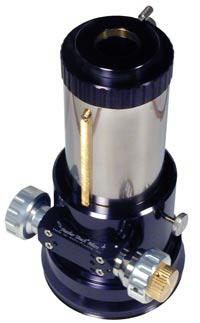 Group 2: upgrade most recent production 155 scopes with 2.7 inch Focusers
All of the people who received their new 155mm f7 Starfire EDFS 2.7 inch Focuser version in October 2002 or later, and the other more recent production telescopes were offered the opportunity to purchase the Feather Touch® Micro Focuser assembly (part No. 27FTMU) to install on their existing Focusers.
On March 17, 2004 we sent an E-Mail and letter to these customers, and posted a notice on the "ap-ug" user group with this information. If you missed your opportunity at that time, then please contact Company Seven to arrange your upgrade today.
Group 3: Upgrades for telescopes shipped since July 2001
All of the people who received their new Astro-Physics refractors with the 2.7 inch or Traveler Focuser, or whom ordered the Focuser separately after July 2001 are eligible for the Feather Touch® Micro assembly (part # 27FTMU) upgrade. It will not be possible to upgrade to the greaseless drawtube however, you can purchase a complete new Focuser if this feature is important to you. This customer group includes those who bought telescopes from RC Optical, Optical Guidance Systems, Parallax Instruments, D&G Optical and Telescope Engineering Company and which incorporate an Astro-Physics Focuser.
In order to determine whether your Focuser can be upgraded, please refer to the images below to compare the hole pattern on the bottom of the pinion block of your Focuser with those in the photos. Focusers that can be upgraded must have the current hole pattern. A cosmetic note; some of these Focusers were provided with a black finished drawtube instead of the natural metal Focuser drawtube.
The upgrade consists of the assembly shown on the left below. The photos on the right correspond show the original assembly.

Above Left Top and Bottom: Feather Touch® Focuser Pinion and Gear Reduction Assembly (24,150 bytes).
Above Right Top and Bottom: the standard, current production Astro-Physics Focuser Pinion Block (17,271 bytes).
Astro-Physics contacted this group April 2, 2004, but this upgrade remains available for these telescopes. You may refer to our page on line regarding the Astro-Physics Focuser Pinion Blocks to see images and descriptions of assembly variants made over the recent years.
Group 4: New 2.7 and 4 inch Focuser orders
The new complete greaseless 2.7 inch Focuser with the Feather Touch® Micro Focuser and greaseless drawtube are now available for everyone to order. We offer the standard 2.7 inch Focuser assembly, and another which is made for the Traveler telescopes. It is a fairly simple matter to remove the prior Astro-Physics Focuser assembly and thread in the new one, but feel free to call us for some "fine tuning" instructions.
A new complete greaseless 4 inch Focuser with the Feather Touch® Micro Focuser assembly (part No. FOCE3-FT) became available in October 2005. While a retrofit kit to install the Feather Touch® Micro Focuser assembly onto compatible 4 inch Focusers (part No. 4FTMU) also became available in October 2005.
Please contact Company Seven to order, or for additional information about these products.