Baader Planetarium AstroSolarTM Visual and PhotoFilm Solar Filters
and TurboFilmTM Protective Transparent Media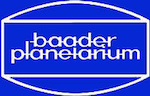 For many years customer asked Company Seven to recommend an economical solar filter material that would complement the capability provided by our fine high resolution telescopes including the Astro-Physics and TeleVue refractor telescopes for example. After several years of evaluating and dismissing most previous economical filter materials, in 1999 Astro-Physics and Company Seven elected to distribute the AstroSolarTM, an amazing solar filter material. This solar filter material has revolutionized high-resolution "white light" solar observing making it once and for all affordable! The polymer is sold in sheets so that anyone can make a filter to fit their telescope or binocular. Company Seven also sells the material installed for you in a custom fitted metal cell all ready to slip-on or thread-on to your telescope; simply contact Company Seven or send E-Mail for more information about this.

The Quest for High-Quality Solar Filters: