LUNT SOLAR SYSTEMS LLC PRODUCTS OVERVIEW

Technical information and advice about selecting your Lunt filter or filtered telescope
Precise Bandpass Filter Systems for Scientific Observing & Imaging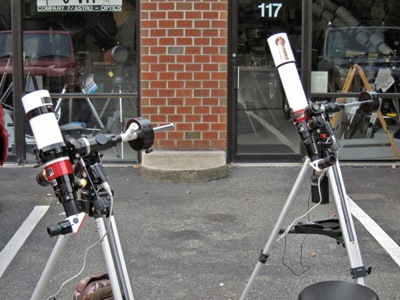 In September 2011 Company Seven apologized in our C-7 News page to our fellow astronomers in the mid-Atlantic region, after our first new Lunt solar telescope arrived. After making deliveries of Lunt telescopes for nearly a year to our customers who planned to see the Total Solar Eclipse and the Venus Transit in 2011, this LS80/DSII/B1800/PT/FT Hydrogen Alpha (Hå) solar telescope arrived on 5 August and could be spared for demonstration purposes at our events. For some weeks since then the formerly beautiful weekends turned from clear, sunny and dry to overcast, raining and wet. It was only on 13 August that we were able to sneak the Lunt 80 outdoors alongside a Lunt 60mm Double-Stack Hå telescope (LS60/DS/B1200/PT/FT) for brief moments of solar observing between the newly arriving thunderstorm cloud banks. It was worth the wait!

Right: first sneak peak at the Sun with our new Lunt LS80THå/DSII alongside a Lunt LS60THå telescope. Each is set for observing the Sun atop an optional German Equatorial Mount outside Company Seven's showroom (130,026 bytes). Our Lunt telescope provides an 80mm aperture, operable by pressure tuning in either standard single or Double Stack configurations, and with the B1800 blocking filter component in the diagonal at rear.
Click on image to see enlarged view (446,834 bytes).

These Lunt telescopes are purpose built solely for studies of the Sun an cannot be used for looking at other conventional celestial or terrestrial objects. These systems filter sunlight so that one sees the Sun as a deep red disc contrasted against the blackness of space. The image of the Sun is brought to focus at a point beyond the focuser. An eyepiece for viewing or a camera for photography can be attached to the focuser. Our new LS80THå/DSII model is for display and joins our inventory of Daystar and Solarscope Ltd. Hå filters too for Saturday solar observing sessions at Company Seven.

The filter components are so precisely made that any change of ambient temperature alters the bandpass, so in order to compensate, a piston attached to the filter housing is adjusted to 'pressure tune' the bandpass by dialing in or out to bring the filter to its best performance setting. With a primary filter alone the bandpass is between 0.7 to 0.8Å (Angstroms) centered at 653nm; so details on the surface of the Sun and surrounding prominences are seen. Ours is among the first of the new Lunt DSII series telescopes indicating 'Double Stack at the rear' so one can attach a second filter component in the black housing just behind the red collar to further narrow the bandpass to 0.5Å or less. This provides added contrast of details on the Sun's disc and of the more massive ejections and prominences, at times appearing three-dimensional. In apertures of 80mm and smaller these are rugged and compact telescopes, easy to travel with. We placed the LS60THå alongside the LS80THå/DSII with 1.25 inch diameter diagonal attached for scale, note the focusers are 2 inch 'FeatherTouch' models with braking made by Starlight Instruments.

Overview: The Lunt solar telescopes and filers are tuneable Fabry-Perot etalon based filters made to pass a very narrow amount of light from the Sun in either the Hydrogen Alpha (Hå) or Calcium K-line (CaK), with very good performance and at a comparatively reasonable cost.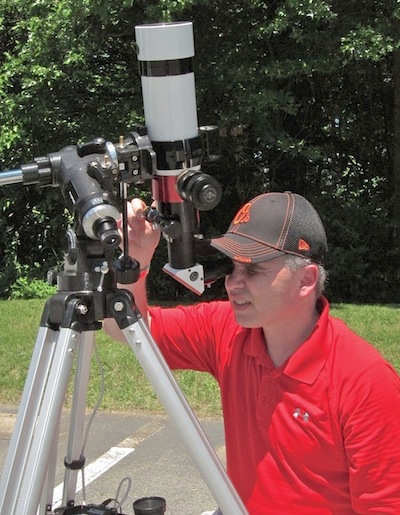 The Lunt solar telescopes (indicated by LSxxT designation) are built upon light weight optical tube assemblies that incorporate an objective lens and focuser that are mated to the appropriate interference Etalon and Blocking Filter. The telescopes are engineered to provide views of the Sun in Hå or CaK (Calcium K-Line) portions of the spectrum. Lunt manufactures solar telescope systems with apertures as small as 35mm; these small telescopes can be fine for someone who has space constraints or must travel or backpack, or they can provide an introduction to the major phenomena of the Sun for a science class. But the Lunt 60 to 80mm aperture LSxxTHå products are the solar telescopes models most sold by Company Seven; these have been developed to satisfy those who wish to see inspiring views of all the phenomena that can be seen in Hydrogen Alpha while preferring to keep this manageable to carry or easily travel with. While those larger Lunt solar telescopes of 100mm, 152mm and the 230mm are 'transportable'; these larger aperture systems will of course provide brighter images routinely and finer resolution of solar details on the best (steadiest and most transparent) days.
The Lunt solar telescopes based upon the 80mm systems are the ones most-recommended by Company Seven to clients who seek a good balance of performance and versatility since the 80mm models provide enough of an increase in light gathering power over the 60mm telescopes to make the 80's better suited for use with binocular viewers (such as the industry standard Baader/Carl Zeiss Mark V Großfeld Binocular Viewer). The increase in photons factor is also beneficial for imaging as it permits cameras to be set with quicker shutter speeds to better improve the chances of freezing the Sun during a momentary reduction of scintillation.
Left: It doesn't get much easier to manage than this Lunt 60mm Hydrogen Alpha solar telescope, shown outside Company Seven 21 May 2011 (95,474 bytes). This set consists of the LS60THå telescope with single interference Etalon at the front and Blocking Filter at the rear. The Lunt telescope is supported by a lightweight and economical (yet well suited) Orion brand motorized German Equatorial Mount and aluminum Field Tripod; the entire set can be carried as shown assembled by an average adult.
The observer at the eyepiece is Mr. Phil Whitebloom who has been involved in amateur astronomy for decades, but only in the recent years discovered our Sun. He has progressed so far into imaging that he now hosts his own web site PW Hobbies where he hosts images and articles of advice to help fellow enthusiasts.
Click on image to see enlarged view (201,164 bytes).
The Lunt 60mm and 80mm models are so light and compact that they are carry on luggage portable (with a suitable carrying case), and Company Seven can furnish the telescopes with a tracking German Equatorial Mount lightweight enough to allow you to carry the entire assembled system in or out. We even offer Solar Panel powered tracking mounts so you need not feed the mount costly batteries, and that makes the battery-free system not simply economical to operate but even lighter weight to carry.
The Lunt LSTHå series telescopes incorporate a single interference Etalon, this may be installed at the front of the telescope or on the pressure tuned models this will be incorporated into the optical tube assembly of the telescope and just ahead of the focuser. The diameter of the LSHå series telescope objective lens or the Etalon is what characterizes the model; hence 60 or 80mm or larger for example; these are full aperture and completely unobstructed arrangements. To compensate for environmental changes that occur routinely, each LSTHå telescope incorporates a mechanism for Doppler Tuning of the Etalon; this is either by a direct manually operated tilting mechanism built into the Etalon filter cell controlled by a dial, or by a pressure tuner that changes the density of the air in a sealed Etalon housing controlled by a piston that is threaded in or out from the pressure tuner housing. Either arrangement is simple to operate and works well.