Lunt Solar System has their facility in Tucson, Arizona and you are welcome to visit them or order directly. However, most people in the middle Atlantic States, as well as those residing in countries where Lunt does not already have a distributor you prefer to work with, will be happier knowing Company Seven's staff can be your primary source of hardware and services providing information regarding products and prices, estimated delivery dates and the status of your order. You can visit Laurel, Maryland showroom to see Lunt products on display, and see them in action when you attend our Solar Observing Program hosted at our showroom.

Once you have been duly impressed by seeing them work, then you can order your own Lunt, this can be done with a simple phone call or E-Mail to Company Seven. We will be happy to help you learn more about the filters and understand their differences; after considering your requests and particular requirements we could recommend what will best suit your intended applications. Furthermore, Company Seven can provide fine new or used telescopes that can be employed with the SF/DSF series filters, and we have taken on the tasks of manufacturing accessories for our Lunt customers including precision adapters when required, and custom Airline Transport Association (ATA) approved custom cases to accommodate our Lunt filters systems.

Company Seven has more than three decades of experience providing for the amateur and professional astronomy communities all the while operating as a licensed business under continuous ownership. We are a registered U.S. Government Contractor, registered with the CCR (Defense Logistics Agency "Cage Code" "0W7J4") and is a TSA 'Known Shipper'. As such it is a simple matter for government agencies and laboratories to attain advice, hardware, and services from Company Seven.

Your support makes resources such as this Internet Site possible. If we can be of assistance to you in any way, please simply telephone Company Seven at 301-953-2000 or send E-Mail to Company Seven.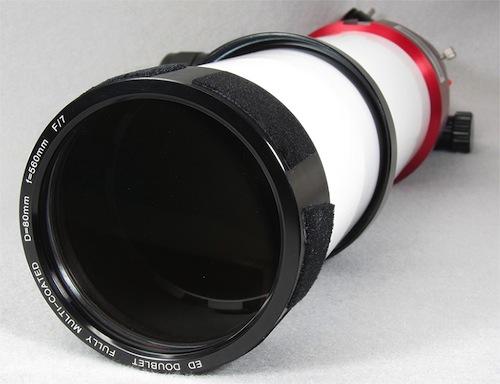 As Lunt filters and telescopes arrive at Company Seven each is tested to assure proper function and on band performance as part of our routine of quality assurance for our customers. We have intercepted issues of cleanliness and fit such as Pressure Tuners that we replaced, but to their credit every filter received has been safe and worked on band; some possibly more 'charmed' than others. Of course the maddening demand for these products for the Venus Transit of 2011 and Solar Eclipses created some confusion that at times took a bit of time and effort to work out; but Company Seven worked well with the team at Lunt to sort them out. This work that we routinely do puts our team at a distinct advantage in terms of experience and working knowledge over 'E-Tail' oriented retailers who tend to drop ship products directly from Lunt to their clients or simply turn around sealed packages - both which add no real value to a transaction.

Right: Our technicians routinely notice minor discrepancies that you might never notice. For example see the new Lunt 80mm THÅ solar telescope doublet objective lens as it arrived from the factory with minor contaminants on the rear of the lens group. This was observed upon inspection at Company Seven, and then this telescope was disassembled the professionally cleaned and assembled for our customer.
Mouse over the image to see view of lens after cleaning but before Lens Shade was installed (images 45,180 and 47,70 bytes).

Another distinguishing characteristic of Company Seven is that after you acquire your Lunt then from us then should it ever require routine cleaning or repair, or upgrading of a focuser or other component either under warranty or not, then Company Seven will be your Lunt service center as well - of course you retain the choice of returning it to the factory too. Anyone who made the wise choice to order theirs from Company Seven will see benefits that no other Lunt retailer in the Americas is qualified to provide.
PACKING AND SHIPPING
We encourage you to visit Company Seven, one of the last and most enduring astronomical instruments showrooms in the Americas, to see these systems working - if your visit coincides with a sunny day of course. But if visiting Company Seven is not practical for you then we can deliver the Lunt to you, to almost anywhere on Earth. When you receive your order, it will become obvious that a great deal of care was also given to the safe packing of each item. It is very rare that any of these most durable components is damaged during transit.

Shipments originate at Company Seven facilities near Washington, D.C.
Click HERE to learn how to order products from Company Seven.