Celestron NexStar 8 Schmidt-Cassegrain Telescope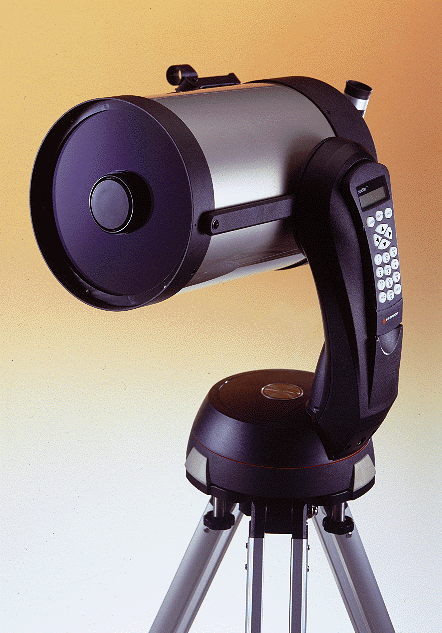 Click on image for enlarged view (159,393 bytes)
Left: Celestron NexStar 8 viewed from front and left (36,739 bytes).
NOTE: In 1985 Celestron became the first company to offer computer-driven Schmidt-Cassegrain telescopes - the "CompuStar" series. In August 1996 their second generation of computer controlled telescopes began shipping; the Ultima&reg 2000. Celestron introduced the third generation NexStar Operating System (OS) with the NexStar 5 telescope in August 1999; since then the telescope has come to meet its advertised expectations. Company Seven anticipated larger telescopes, using the same, OS simple interface.
Announced in February 2000, the first limited deliveries of the production NexStar 8 telescope will begin in May of 2000. The NexStar does not replace the Ultima 2000, but rather compliments the line with a more affordable, simpler to use interface, geared for visual applications. The demand for the hand assembled 8" Ultima 2000 remains so high that Celestron has made no decision on it's future.
We anticipate an 11" Fastar model, and an 11" version using the NexStar OS will follow in August 2000 at the earliest. And Company Seven will continue to accepting names on our non-binding waiting list for notification when the 11 inch telescopes become available - assuming it meets our expectations. Go back to News page