Premium 80mm Altazimuth Refractor Telescope
This model has been discontinued. It remains posted here for information purposes only.
Celestron offers a premium grade 80mm (3.1") altazimuth refractor - The Premium 80. For many years its similar predecessor (the "Firstscope 80") set the standard as a most desireable serious first telescope for those whose ambitions, or environment dictate an interest in the brighter deep sky objects, and the planets, moon, and Sun.
The Premium 80 is an ideal first telescope for the more serious beginning as tronomer or terrestrial observer. With 131 times the light gathering power of the naked eye, the Premium 80 provides 78% brighter images than 60mm telescopes.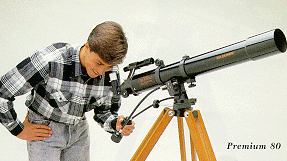 Its easy-to-use altazimuth mount includes slow-motion controls in both axes vath flex cables allonong quick and eas 'pointing and tracking. The supplied attractive and very sturdy wood tripod is adjustable in height.
The objective optics are made in Japan by "Vixen" to rigid standards. This objective is an air-spaced achromat designed to yield the finest images available in this class of instrument. In our experience a very good 80mm telescope will outperform a lesser grade of 90mm telescope in many areas of astronomy. This 80mm telescope has a 910mm focal length (f/11.4). The optical tube is made of aluminum and the accompanying accessories are made of glass and metal to ensure excellent image quality and long service life. Multi-coatings on the objective lens help ensure high contrast.
For astronomy you can enjoy breathtaking views of the Moon, Saturn with its ring structure, Jupiter and its belts and hundreds of deep-sky objects including galaxies, nebulae and star clusters. The Polar caps of Mars are revealed. With a solar filter (optional) you can observe activity on the Sun. For terrestrial use, enjoy vistas from your home, a bird in the yard or the disance, or take your telescope out in the field to take advantage of our natural environment up close - as this is very easy for even a child to manage.
Standard accessories include a 26mm good quality, multi-coated Plossl-1 1/4" Eyepiece (35x) for a wide field of 1.4 degrees, good quality 6x3O Finderscope and comfortable 45 degrees Erect Image Diagonal-1 1/4". Weight is 18 lbs.
Go back to Celestron Refractor Telescopes page
Go to Price List
Go back to Celestron Products page