Vixen 102mm Achromatic Eqautorial Refractor Telescope
Discontinued, posted here for information purposes only.
Celestron offers two models of 102mm (4") equatorial refractor telescopes. These telescopes are for the more serious astronomer who appreciates very good optics and stable equatorial mounts.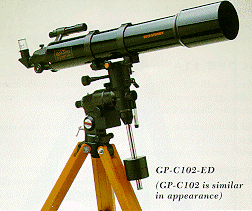 Both models rise the same equatorial mount.
The Vixen Great Polaris (GP) German equatorial mount is the new, upgraded evolution of the Super Polaris (SP) mount which has been the industry standard for more than a decade. This well macthed mount provides jitter-free images. Both axis have precision 144-tooth lapped worm gears for very smooth motion. The adjustable height, rigid wood tripod has excellent vibration dampening characteristics and has a handy accessory tray.
The GP mount has an integral illuminated polar alignment scope for fast polar alignment. Included are large setting circles in both axes, bubble level, slow-motion controls and latitude scale. An adjustable counterweight makes it easy to balance and use.
The optics of the GP-C1O2 are made by Vixen in Japan to rigid standards. It has a focal length of 1000mm (f/9.8). The GP-C102-ED model features Super ED glass to yield even better images of very high contrast and resolution with virtually no chromatic aberration. The ED lens has a focal length of 920mm (f/9) and has multi-coatings. Astronomical viewing is a delight with these large and powerful 4" refractors. With a 63% increase in image brightness over 80mm units, the detail seen of the Moon, Saturn with its ring structure, Jupiter and its belts and hundreds of deep-sky objects including galaxies, nebulae and star clusters is utterly fantastic.
Standard accessories (the same on both models), include a 20mm Eyepiece of 1-1/4" diameter, 6x3O Finderscope with an 8 degrees field of view, and a Star Diagonal for 1- 1/4" oculars. Weight is approximately 39 lbs.
Go back to Celestron Refractor Telescope Page
Go to Price List
Go back to Celestron Products page