Questar Optical System
This is page 16 from the Questar catalog November 1960 in Company Seven's archives.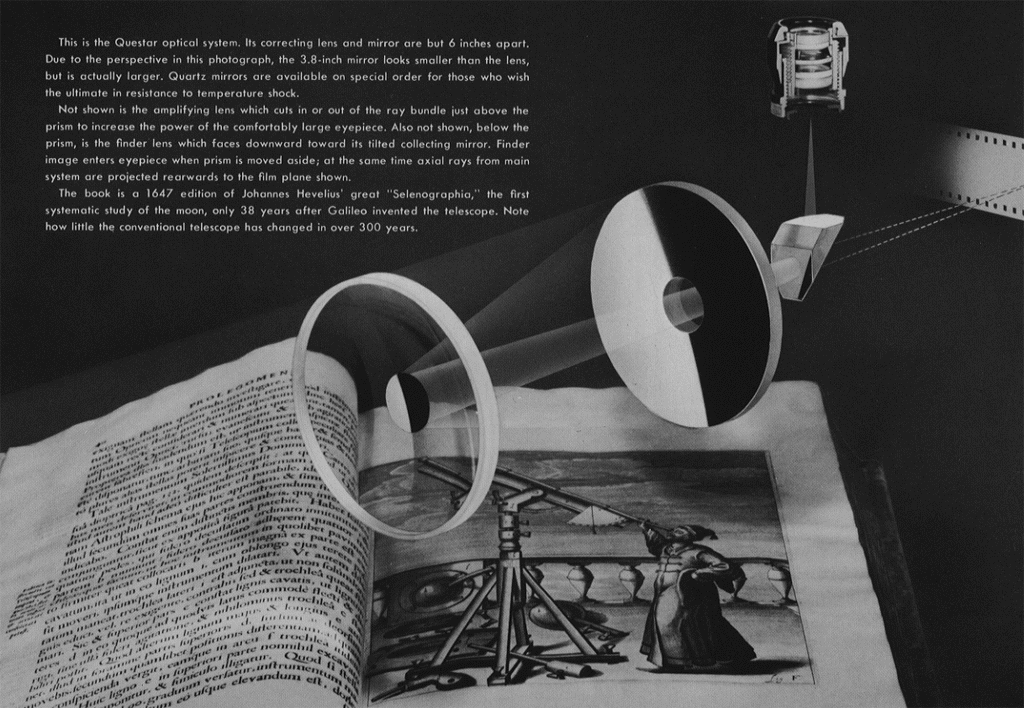 Above: "Questar Optical System" page 16 from the Questar catalog November 1960.
Light enters the transparent Corrector Lens from the left, it is then reflected from the 3.8 inch diameter Primary Mirror
at (right of center) forward to the Secondary Mirror (aluminized spot deposited onto inner surface of the Corrector),
then back through the perforated Primary Mirror to the 90 degree Prism Diagonal, then then up to the eyepiece. (250,510 bytes)
Text from the illustration:
This is the Questar optical system. Its correcting lens and mirror are but 6 inches apart.
Due to the perspective in this photograph, the 3.8 - inch mirror looks smaller than the lens,
but is actually larger. Quartz mirrors are available on special order for those who wish
the ultimate in resistance to temperature shock.
Not shown is the amplifying lens which cuts in or out of the ray bundle just above the
prism to increase the power of the comfortably large eyepiece. Also not shown, below the
prism, is the finder lens which faxes downward towards its tilted collecting mirror. Finder
image enters eyepiece when prism is moved aside; at the same time axial rays from the main
system are projected rearwards to the film plane shown.
The book is a 1647 edition of Johannes Hevelius' great "Selenographia," the first
systematic study of the moon, only 38 years after Galileo invented the telescope. Note
how little of the convention telescope has changed in over 300 years.