PARTICLE WAVE TECHNOLOGIES TRIPOD CARRYING BAGS
making it easier to get it there, and get it there looking good...

Above: PWTEC padded soft carrying bag shown with a Monolith tripod.
Our PWTEC products can be found in service all around the world and Company Seven offers our own custom-fitted heavy duty ATA transport cases to get your equipment there in one piece and looking like new. However, most of the time these tripods are simply moved from inside to out, or placed into a vehicle for a drive to the local observing site. To make it more convenient to carry the tripod and to protect it from nicks and scrapes, without dealing with the weight and higher cost of our ATA cases, we offer padded carrying bags made of durable and rot resistant padded fabrics. These help you to preserve the pride of ownership too.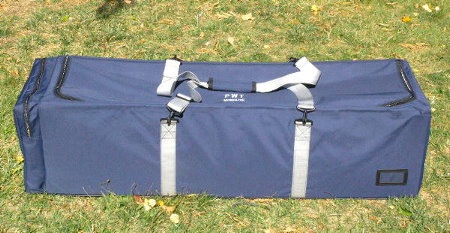 These bags have reliable sewn-on carrying handles (accommodating even the gloved hand) with wide fabric carrying straps to make it easier to pick up the bag and carry it alongside or suspended from the shoulder. The bags feature smooth interior linings, and heavy duty zippers. We offer bags as shown above, and more rigid form bags with zip up space for accessories as shown at right.
To see these products first hand visit our showroom, one of the last and most enduring astronomy-oriented showrooms in the Americas. Or contact us for advice.