Specifications:
Optical Characteristics:
Design: Maksutov-Cassegrain Catadioptric
Standard Corrector Lens: BK7, MgF2 AR Coated; multilayer dielectric coatings optional
Optional Corrector Lens: Fused Silica (for enhanced UV spectral response), MgF2 AR Coated
Primary Mirror: Pyrex substrate, aluminum coated with SiO overcoat; Zerodur substrate optional
Corrector Lens Clear Diameter: 63mm (2.4 inches)
Primary Mirror Diameter: 104mm (4.09 inches)
Standard Secondary Mirror: aluminum coated with SiO overcoat; silver with ThF4 overcoat optional
Secondary Mirror Diameter: 16mm (0.63 inches)
Baffling: Helix in central tube, all interior surfaces black anti-reflection coated
Right: Questar QM 100 Long Distance Microscope set for Co-Axial lamination of target (at left).
The QM-100 is shown with optional Camera Cradle supporting a DSLR Camera, atop 3-Axis Translation Stage at Company Seven (93,016 bytes).
Click on image to see enlarged view (284,148 bytes).
Mechanical Characteristics:
Barrel Material: Aluminum hollow bar, machined from seamless stock
Barrel Length: 25.4cm (10 inches)
Control Box: Cast aluminum, 24S-T4, corrosion resistant; selectable axial or 90 degree Port.
Internal Beamsplitter: standard, flick knob controlled
Tube Assembly Length: 30.8cm (12.11 inches) front cell to focus knob seat
Tube Assembly Diameter: 11.4cm (4.48 inches) maximum overall
Tube Assembly Height: 20.8cm (8.2 inches) base of mount to top of eyepiece
Tube Assembly Weight: 2.27kg (5 pounds)
Mount: Full length rail of machined aluminum, 1/4"-20 and 3/8"-16 mounting holes
Focus Mechanism: Mirror thimble integral with stainless steel (s.s.) sliding tube.
Slides on fixed stainless steel light baffle tub (centerless ground). Conical s.s. spring loaded
Focus rod 303, precision ground, 24 TPI; integrated inside control box

Finish: Aluminum components anodized natural, dark blue, or black
Carrying Case: ATA, Furnished Standard
Performance:
Focus Range*: 15cm (6 inches) to 35cm (14 inches)
* Minimum w/optional PowerPak 100: 10cm (3.9 inches)
Optical Resolution: 1.1 microns at 15cm (6 inches)
Format: Diffraction Limited Field 12mm diameter
Magnifications at image plane may be 3.43X to 8.13X larger
Field of View 2/3" format, wider fields possible with larger arrays: 0.375mm (0.0148 inches) to 2.07mm (0.08 inches)
Field of View 2/3" format with optional Positive Lens field of view more than 7mm are possible.
With Eyepiece, Video Camera, or optional lenses magnifications may span from 48X to 381X or more
Standard spectral response: 330nm to 2.3 microns, optional systems with wider spectral response available.
Optional extended Ultraviolet and Infrared imaging response: from below 200 nm to 3.5 microns
Optional EXFO X-Cite illumination sources and accessories, including the high stability X-Cite exacte system.
Object Distance
Numerical Aperture
f/No.
Depth of Field (Ám)
35.5cm (14 inches)
0.084
20.4
77
33.0cm (13 inches)
0.091
20.1
65
30.5cm (12 inches)
0.098
19.8
56
27.9cm (11 inches)
0.107
19.4
47
25.4cm (10 inches)
0.115
19.5
41
22.9cm (9 inches)
0.117
20.6
39
20.3cm (8 inches)
0.126
21.1
34
17.8cm (7 inches)
0.129
21.9
32
15.2cm (6 inches)
0.139
22.1
28
10.2cm (4 inches)
0.185
22.0
16
Above: Table illustrating Depth of Field, and f-number of the QM-100
The forumula used for depth of field calculations is based on the Rayleigh criterion. It is as follows:

(0.5) (0.546 Ám) / (NA) 2

For this example the wavelength of light used is at the 0.546 Ám HG spectral line.

Perceived depths of field will vary with the user, camera, and wavelength. In general, they will increase when a camera is used.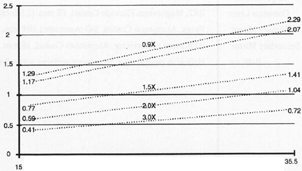 Above: Chart illustrating Fields of View of QM-100
with Auxiliary Barlow Lenses, with 172mm Positive Lens, based on 2/3" format camera.
Field of View (from 2.5 to 0mm top to bottom) along the left side, Working Distance (15 to 35.5cm) left to right. Top to Bottom Dashed Lines are: QM-100 with 172mm 0.9X Positive Lens (from 1.29mm to 2.29mm), at Prime Focus (1.17 to 2.07mm), with 1.5X (0.77 to 1.41mm), with 2.0x (0.59mm to 1.04mm), and with 3.0x Barlow Lens (0.41mm to 0.72mm).
Working Distance
QM100 Objective
with 0.9x lens
OPEN
with 1.5x lens
with 2.0x lens
with 3.0x lens
with 2/3" Video*
10.2cm (4 inches)
8.13x
114.3
127.0
190.5
254.0
381.0
262.8
15.2cm (6 inches)
6.15x
86.4
96.0
144.0
192.0
288.0
198.8
17.8cm (7 inches)
5.65x
79.7
88.5
132.8
177.0
265.5
182.7
20.3cm (8 inches)
5.21x
73.4
81.5
122.3
163.0
244.5
168.4
22.9cm (9 inches)
4.81x
67.5
75.0
112.5
150.0
225.0
155.5
25.4cm (10 inches)
4.47x
63.0
70.0
105.0
140.0
210.0
144.5
27.9cm (11 inches)
4.17x
58.5
65.0
97.5
130.0
195.0
134.8
30.5cm (12 inches)
3.90x
54.9
61.0
91.5
122.0
183.0
126.1
33.0cm (13 inches)
3.65x
51.3
57.0
85.5
114.0
171.0
118.0
35.6cm (14 inches)
3.43x
48.2
53.5
80.3
107.0
160.5
110.9
Above: Table illustrating the visual and video magnifications possible
using a 16mm eyepiece open (at "prime focus") and with auxiliary lenses.
The magnifications, other than the "OPEN" column are extrapolated data.
*Video magnification assumes 2/3" format CCD and 14" Monitor.
When comparing video and visual magnifications using the "OPEN" column understand that much of the difference here occurs in the artificial magnification from the CCD to the monitor; this sometimes results in "useless" magnifications.
Although eyepiece magnifications appear to be significantly less than CCD magnifications, comparable resolution is achievable due to the resolution limitations of CCD technology and the exceptional physiology of the human eye.
ADDITIONAL READING
Questar QM-100, Model 30003 illustrated two page brochure describing the basic Questar QM-100 Long Distance Microscope. With tables and instrument arrangement drawings. From Company Seven's Library. Download size is 412,734 bytes (in Acrobat Reader ".pdf" format).

If you need a copy of Acrobat Reader to display or print this document,
then click here to download it free from Adobe's web site.
| | |
| --- | --- |
| | Contents Copyright 1994-2012 Company Seven - All Rights Reserved |