QUESTAR BRANDON EYEPIECE PRESENTATION SET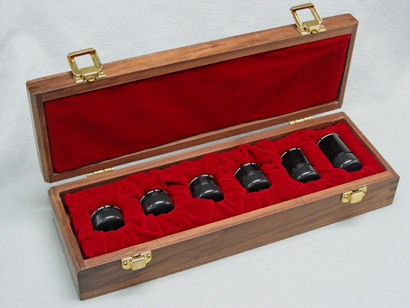 The Questar Brandon Eyepiece Presentation Set is a limited production arrangement announced in April 2006 including one of each focal length Questar Brandon 1-¼ inch eyepiece made commemorating the introduction of these eyepieces when in 1972 Questar first elected to sell these eyepieces as standard equipment with their telescopes. The set includes 6 mm, 8 mm, 12 mm, 16 mm, 24 mm and 32 mm focal lengths and is organized within a beautiful plush lined solid walnut presentation case. The original Questar Brandon eyepieces provided from 1972 through 1974 are distinguished by their tapered upper barrel, but in time Brandon settled on the cylindrical profile that has been their norm for decades. The six eyepieces in this set differ from the standard production Questar Brandon eyepieces in that:
the barrels of the eyepieces in this set are made as they appeared in the 1970's without the thread on eye cup as is provided on current production models,


this set includes the Questar Brandon 6 mm focal length eyepiece also introduced in April 2006.
Right: Questar Brandon Eyepiece Presentation Set (201,397 bytes)
Click on the image to see enlarged view (385,989 bytes).
The Eyepiece - A Brief History The Brandon eyepiece was designed in 1949 by Mr. Chester Brandon. He was the founder and operator of the Brandon Instrument Co. which became known for making refracting astronomical telescopes, eyepieces and other optical items. In 1962 Mr. Brandon sold the rights to the eyepieces, and later his tooling and other lens designs to Mr. Don Yeier. Mr. Yeier founded VERNONscope in 1958, it was then one of the few specialized telescope and accessory retailers. In 1971 it was a feather in their cap when Mrs. Peggy Braymer, the owner of Questar Corporation decided to provide the Brandon eyepiece as standard equipment with their telescopes. As good as the eyepieces were in 1971 (and remain so today) the decision of Mrs. Braymer favoring the Brandon was explained to the founder of Company Seven as having been determined in part because she insisted on keeping the Questar as "Made In The USA" as possible; previously eyepieces for the Questar had come from Japan. VERNONscope remains in Candor, New York and continues to provide Questar Brandon eyepieces with the unique threading distributed through Questar, as well as a more conventional 1-¼ inch slip fit version sold direct bearing their trade name.
The Eyepiece Design and Construction While resembling the Plossl eyepiece design and others of the late 1930's by Albert Koenig (1871-1946) and his team at Carl Zeiss, the performance of the Questar Brandon is closer to the Orthoscopic that was designed by Ernst Abbe (1840-1905). Abbe was the preeminent optical designer who helped build the Carl Zeiss company. The Ortho is free of distortion (varying magnification across the field of view) and with high contrast and good clarity.
The Questar Brandon is a four element lens set arranged in two cemented asymmetrical achromatic groups. The two inner elements are a Lanthanum Crown matched to the outer dense flint glass. This design provides a sharp and clear 45° Apparent Field of View. The lenses are made of high quality raw materials: homogenous optical glasses, free of any perceptible striae. The lenses are ground and then fine pitch polished to a degree of perfection typical of the best eyepieces made today. All four of the air to glass surfaces are provided with a durable Magnesium-Fluoride antireflection coating to prevent ghosting or other unwanted reflections. The modest percentage of light reflected off this coating is a comprised of deep red and violet wavelengths and so they present a deep purple or dark blue tint. Antireflection coatings have no effect on the color of the transmitted light, so one will not see any tinting of the image. The Questar Brandon elements transmit the visual spectrum uniformly and when used with a well designed telescopes objects will appear naturally and free of false color.
The Field Stop of the Questar Brandon is much closer to the Eye Lens than in most modern production eyepieces, this is what makes it so suitable for use with the Questar's Control Box integral Finder and yet it remains compatible with other production telescopes that accommodate slip-fit 1-¼ inch diameter eyepieces. The eyepieces are made so that their Field Stop is positioned at a similar distance from the end of the barrel so all are Parfocal; this means one eyepiece may be exchanged with another and both images will appear in focus without adjusting the telescope. With an eye relief on the order of 1.3x their Focal Length, the focal lengths down to 16 mm are useable for most people visually, including those who must wear prescription spectacles. However, Company Seven does not recommend the 6, 8 or 12 mm for those who must wear prescription spectacles. And because of their comparatively narrow apparent fields of view, for astronomical visual uses Company Seven recommends these be used with telescopes that are installed on platforms that provide automated tracking of celestial objects.
The barrel of the Questar Brandon eyepiece is precision machined of aluminum, then the exterior anodized in a lustrous black finish. Each barrel is engraved and filled in white so the 24 mm for example reads "QUESTAR BRANDON 24MM EFL U.S.A.". The interior is fully blackened. These are comparatively lightweight eyepieces, and the thin wall aluminum barrels result in some mechanical differences from most other production eyepieces. For example the Questar Brandon and Vernonscope eyepiece barrel is not threaded to accept conventional 1-¼ inch diameter x 42 tpi (28.5 x 0.6 mm) thread in filters. Instead these employ a proprietary Brandon thread and so one must plan to buy the appropriate filter. For protection, each eyepiece is provided with hard black plastic slip on barrel cover. The cover protects the comparatively thin wall from dings and keeps dust and dirt from entering the barrel. Another unique aspect is that the barrel not only has the slip fit capability, but where the barrel outer sleeve meets the shoulder it is threaded so that it can be securely held into place on the Questar telescope eyepiece holder. The barrels of the eyepiece are provided in this set are as they were made in the 1970's without the thread on eye cup as is provided on current production 8 mm to 32 mm models.
While excellent for visual high resolution work (i.e. planets, Moon, solar, double stars) these eyepieces are a very good choice for photographic applications too. The threading of the Questar Brandon eyepiece facilitates installing an eyepiece in the Questar 3-½ and 7 Camera Coupling Sets for Eyepiece Projection photography. The Camera Coupling Set is provided with three Extension Tube Rings, a Camera Swivel Coupling, and two washer like Accessory Rings. Each Accessory Ring is threaded around its inner circumference and one of these two rings is threaded to accept a Questar Filter while the other accepts the Questar Brandon Eyepiece. The Ring/Eyepiece assembly slip into place in between the Camera Coupling Set Extension Tube Rings or between one Ring and the Camera Swivel Coupling.
PRESENTATION SET EYEPIECES SPECIFICATIONS:
Model
Height Overall*
Field Stop Dia.*
Weight*
Eye Cup
6 mm Questar Brandon
¾ inch / 18.7 mm
4.5 mm
0.9 Oz. / 25 Grams
No
8 mm Questar Brandon
0.9 inch / 23.2 mm
5.9 mm
1.1 Oz. / 30 Grams
Yes
12 mm Questar Brandon
1.1 inch / 28.7 mm
8.8 mm
1.3 Oz. / 38 Grams
Yes
16 mm Questar Brandon
1.3 inch / 33.4 mm
11.9 mm
1.5 Oz. / 42 Grams
Yes
24 mm Questar Brandon
1.8 inch / 46.5 mm
21.5 mm
2.8 Oz. / 79 Grams
Yes
32 mm Questar Brandon
2.2 inch / 54.9 mm
25.3 mm
3.0 Oz. / 85 Grams
Yes
* Specifications given are as measured by Company Seven in April 2006, subject change.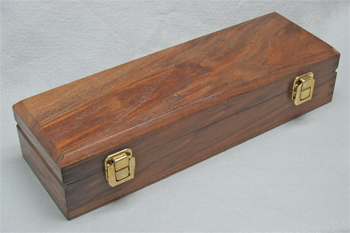 Walnut Wood Case This set is provided with a solid walnut wood presentation case while the other accessory cases sold by Questar as options are made of pine wood. The lid of this case is hinged, with two thumb claps. The interior lid and bottom sections are fully lined in plush red.
Company Seven will make the walnut presentation case available for those who prefer to buy the case with the set of modern Questar Brandon eyepieces. Otherwise, one may buy the optional standard pine wood case as is provided with the Questar Color Filter Set. Please refer to our price list or contact us for availability and part number information.
Right: Questar Eyepiece Walnut Box (70,602 bytes)
Click on the image to see enlarged view (192,315 bytes).