NP127 - f5.2 Nagler-Petzval Apochromat Refractor (5.0 inch aperture)
The first, first rate TeleVue 5 inch Apo!
Introduced to the world as the NP127 by Al Nagler at Company Seven in January 2003, the NP127 was in 2006 replaced by this even more capable NP127is.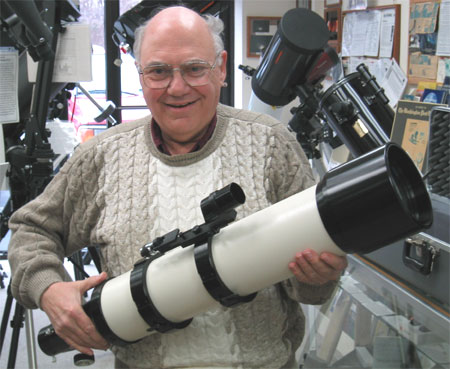 Above: Al Nagler with pre production TeleVue NP127 telescope optical tube assembly (dew cap retracted) with Mounting Rings. The "Starbeam" sight is optional.
Image taken at first showing of the new telescope outside of TeleVue, 30 January 2003 at Company Seven's showroom (50,498 bytes).
Responding to the growing aspirations of those pursing astrophotography and CCD imaging, the NP127 is replaced by the 'NP127is' Imaging System telescope.
FIRST GLIMPSE