UVP Products Overview
helping our clients to focus on the otherwise invisible world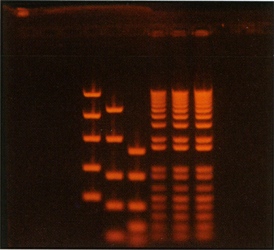 Known for decades as Ultra Violet Products Co., UVP was founded in 1932 and remains headquartered in the greater Los Angeles area. The company manufactures bioimaging systems for academic, biopharmaceutical, and biotechnology applications. Their bioimaging systems are used for genomic, proteomic and invivo applications while their laboratory instruments and ultraviolet products are employed for academic, pharmaceutical, forensic, industrial and biotechnology applications. UVP bioimaging systems are used for DNA gel documentation and image acquisition, analysis of gels, blots, fluorescence, chemiluminescence, western blots, northern blots, southern blots, luminescence, colorimetric, chromagenic, densitometry, in vivo and in vitro, plates, and film. The company provides UV Transilluminators, UV crosslinkers, UV incubators, PCR hoods, HEPA PCR Workstations, UV lamps, hybridization ovens, UV light sources and radiometers. It also offers VisionWorks LS, an image acquisition and analysis software including Doc-It LS software for image analysis.
Right: back illuminated staned DNA Gel. Images taken through UVP PhotoDoc-It™ Imaging System (28,448 bytes).
In the area of photonics UVP manufacturers standard and custom low-pressure ultraviolet light sources including mercury, zinc, cadmium, neon, argon and related UV equipment for light source calibration, UV curing, ozone generation, air pollution monitoring and fluorescence detection. The UVP products provide Company Seven with the capacity to provide a more comprehensive and integrated solution for our government, industrial, and yes amateur customer base. So now we can offer not only imaging systems (CCD cameras, filters, special UV capable lenses and microscopes) but we can offer illumination sources, UV measuring equipment, and other specialized UV equipment for industries including: