Product Overview: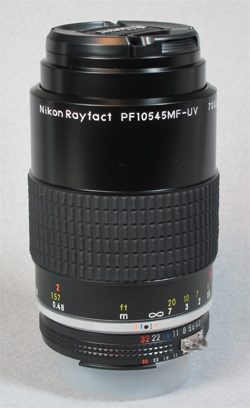 The Nikon UV-105 is a high performance lens that was developed for specialized multispectral applications in the ultraviolet (UV), visible, and infrared portions of the spectrum. The lens was originally envisioned for uses including law enforcement forensic work (popularized by recent television shows), industrial and biomedical applications, as well as uses by artists and the more enthusiastic amateur. This lens became the preferred choice for work in other areas of forensics too including art research (authenticating and restoration for example), medical studies including dermatology, chemical analysis, plasma research, combustion and electric discharge studies, agriculture, environmental monitoring, mineralogy, surveillance, OEM, manufacturing and process control. This remains the most desired UV lens among the more dedicated amateurs who seek to explore the world that is otherwise invisible to the eye.
While it's high resolution and transmission deep into the UV most distinguishes the UV-105 from most other lenses, this is also a superb performer in the visible (VIS) and into infrared (IR) portions of the spectrum too.
Right: current production model UV-105 (PF10545MF-UV), formerly marketed as the UV-Nikkor 105mm lens. Shown with covers as distributed by Company Seven (52,383 bytes).
Click on image to see enlarged view (118,884 bytes).
This product was originally announced in 1984 as the Nikon 105mm f/4.5 UV-Micro-Nikkor, and from September 1985 it was marketed as the Nikon UV-Nikkor, then the lens sold then for $2,200.00 USD, then about half the cost of a full sized car. This lens was originally designed for use with a Nikon single lens reflex (SLR) film camera however, this lens is also compatible with digital SLR and CCD based systems. It projects an image that can fill film or digital sensors as large as the Nikon FX (24 x 36 x 43mm) format.
The Nikon UV-Nikkor lens production was discontinued in 1999. Owing to it's unique properties and continuing demand, Nikon resumed limited production on 18 November 2005, and while Nikon national distributors (Nikon USA, Nikon Europe, etc.) do not sell or service it owing to very limited demand, the lens is now distributed by Company Seven for sale to most countries world-wide as the PF10545MF-UV, though it is more readily referred to as the UV-105. Company Seven maintains one of these rare lenses on display at our showroom/museum collection. For availability and ordering advice contact Company Seven.

"users who are highly experienced in UV and IR photography have stated that this is among the sharpest lenses ever made,
with highly uniform illumination across the field, fully free of any 'hot spot' as associated with some other multispectral optics"
Performance: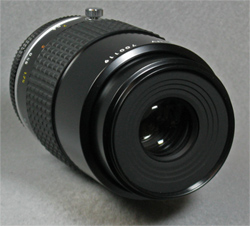 This is an exceptionally sharp and distortion-free 105mm f4.5 variable diaphragm (iris) conventional manually operated lens and with macro capability too. The lens can focus on objects from infinity to as close as 478.5mm (18.8 inches). This lens incorporates Nikon's automatic Close Range Correction (CRC), so at least two separate sets of elements are moving in relation to one other as the lens is focused and this maintains nominal performance even as the working distance changes. The variable diaphragm (iris) can be set to f4.5, 5.6, 8, 11, 16, 22, or 32. At all working distances and at all wavelengths the image is free of aberrations, and there is no distortion. Many users who are highly experienced in UV and IR photography have stated that this is among the sharpest lenses ever made, with highly uniform illumination across the field and virtually no variation in the focus position between visible rays and UV rays. With the optional Nikon PN-11 52.5mm Auto (Ai-S) Extension Tube the lens can attain reproduction ratios of up to 1:2-1.0 at distances as close as 42.9mm (1.69 inches).
"virtually no variation in the focus position between visible rays and UV rays.."
In addition to it's outstanding optical performance throughout the visual spectrum, the lens is most universally acclaimed for it's designed usefulness deep into the ultraviolet (UV-C), through the visual, and up into the IR at 900nm. The UV-Nikkor provides a transition wavelength of 220nm allowing the full bandpass of long wave, medium, and even some short wave ultraviolet. There is no need to change focus of the UV-Nikkor when moving from visible to ultraviolet modes because it's focus in the ultraviolet coincides perfectly with the visual focus. However, a moderate focus shift may be necessary as one passes from the visible into the IR; for this there is an indicator of IR shift is on the lens Distance scale. The UV-105 is fully free of any 'hot spot' as is associated with some other multispectral optics. The transmission is just under 60 percent at 220nm, rising to peak at between 320nm to 400nm with transmission at 66 percent, and from there it remains above 60 percent well into the infrared. Furthermore, this lens has become the preferred choice over alternatives by experienced technical people who require the best performance well into the UV, and a lens that can hold up well mechanically too over many years of service. As related by one customer who compared some alternative UV lenses:
"... on testing that they did not have the same UV sensitivity range as the Nikkor."
Components:
This lens is made up with six UV grade optical elements with the first three made of Fused Silica (Quartz), the remaining are of synthetic Calcium Fluoride (CaF2). The elements are arranged in six groups. This lens is readily distinguished to the eye from most production Nikon SLR camera lenses due to the lack of conventional antireflection coatings and the concave R1 (front radius) lens surface: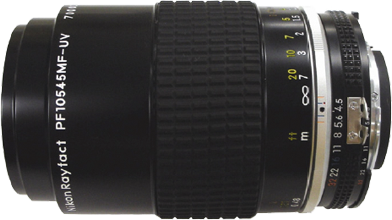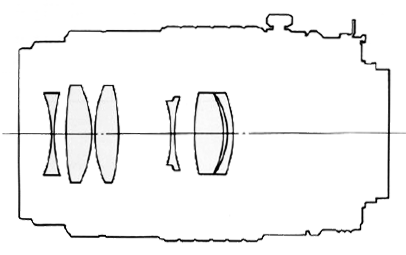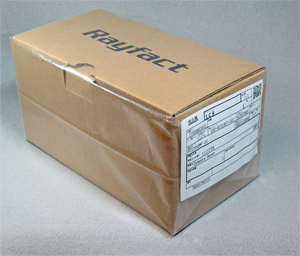 The UV-105 lens is manufactured to the high standards of materials and workmanship that insure high performance, longevity, and reliability; these is among the characteristics that made the Nikon brand the top choice among professional photojournalists and OEM's. With the reintroduction of the UV-105 lens (replacing the UV-Nikkor) there have been no compromises made to suit the fickle nature of the amateur market; this is a professional lens, superbly engineered and crafted to insure long-term durability and high performance. The optics and the mechanical components that comprise the UV-105 lens are manufactured in Japan, assembled there by Nikon's most experienced craftsmen. We do have capability here at Company Seven in the USA to perform routine disassembly, repairs, maintenance of those lenses sold by Company Seven but our parts and the initial assembly originate in Japan.
Left: the current packing box provided with the UV-105 lens from Company Seven is not as impressive as that provided with UV-Nikkors made in the 1980s and 1990's
however, the UV-105 lens inside is just as capable as ever (48,039 bytes).
Click on image to see enlarged view (455,510 bytes).
The lens is provided with the Nikon F bayonet mount so it can be attached onto any Nikon SLR camera made since 1959. The AiS mount provides aperture setting feedback to a compatible Nikon camera through the AiS indexing linkage. Alternatively the lens can be attached onto a Nikon Bellows, or other fixtures or specialized instruments that have been adapted to accept the Nikon F mount. There are third party adapters that permit Nikon F mount lenses to be attached to Canon EOS cameras for example. Furthermore, Company Seven can provide the UV-105 with an F to C Mount Adapter so that the lens can be employed either with it's standard Nikon F bayonet mount or with a C mount camera. The C standard is a popular threaded 1.000 inch (25.4 mm) diameter 32 threads per inch specification, designated the "1-32 UN 2A" in the ANSI B1.1 standard, this is popular with many makers of compact CCD cameras that can be used for work well into the ultraviolet.
Another of the other features that distinguishes the UV-105 from other UV lenses made to date (Zeiss UV-Sonnar, and others) is the focus lock. This simple mechanism can be particularly important for OEM and scientific applications where it can be vital to insure there is no accidental mechanical focus shift from frame to frame. So once the lens is focused as desired on the target, you can lock the focus control at that setting.
The Back Focus of the lens is 46.5mm. The UV-105 can be used with either optional Teleconverter lens TC-14B or TC-301, but either of these accessories will inhibit performance in the UV below about 380nm. The forward end of the lens accepts 52mm diameter threaded filters or other fittings (Reversing Ring, etc.).
The UV-105 includes the Nikon LC-52 52mm snap-on Lens Cap, and a simple transparent slip-on Rear Lens Cap. Company Seven does offer the Nikon LF-1 Rear Lens Cap as an option for those who prefer the more upscale cover.
In addition to the options mentioned above other accessories available for the UV-105 include the Nikon Lens Case CL-15S with soft plush lining (interior 3.3 x 4.1 in. - 8.38 x 10.41 cm), the Nikon HS-14 Lens Hood. Filters for UV or IR applications are available too.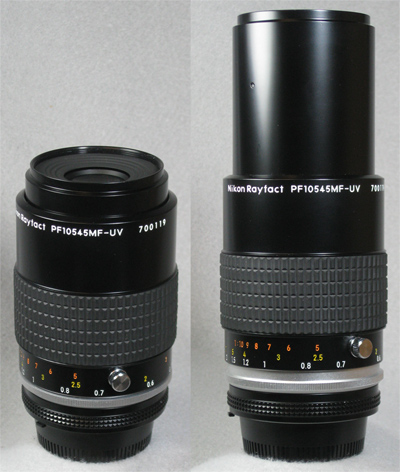 Above: UV-105 lens at Company Seven showing (left) near focus configuration, and (right) extended for close Macro focus.
Shown with optional Nikon LF-1 Rear Lens Cap and without provided Nikon LC-52 snap-on Lens Cap (87,412 bytes).
Note the objective lens diameter is much narrower than the 52mm filter threading. Click on image to see enlarged view (300,810 bytes).
Operating Hints:
This specialty lens does not employ conventional antireflection coatings or glass elements, otherwise these would inhibit the transmission of UV light. Therefore, when using the UV-105 for conventional visible photography, particularly when at high altitude locations, Company Seven recommends use of an optional UV blocking filter such as the Nikon L37c 52mm to prevent a "blue blur" cast from appearing across the image. A side benefit is the protection of the lens front element when this filter is in place, though of course do not forget remove the filter prior to working with the lens in the UV. To protect the UV-105 lens of our customers Company Seven can custom fabricate optional protective flat elements made of UV transmitting fused silica, please enquire.
Be careful, especially when imaging in the UV, that the lens is kept clean of debris or dirt either on or within the optical elements otherwise some contaminants may actually fluoresce! Even barely visible debris can fluoresce and show up as an out of focus ghostly figure. So this is more reason to keep the lens covered and well protected, ideally cased, when not in use. The lens should be stored in an environment or container that is free of humidity, ideally with desiccant that is recharged or replaced as indicated.
Film cameras with certain film types are useable for photography into portions the ultraviolet spectrum. Few modern production digital SLR's have any capability to work into the UV. Company Seven offers optional specialized systems that can take advantage of the UV coverage of this lens for capturing still images or video, please inquire. This Nikon UV Lens is complemented by our Long Distance Microscopes that can provide resolution down to the sub-micron level even deep into the ultraviolet below 200nm.
The UV-105 PF10545MF–UV is RoHS (Restriction of Hazardous Substances Directive) complaint, meeting the requirements of the European Union directive 2002/95/EC.
The UV–105 (PF10545MF–UV) lens as distributed by Company Seven is accompanied by a warranty protecting the original registered owner against defects of workmanship or materials for a term of two (2) years from date of purchase. This covers defects in workmanship or materials. Any tampering, use in laser applications, exposure to extremes of shock, temperature, or humidity will void the warranty. This warranty is not transferable unless an OEM agreement has been executed.
---
---
Ultraviolet (UV) Primer:
UV light is electromagnetic radiation with a wavelength shorter than that of visible light (400 to 700 nm), yet longer than x–rays. UV is considered to span the range from 10 nm to 400 nm. For a representation of the range of uses where the Nikon 105 UV lens is suitable (from 220 to 900 nm) see the following spectrum chart. Note for reference we also show where the Fraunhofer lines (A to K) typically of interest to telescope and lens designers correlate on the spectrum below:


Above: Table above expresses visual spectrum, ultraviolet (below 380nm), near infrared (above 700nm)
and optical properties including color correction in Nanometers at various Fraunhofer color lines (C to K).



The visible and invisible worlds are obvious to the Nikon UV–105 lens:

Above: images taken in ultraviolet (350 nm), visible and infrared for comparison (100,722 and 108,277 bytes).
Images courtesy of R. Horsnell. Click on images to see enlarged views (260,042 and 136,271 bytes).

WARNING Infrared (IR) and ultraviolet (UV) wavelengths are invisible to the human eye, yet these electromagnetic waves do bear energy and other information. Any structure that absorbs light that incorporates UV and or IR can be damaged by this energy; note how prolonged exposure to sunlight can tan the skin, while prolonged exposure fades or even breaks down materials. The photons of shorter wavelengths carry greater energy than those of longer wavelengths therefore these have the greater potential for causing biological damage. The shorter wavelengths can penetrate the eye or skin cells and can produce heating and energy related biological changes that will modify or destroy cellular DNA; this is among the reasons why UV-C light sources are incorporated into many germicidal (sterilizing) apparatus.
As amazing as it can be to explore the ultraviolet spectrum, this is not child's play therefore: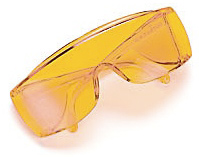 It is vital that suitable eye safety protection be used when working with any UV light source.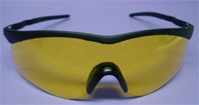 When working near shorter wavelengths sources of UV-B or UV-C fully cover the eyes and skin too.

For more information consult CSA Standard (CAN/CSA–Z94.3–02) Eye and Face Protectors.